MUScoop Wiki - By the fans, for the fans.
Natalie Kulla
Incarnate Word Academy
Kulla was a four-year letterwinner at Incarnate Word Academy and was team captain consecutive years in 2006 and 2007. She helped the Red Knights to the 2004 state championship, two state championship finalist appearances in 2005 and 2007, and four straight district championships. For her efforts during the 2007 season that included 18 shutouts and 20 wins, Kulla was a First Team All-Metro and All-Conference selection as well as being named goalkeeper of the year. Kulla played for the Missouri State Olympic Development Team from 2002-2006. She was a Region II Olympic Development Team Selection in 2005 and 2006 and attended the National Olympic Development Camp in Los Angeles in January of 2007. She played club soccer for J.B. Marine Soccer Club. Outside of soccer Kulla excelled as a member of the cross country team where she was a state finalist and team captain in 2006. Kulla was also honored for her work inside the classroom as she was a member of the National Honor Society, earned an American Legion Award and was named to Who's Who among high school students.
Marquette University
2007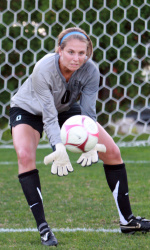 Earned a redshirt her first season at Marquette.
2008
Started 17 games with an 9-5-2 record in those matches. Named to Soccer Buzz's All-Great Lakes Region All-Freshman Team. Tallied 55 saves for a .809 save percentage. Owns a 0.79 goals against average in 1477:25 minutes in goal. Pitched shutouts against BYU (Sep. 6), USF (Sep. 19), Pepperdine (Sep 21), Connecticut (Sep 28), Syracuse (Oct. 12), and Rutgers (November 2). Named BIG EAST Goalkeeper of the week (Sep. 22) and BIG EAST Rookie of the Week (Oct. 13). Set career high with 9 saves in 2-0 loss to Notre Dame in BIG EAST semifinal (Nov. 7).
2009
Followed up a terrific freshman campaign with a stellar sophomore season in net for the Golden Eagles and earned All-BIG EAST Second Team honors. Started in all 23 matches and played every minute of every match for the 2009 season. Registered a program record 16 shutouts, including a league-best 13 in the regular season. Kulla has 22 clean slates for her career to stand tied for third place on MU's all-time shutouts list. Did not allowed a goal in over 738 straight minutes, a program record for longest interval between goals allowed. Registered 58 saves on 182 shots faced, and a Marquette record 0.50 goals against average. Was named BIG EAST Goalkeeper of the Week on Oct. 25 after posting two shutouts to help MU secure the BIG EAST American Division title including a season-high seven saves in the 1-0 win at St. John's. Was named a BIG EAST Honor Roll selection on Sept. 7, Sept. 14, and Sept. 21. Invited to three U.S. U23 Women's National Team Camps following the 2009 season.
2010
BIG EAST Goalkeeper of the Year … First Team All-BIG EAST selection … Has played every minute of every match this season … MU's all-time shutouts leader (31) … Owns nine shutouts this season (vs Idaho State, vs Auburn, vs UC Santa Barbara, vs Villanova, vs Connecticut, vs Cincinnati, vs Syracuse, vs. St. John's, vs DePaul) … Named to the BIG EAST Honor Roll Aug. 23 following her performance against Idaho State and Ohio State and again on Oct. 4 following wins over Villanova and Georgetown … On track to become Marquette's most decorated goalkeeper in program history as she continues to climb the career charts … Stands third on the career wins list (39) and sixth on the career saves list (167) … Posted a season-high six saves in two wins at Villanova (10/1) and at Georgetown (10/3) … Registered five saves in the 3-2 loss to USF(11/5) in the BIG EAST Championship Semifinals.
Personal
Kulla is the daughter of John and Karen Kulla. She has one brother Nathanael. Kulla intends to major in engineering.