MUScoop Wiki - By the fans, for the fans.
Darrin Horn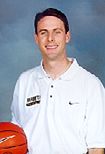 The 2000-01 season marked Darrin Horn's second year as an assistant coach on the Marquette basketball staff. A former player under Coach Crean, Horn was named to his current post on May 6, 1999.
"I've had great respect for Darrin since the first time I met him before his senior year of high school, and to be able to bring him to our staff at Marquette excites me a great deal," said Crean upon Horn's appointment. "Darrin has always stood for integrity and class and has a work ethic that is second to none. He epitomizes what I want a Marquette student-athlete to be.
Horn commented, "This is a terrific opportunity for me to work for Coach Crean, one of the brightest young coaches in the country. I feel a great deal of loyalty to him. Marquette has great tradition and tremendous possibilities and I'm excited about the chance to join the staff."
Horn came to Marquette following a two-year stint at Morehead State, where he worked under Kyle Macy. The Eagles were 13-15 in 1998-99, improving from a 3-23 slate in the 1997-98 campaign. The 1998-99 team advanced to the semifinals of the Ohio Valley Conference Tournament for the first time in eight seasons.
Horn enjoyed a successful playing career at Western Kentucky from 1992-95. The Hilltoppers were 94-32 and made four straight postseason appearances. In 1992-93, Horn's sophomore season, WKU advanced to the Sweet 16 of the NCAA Tournament, defeating Memphis and Seton Hall, the region's #2 seed, before falling to Florida State. The Hilltoppers also played in the 1994 and 1995 NCAA Tournaments. Crean was an assistant coach at WKU during the first three seasons of Horn's career.
After averaging a career-best 12.9 points and shooting 44.2% (46-104) from three-point range as a senior (1994-95), Horn was named to the All-Sun Belt Conference Team. He also was a member of the GTE Academic All-America Third Team, after compiling a 3.69 grade point average.
A three-year starter, he ranks 27th in Western Kentucky history with 1,115 career points and stands fourth with 139 career steals. He also holds the school's record in career free throw percentage (80.8%).
Following the completion of his playing career, Horn joined Western Kentucky's coaching staff for two seasons (1995-96 and 1996-97).
A native of Lexington, Ky., he graduated from Western Kentucky in 1995 with a bachelor's degree in allied language arts. Darrin's family includes his wife, Carla, and daughter, Caroline.