MUScoop Wiki - By the fans, for the fans.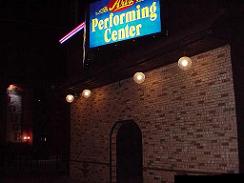 Not to be confused with the nearby Marcus Center for the Performing Arts, Art's Performing Center is a lowbrow strip club located at 144 E. Juneau Street, less than a block off of Water Street, the popular district for alcohol-based undergraduate entertainment.
Although starving college students tend to balk at the $5 cover, those who choose to enter these hallowed halls are usually treated to the gyrations of thirtysomething females ranking no higher than 5 on the classic one to ten scale. Their routines are backed by R&B grooves in the mold of T-Pain's "Stripper Song" and applauded by drooling and tipping patrons that can only be classified as regulars.
Despite the fact that lapdances are rare and refreshments are overpriced, a trip to Art's carries with it a certain type of nostalgia that can only be duplicated by a return visit, or perhaps attendance at an out-of-control Duke lacrosse party.
Nevertheless, after your dep-Art-ure, the Performing Center may fade from your mind, only to return after a long night of imbibing at Brother's, The Lodge, McGillycuddy's, The Corner, or any of the other classy establishments nearby.
Art's was also described in Maxim Magazine as a place where the girls look like they were hit in the face with bags of nickels.
Art's Performing Center – 144 E. Juneau Street – 414-271-8288