MUScoop Wiki - By the fans, for the fans.
Lakefront Brewery
Lakefront Brewery is a locally-owned microbrewery specializing in handmade beers in the tradition of early Milwaukee brewers. Located along the Milwaukee river near downtown Milwaukee, Lakefront Brewery began in 1987 with only sixty barrels of production sold exclusively to taverns within rolling distance of the brewery.
Lakefront Brewery continues to be a mecca for the most sought after award-winning suds: Riverwest Stein, Eastside Dark, Klisch Pilsner, Cream City Pale Ale, Organic Extra Special Bitter, Fuel Coffee Stout, and seasonal beers such as Pumpkin Lager Beer, Holiday Spice, Bock, Beer Line Barley Wine, and Cherry Lager Beer. In addition is the delicious and surprising non-alcoholic "Golden Maple Root Beer", a refreshing tribute to Wisconsin's finest golden sugar maples. Lakefront Brewery is the the Midwest's best brewer of innovative and traditional styles of beer.
Brewery Tours
Tours run Friday at 3 and 7PM and Saturday at 1, 2, and 3 PM. Come early as the tours do tend to reach capacity quickly. And why shouldn't they. For $5, you get 4 (8 oz.) brews, a Lakefront pint glass, and a coupon for another beer at one of several local establishments.
The Beers
Beer
Big Easy
Bock
Cattail
Cherry
Cream City
East Side Dark
Fuel Coffee Stout
Holiday Spice
Klisch Lager
New Grist Gluten Free
Oktoberfest
Organic ESB
Pumpkin Lager
Riverwest Stein Beer
Snake Chaser Stout
White Ale
Lakefront Location
Address: 1872 N Commerce St Milwaukee, Wisconsin 53212
Telephone: (414) 372-8800
Directions: Exit 145 East at 4th Street. Go east on Juneau Ave. to Water St. Turn left and head north on Water St. to Pleasant St. Turn Left. Cross over bridge and proceed to Commerce Street. Turn right. Brewery is on the river just before the Holton St. Bridge.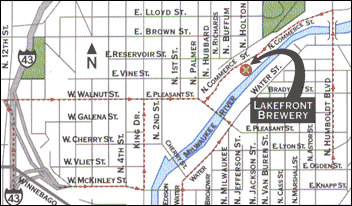 Where to Find Lakefront Beer
Lakefront has compiled a list of friendly places that serve their beer.
Ann Arbor, MI A & L Wine Castle *has New Grist 2424 W. Stadium, Ann Arbor, MI 734-994-7200 (Grocery/Liquor)
Ann Arbor Wine & Spirits *has New Grist 3937 Jackson Road, Ann Arbor, MI 734-665-9463 (Grocery/Liquor)
Arbor Farms *has New Grist 2103 W. Stadium, Ann Arbor, MI 734-222-5111 (Grocery/Liquor)
Ashley's (EFT) *has New Grist 338 S. State, Ann Arbor, MI 734-662-0798 (Restaurant/Bar)
Beer Depot * has New Grist 114 E Williams, Ann Arbor, MI (734) 623-4430 (Grocery/Liquor)
Bello Vino A2 Beer *has New Grist 2789 Plymouth Road, Ann Arbor, MI (Grocery/Liquor)
Busch's Green Road (EFT) *has New Grist 2020 Green Road, Ann Arbor, MI 734-663-2960 (Grocery/Liquor)
Busch's Main (EFT) *has New Grist 2240 S. Main, Ann Arbor, MI 734-769-1515 (Grocery/Liquor)
Hiller's Mkt Ann Arb(EFT) *has New Grist 3815 Washtenaw Ave., Ann Arbor, MI (Grocery/Liquor)
Main Party Store *has New Grist 201 N. Main St., Ann Arbor, MI 734-677-2370 (Grocery/Liquor)
Morgan & York-Beer EFT *has New Grist 1929 Packard, Ann Arbor, MI 734-975-4500 (Grocery/Liquor)
Stadium Liquor *has New Grist 1423 E. Stadium, Ann Arbor, MI 734-623-4430 (Grocery/Liquor)
Super Liquor IV *has New Grist 3336 South State Street, Ann Arbor, MI 734-995-1818 (Grocery/Liquor)
Village Corner (Beer) * has New Grist 601 S. Forrest, Ann Arbor, MI (Grocery/Liquor)
Whole Foods A2-Beer EFT * has New Grist 3135 Washtenaw Ave., Ann Arbor, MI 734-930-2999 (Grocery/Liquor)
Whole Foods West Bloomfield EFT *has New Grist 7350 Orchard Lake Road, Ann Arbor, MI 248-538-4600 (Grocery/Liquor)
Appleton, Wisconsin Flanagan's Stop & Shop 518-528 W. College Ave., Appleton, Wisconsin (920) 733-6689 (Grocery/Liquor)
Martin's Wine and Spirits , Appleton, Wisconsin (Grocery/Liquor)
Bayview, Milwaukee, Wisconsin Cactus Club 2496 S Wentworth Ave., Bayview, Milwaukee, Wisconsin (414)482-0160 (Bar)
Home Bar 2659 S. Kinnickinnic Ave., Bayview, Milwaukee, Wisconsin (414) 483-HOME (Bar)
Mamma's De Marinis Pizza 2457 S. Wentworth Ave., Bayview, Milwaukee, Wisconsin 414-481-2348 (Restaurant/Bar)
Berkley, MI Berkley Front *has New Grist 3087 W. Twelve Mile Rd., Berkley, MI 743-996-9191 (Restaurant/Bar)
Birmingham, MI Papa Joe's Birmingham *has New Grist 34244 Woodward Ave., Birmingham, MI 248-547-3331 (Grocery/Liquor)
Bloomington, IN Big Red Liquors Store #2 * has New Grist 418 College Av, Bloomington, IN (812) 339-7345 (Grocery/Liquor)
Bloomingfoods * has New Grist 3220 E 3rd, Bloomington, IN (812) 336-1854 (Grocery/Liquor)
Bloomington Liquors * has New Grist 2205 N Walnut, Bloomington, IN (812) 332-2900 (Grocery/Liquor)
Brighton, MI Canopy Bottle & Gourmet *has New Grist 204 E. St. Paul, Brighton, MI 248-723-9400 (Grocery/Liquor)
Cap 'N' Cork-Brighton *has New Grist 101 E. Grand River, Brighton, MI 810-227-7300 (Grocery/Liquor)
Old US 23 Party Store *has New Grist 2926 Old US 23, Brighton, MI 810-227-7376 (Grocery/Liquor)
Brookfield , Wisconsin Ray's Liquor Brookfield 17260 W. North Ave., Brookfield , Wisconsin (262) 786-3820 (Grocery/Liquor)
Buffalo Grove, Illinois Binny's Beverage Depot 124 McHenry Road, Buffalo Grove, Illinois (847) 459-2200 (Grocery/Liquor)
Canton, MI Holiday Market-Canton (EFT) *has New Grist 520 S. Lily Road, Canton, MI 734-981-1200 (Grocery/Liquor)
Maria's Italian Bakery-Canton *has New Grist 115 Haggerty, Canton, MI 810-229-2985 (Grocery/Liquor)
Centerville, Ohio Sweeney's Seafood Baar and Grill 28W Franklin St., Centerville, Ohio (937) 291-3474 (Restaurant/Bar)
Chesterfield Twp, MI Wine Valley *has New Grist 50093 Gratiot Ave., Chesterfield Twp, MI 734-844-2200 (Grocery/Liquor)
Chicago, Illinois Benz bar 3937 N Lincoln Ave, Chicago, Illinois (773) 549-5599 (Restaurant/Bar)
Binny's Beverage Depot 213 W. Grand Ave., Chicago, Illinois (312) 332-0012 (Grocery/Liquor)
Lemmings on Damen 1850 N. Damen, Chicago, Illinois (773) 862-1688 (Bar)
Map Room 1949 N Hoyne, Chicago, Illinois (773) 252-7636 (Bar)
Sam's Wine and Liquors 1720 N. Marcey St., Chicago, Illinois (312) 664-4394 (Grocery/Liquor)
Sheffield's 3258 N Sheffield Ave, Chicago, Illinois (773) 281-4989 (Bar)
The Village Tap 2055 W. Roscoe, Chicago, Illinois (773) 883-0817 (Restaurant/Bar)
Whole Foods 3300 N. Ashland Ave, Chicago, Illinois (773) 244-4200 (Grocery/Liquor)
Chilton, Wisconsin Roepke's Village Inn W2686 St. Charles Rd, Chilton, Wisconsin (920) 849-4000 (Restaurant/Bar)
Commerce Twp, MI Hiller's Market Commerce(EFT) *has New Grist 39950 14 Mile Road, Commerce Twp, MI 586-949-4144 (Grocery/Liquor)
DE Pere, Wi Valley Liquor 310 N. Wisconsin St., DE Pere, Wi 920-662-1697 (Grocery/Liquor)
Dearborn, MI Merchant's Fine Wine Dearborn *has New Grist 22250 Michigan Ave., Dearborn, MI 248-960-1990 (Grocery/Liquor)
Delafield, Wisconsin Fishbones 1704 Milwaukee Street, Delafield, Wisconsin (262) 646-4657 (Restaurant/Bar)
Downtown , Milwaukee Cafe Vecchio Mondo 1137 N. Old World 3rd St., Downtown , Milwaukee (414) 273-5700 (Restaurant/Bar)
Flannery's 425 E. Wells St, Downtown , Milwaukee (414) 278-8586 (Restaurant/Bar)
Hilton Hotel Milwaukee Downtown 509 W. Wisconsin Ave., Downtown , Milwaukee (414) 271-7250 (Bar)
John Hawk's Pub 100 E. Wisconsin Ave., Downtown , Milwaukee (414)272-3199 (Restaurant/Bar)
Mel's Corner Tap 158 E. Juneau Ave, Downtown , Milwaukee (414) 562-8101 (Bar)
Murphy's in the Mall 275 W. Wisconsin Ave (Grand Ave Mall, 3rd Floor), Downtown , Milwaukee (414) 221-0581 (Bar)
New World Wine Company 632 East Ogden Avenue, Downtown , Milwaukee 414-277-9463 (Grocery/Liquor)
Park East Hotel 916 E. State St, Downtown , Milwaukee (414) 276-8800 (Bar)
Pick 'n Save Food Stores 1123 N. Van Buren St, Downtown , Milwaukee 414-225-9709 (Grocery/Liquor)
Pick 'n Save Juneau Village 1123 N. Van Buren, Downtown , Milwaukee (414) 225-9709 (Grocery/Liquor)
East Side Milwaukee Axel's Inn 2859 N. Oakland Ave., East Side , Milwaukee (414) 962-2122 (Bar)
Bangkok Orchid 2239 N. Prospect Ave, East Side , Milwaukee (414) 223-3333 (Restaurant/Bar)
Bodolino's 3124 N Downer Ave., East Side , Milwaukee (414) 964-9616 (Restaurant/Bar)
Chancery Pub and Restaurant 2575 N. Downer Ave, East Side , Milwaukee (414)332-9700 (Restaurant/Bar)
Cush Lounge 1806 E. North Ave, East Side , Milwaukee (414) 271-2874 (Bar)
Dancing Ganesha 1692 N Van Buren St, East Side , Milwaukee (414) 220-0202 (Restaurant/Bar)
Downer Wine and Spirits 2638 N. Downer Ave, East Side , Milwaukee (414) 332-0880 (Grocery/Liquor)
East Side Pick n Save 605 E. Lyon, East Side , Milwaukee (414) 272-6677 (Grocery/Liquor)
Eastsider 1732 E. North Ave, East Side , Milwaukee (414) 906-0199 (Bar)
Farwell Foods 1940 N. Farwell Ave, East Side , Milwaukee (414)273-1273 (Grocery/Liquor)
Gilbert Liquor Co. 2853 N. Oakland Ave, East Side , Milwaukee (414) 962-7200 (Grocery/Liquor)
Gil's Cafe 2608 N. Downer Ave, East Side , Milwaukee (414) 964-4455 (Restaurant/Bar)
Henry's 2523 E. Belleview Pl, East Side , Milwaukee (414) 332-9690 (Bar)
Hi-Hat Lounge 1701 N. Arlington Pl, East Side , Milwaukee (414) 225-9330 (Bar)
Hooligan's 2017 E. North Ave, East Side , Milwaukee (414) 273-5230 (Bar)
Judge's Irish Pub 1431 E. North Ave, East Side , Milwaukee (414) 224-0605 (Bar)
Landmark Lanes 2220 N. Farwell Ave., East Side , Milwaukee (414) 278-8770 (Bar)
Nomad World Pub 1401 E. Brady, East Side , Milwaukee 414-224-8111 (Bar)
Otto's on Oakland * has New Grist 3476 N. Oakland Ave, East Side , Milwaukee (414) 332-4446 (Grocery/Liquor)
Paddy's Pub 2339 N. Murray Ave., East Side , Milwaukee (414) 223-2469 (Bar)
Parkside Foodmart 2700 N. Murray Ave., East Side , Milwaukee (414) 964-2360 (Grocery/Liquor)
Pizza Man 1800 E. North Ave., East Side , Milwaukee (414) 272-1747 (Restaurant/Bar)
Points East Pub 1501 N. Jackson St, East Side , Milwaukee (414) 227-0122 (Restaurant/Bar)
Scaffidi's Hideout 1837 N. Humboldt Blvd., East Side , Milwaukee (414) 273-1665 (Bar)
Smith Beer and Liquor 1413 E Brady St., East Side , Milwaukee (414) 272-8310 (Grocery/Liquor)
Smith Beer and Liquor 1413 E. Brady St, East Side , Milwaukee (414) 272-8310 (Grocery/Liquor)
Tasting Room 1100 E. Kane St, East Side , Milwaukee (414) 277-9118 (Bar)
The Globe 2028 E. north Ave., East Side , Milwaukee (414) 276-2233 (Bar)
Thurman's 15 1731 N. Arlington Pl, East Side , Milwaukee (414) 224-1080 (Bar)
Twisted Fork 2238 N. Farwell Ave., East Side , Milwaukee (414) 272-2299 (Restaurant/Bar)
Up and Under Pub 1216 E. Brady St, East Side , Milwaukee (414) 276-2677 (Bar)
Von Trier 2235 N. Farwell Ave, East Side , Milwaukee (414) 272-1775 (Bar)
Wolski's Tavern 1836 N. Pulaski St., East Side , Milwaukee (414) 276-8130 (Bar)
Eau Claire, Wisconsin Mona Lisa's 428 Water St, Eau Claire, Wisconsin (715) 839-8969 (Restaurant/Bar)
Surdyks , Eau Claire, Wisconsin (Grocery/Liquor)
The Coffee Grounds 3460 Mall Dr. HWY 93, Eau Claire, Wisconsin (715) 834-1733 (Grocery/Liquor)
Elkhart Lake, Wisconsin Victorian Village 279 Lake St, Elkhart Lake, Wisconsin (Restaurant/Bar)
Farmington, MI Busch's Farmington Hills (EFT) *has New Grist 24445 Drake Road, Farmington, MI 248-474-7760 (Grocery/Liquor)
Sammy's Pizza & Deli *has New Grist 32330 Grand River, Farmington, MI 313-563-8700 (Grocery/Liquor)
Georgetown, Washington D.C. Whole Foods Market *has New Grist 2323 Wisconsin Ave. N.W., Georgetown, Washington D.C. 202-333-5393 (Grocery/Liquor)
Grand Blanc, MI Food Castle *has New Grist 3035 E. Grand Blanc, Grand Blanc, MI 810-695-6550 (Grocery/Liquor)
Oliver T's *has New Grist 1553 E. Hill Road, Grand Blanc, MI (Grocery/Liquor)
Grandville, MI De Reuze Gourmat Market *has New Grist 3845 Rivertown Parkway, Grandville, MI 810-695-4210 (Restaurant/Bar)
Green Bay, Wisconsin Cork and Barrel *has New Grist 225 S. Military Ave, Green Bay, Wisconsin 920-494-6313 (Grocery/Liquor)
Valley Liquor Store 310 N Wisconsin St, Green Bay, Wisconsin (920) 336-0442 (Grocery/Liquor)
Woodman's Food Market 2400 Dousman St, Green Bay, Wisconsin 1-920-499-1480 (Grocery/Liquor)
Gregory, MI Unadilla General Store *has New Grist 13329 Unadilla Road, Gregory, MI (Grocery/Liquor)
Grosse Pointe Woods, MI Merchant's Fine Wine East *has New Grist 21034 Mack Ave., Grosse Pointe Woods, MI 313-882-5420 (Grocery/Liquor)
Woods Wholesale Wines *has New Grist 20787 Mack Avenue, Grosse Pointe Woods, MI 313-885-7140 (Grocery/Liquor)
Grosse Pointe, MI Yorkshire Food Market *has New Grist 16711 Mack, Grosse Pointe, MI 734-498-2400 (Grocery/Liquor)
Hales Corners, Wisconsin Consumer Beverages 5313 S. 108th St, Hales Corners, Wisconsin (414) 425-1550 (Grocery/Liquor)
The Bosch 5871 S 108th St., Hales Corners, Wisconsin (414)427-1400 (Restaurant/Bar)
Hartford,WI Downtown Beverage 142 North Main Street, Hartford,WI 262-673-9666 (Grocery/Liquor)
Hartland, MI Eagle Express *has New Grist 9576 Highland/M-59, Hartland, MI 313-417-0400 (Grocery/Liquor)
Highland, MI Colasanti's Market Place *has New Grist 468 S, Milford Rd., Highland, MI 248-887-2440 (Grocery/Liquor)
Point Ridge Market *has New Grist 1065 S. Milford Rd., Highland, MI 810-632-6880 (Grocery/Liquor)
Wine Basket *has New Grist 3542 Duck Lake, Highland, MI 248-887-0012 (Grocery/Liquor)
Hobart, IN Bee Liquors * has New Grist 710 N Hobart Rd, Hobart, IN (219) 942-5858 (Grocery/Liquor)
Howell, MI Jonna's Country Corners Market *has New Grist 1405 Michigan Ave., Howell, MI 517-548-2434 (Grocery/Liquor)
Middletown Market *has New Grist 5582 E. Grand River, Howell, MI 248-887-1921 (Grocery/Liquor)
Indianapolis, IN BW3 - Downtown * has New Grist 15 E Maryland St, Indianapolis, IN (317) 916-9464 (Restaurant/Bar)
Castleton Wine & Spirits * Has New Grist 4901 E. 82nd St, Indianapolis, IN (317) 842-0662 (Grocery/Liquor)
Ironwood, MI Pisani Company *has New Grist 1551 Commerce Street, Ironwood, MI 517-545-8000 (Grocery/Liquor)
Jackson, MI Cork 'N' Cap *has New Grist 1212 Wildwood, Suite B, Jackson, MI 906-932-0722 (Grocery/Liquor)
Parnell Pantry Market *has New Grist 1511 W. Parnell Rd., Jackson, MI 517-784-0687 (Grocery/Liquor)
La Crosse, WIsconsin Bodega Brew Pub 122 4th St. S, La Crosse, WIsconsin (608) 782-0677 (Restaurant/Bar)
Soell's Wines and Liquor 3815 Mormon Coulee Rd., La Crosse, WIsconsin (Grocery/Liquor)
Soell's Wines and Liquor 3815 Mormon Coulee Rd., La Crosse, WIsconsin (608) 788-WINE (Grocery/Liquor)
Lansing, MI Classic Wines *has New Grist 3503 W. St. Joseph, Lansing, MI 517-768-9660 (Grocery/Liquor)
Libertyville, Illinois The Firkin 515 N. Milwaukee Ave, Libertyville, Illinois (847) 367-6168 (Restaurant/Bar)
Livonia, MI Busch's Livonia(EFT) *has New Grist 37083 6 Mile Road, Livonia, MI 734-522-4400 (Grocery/Liquor)
Wine Castle *has New Grist 33415 Seven Mile Road, Livonia, MI 734-779-6100 (Grocery/Liquor)
Wine Palace *has New Grist 13971 Middlebelt, Livonia, MI 517-372-8308 (Grocery/Liquor)
Madison Heights Dequindre Market *has New Grist 27727 Dequindre, Madison Heights, 248-477-5533 (Grocery/Liquor)
Madison, Wisconsin Come Back Inn 506 E. Wilson St., Madison, Wisconsin (608) 258-8619 (Restaurant/Bar)
Cub Foods 7455 Mineral Point Rd, Madison, Wisconsin (Grocery/Liquor)
Cub Foods 4141 Nekoosa Tr., Madison, Wisconsin (Grocery/Liquor)
Greenbush 1305 Regent St, Madison, Wisconsin (608) 257-1151 (Restaurant/Bar)
Madura 117 E Main St., Madison, Wisconsin (Restaurant/Bar)
Pick 'n Save 6655 McKee Rd, Madison, Wisconsin (Grocery/Liquor)
Star Liquor Store , Madison, Wisconsin (Grocery/Liquor)
Steve's Liquor 3615 University Ave, Madison, Wisconsin (Grocery/Liquor)
Steve's Liquor 8302 Mineral Point Rd., Madison, Wisconsin (Grocery/Liquor)
The Tornado Room , Madison, Wisconsin (Restaurant/Bar)
Woodman's 3817 Milwaukee St, Madison, Wisconsin (Grocery/Liquor)
Woodman's 711 S. Gammon Rd, Madison, Wisconsin (Grocery/Liquor)
Marquette / Westside Conway's 2127 W. Wells, Marquette / Westside (414) 344-1262 (Bar)
Marquette, MI Ward Beverage *has New Grist PO Box 730, Marquette, MI 248-546-8500 (Grocery/Liquor)
Milford, MI Holden's Party Story * has New Grist 2055 S. Milford Road, Milford, MI 248-685-1260 (Grocery/Liquor)
Monroe, MI Foodtown-Monroe *has New Grist 211 N. Telegraph, Monroe, MI 248-685-1260 (Grocery/Liquor)
Mt. Pleasant, MI Fabiano Brothers(EFT) *has New Grist PO Box 469, Mt. Pleasant, MI 734-241-7667 (Grocery/Liquor)
New Albany, IN Bridge Liquors * has New Grist 110 Knable Lane, New Albany, IN (812)945-6396 (Grocery/Liquor)
New Berlin, Wisconsin Senor Luna 1901 S Calhoun Rd, New Berlin, Wisconsin (262) 782-8633 (Restaurant/Bar)
Norfolk, VA Farm Fresh Food and Pharmacy *has New Grist 230 E. Little Creek Rd., Norfolk, VA 757-587-8741 (Grocery/Liquor)
North Shore , Milwaukee County Brew City Bar-B-Que 10250N. Cederburg Rd., North Shore , Milwaukee County (262)238-2600 (Restaurant/Bar)
Pick 'n Save on Oakland 4145 N. Oakland Ave, North Shore , Milwaukee County (414) 964-3350 (Grocery/Liquor)
Silver Spring House 6655 N. Green Bay Ave., North Shore , Milwaukee County (414) 352-3920 (Restaurant/Bar)
Stormi's Cafe Bistro N88 W16521 Main St, North Shore , Milwaukee County 262-250-4500 (Restaurant/Bar)
Wick's Beer and Liquor 4496 N. Oakland Ave, North Shore , Milwaukee County (414) 332-3600 (Grocery/Liquor)
Northville, MI Goodtime Party Store *has New Grist 567 Seven Mile Road, Northville, MI 989-773-3605 (Grocery/Liquor)
Hiller's Market Northville(EFT) *has New Grist 425 N. Center Street, Northville, MI 248-349-1477 (Grocery/Liquor)
Novi, MI Golden Oaks Party Store *has New Grist G24185 Haggerty, Novi, MI 248-344-1030 (Grocery/Liquor)
Oak Lawn, IL Kenwood Liqours 10750 S. Cicero Ave., Oak Lawn, IL 708-424-3580 (Grocery/Liquor)
Oshkosh, Wisconsin Oblios 434 N.Main St., Oshkosh, Wisconsin (920) 426-1063 (Bar)
Ozaukee County , Wisconsin Grapes and Grain LLC 11301 N. Port Washington Rd 13 W Mequon, Ozaukee County , Wisconsin 1 262-240-0206 (Grocery/Liquor)
Smith Bros. , Ozaukee County , Wisconsin (Restaurant/Bar)
Park Ridge, Illinois Carnaby Market 10 South N.W. Highway, Park Ridge, Illinois 1-847-698-8827 ()
Paw Paw, MI Paw Paw Wine Distributing *has New Grist 816 S. Kalamazoo, Paw Paw, MI 248-476-5690 (Grocery/Liquor)
Pewaukee , Wisconsin Good Harvest Market *has New Grist 1850 Meadow Lane, Pewaukee , Wisconsin 262-544-9380 (Grocery/Liquor)
Sebastiano's Landing / Ike's Pub W278N2315 Prospect Ave, Pewaukee , Wisconsin (262) 691-2622 (Restaurant/Bar)
Plymouth, MI Busch's Plymouth (EFT) *has New Grist 15185 Sheldon Rd., Plymouth, MI 734-414-5200 (Grocery/Liquor)
Racine, Wisconsin Sonoma Cellars 1807 E Geneva St., Racine, Wisconsin 262-740-2200 (Bar)
Timers Beverage Center 3800 Northwestern Ave, Racine, Wisconsin (262) 637-2704 (Grocery/Liquor)
Riverwest , Milwaukee Albanese's Taavern 701 E. Keefe Ave, Riverwest , Milwaukee (414) 964-7270 (Restaurant/Bar)
Barrel Rider's Club 1132 E. Wright St., Riverwest , Milwaukee (414) 372-2929 (Bar)
Falcon Bowl 801 E. Clarke, Riverwest , Milwaukee (414) 264-0680 (Bar)
Foundation 2718 N Bremen St., Riverwest , Milwaukee (414) 374-2587 (Bar)
Klingers East 920 E. Locust St, Riverwest , Milwaukee (414) 263-2424 (Bar)
Linneman's Pub 1001 E. Locust, Riverwest , Milwaukee 414-263-9844 (Bar)
Onopa Brewing Company 735 E. Center St, Riverwest , Milwaukee (414) 264-3630 (Bar)
Outpost Natural Foods 100 E Capitol Dr, Riverwest , Milwaukee (414) 961-2597 (Grocery/Liquor)
Shanahan's Pub 2479 N. Fratney St, Riverwest , Milwaukee (Bar)
The Commons 815 E. Locust St., Riverwest , Milwaukee (414) 372-9656 (Bar)
The Stork Club 2778 N. Weil St., Riverwest , Milwaukee (414) 265-2300 (Bar)
The Tracks 1020 E. Locust St, Riverwest , Milwaukee (414) 562-2020 (Bar)
Treats 2221 N. Humboldt Blvd, Riverwest , Milwaukee (Bar)
Uptowwner 1032 E. Center St., Riverwest , Milwaukee (414) 372-3882 (Bar)
WestBank Cafe 732 E. Burleigh St., Riverwest , Milwaukee (414) 562-5555 (Restaurant/Bar)
Rochester Hills, MI Busch's Rochester Hills(EFT) *has New Grist 3188 Walton Blvd., Rochester Hills, MI 248-375-0900 (Grocery/Liquor)
Chateau Du Vin *has New Grist 01020 Auburn, Rochester Hills, MI 248-852-8111 (Grocery/Liquor)
Red Wagon Shoppe (EFT) *has New Grist 2940 S. Rochester Rd, Rochester Hills, MI 248-852-9307 (Grocery/Liquor)
Whole Foods Rochester EFT *has New Grist 1404 Walton Blvd., Rochester Hills, MI 248-652-2100 (Grocery/Liquor)
Roseville, MI Embassy Liquor *has New Grist 29010 Beaconsfield, Roseville, MI 586-771-7880 (Grocery/Liquor)
Royal Oak, MI Holiday Market-Royal Oak (EFT) *has New Grist 1203 S. Main, Royal Oak, MI 248-541-1414 (Grocery/Liquor)
Saline, MI Busch's Saline(EFT) *has New Grist 565 E. Michigan Ave, Saline, MI 734-429-7975 (Grocery/Liquor)
Skokie, Illinois East of Edens 5100 Dempster, Skokie, Illinois (847) 674-4200 (Grocery/Liquor)
South Lyon, MI Larry's Food Market *has New Grist 600 N. Lafayette, South Lyon, MI 248-486-1770 (Grocery/Liquor)
South Side , Milwaukee Avenue Wine and Liquor 4075 S. Howell Ave., South Side , Milwaukee (414) 481-3500 (Grocery/Liquor)
Bert's Beer Depot 2523 E Oklahoma Ave, South Side , Milwaukee (414) 744-8478 (Grocery/Liquor)
Discount Liquor 5031 W. Oklahoma Ave, South Side , Milwaukee (414) 545-2175 (Grocery/Liquor)
Fritz's Pub 3086 S. 20th St, South Side , Milwaukee (414) 643-6995 (Restaurant/Bar)
Milwaukee Grill 4395 S. 76 St., South Side , Milwaukee (Restaurant/Bar)
Southfield, MI Cloverleaf Fine Wine *has New Grist 29673 Northwestern Hwy, Southfield, MI 248-357-0400 (Grocery/Liquor)
St. Claire Shores, MI Sam's Party Shop *has New Grist 33333 Harper, St. Claire Shores, MI 586-293-6670 (Grocery/Liquor)
The Wine Garden has New Grist 21903 Harper, St. Claire Shores, MI 810-777-4198 (Grocery/Liquor)
Sturgeon Bay, WI The Inn at Cedar Crossing 336 Louisana Street, Sturgeon Bay, WI 920-743-4249 (Restaurant/Bar)
Tecumseh, MI Boulevard Market *has New Grist 102 E. Chicago M50, Tecumseh, MI 517-423-6000 (Grocery/Liquor)
Tenley Town, Washington D.C. Whole Foods Market *has New Grist 4530 40th Street NW Tenley Circle, Tenley Town, Washington D.C. 202-237-5800 (Grocery/Liquor)
Terre Haute, IN Baesler's Supermarket * has New Grist 2900 Poplar St, Terre Haute, IN (812) 232-2498 (Grocery/Liquor)
Bowers 7th & 70 Liquor * has New Grist 3305 S. 7th St, Terre Haute, IN (812)232-3003 (Grocery/Liquor)
Third Ward , Milwaukee Coquette Cafe 316 N. Milwaukee Ave, Third Ward , Milwaukee (414) 291-2655 (Restaurant/Bar)
La Boulangerie 241 N. Broadway, Third Ward , Milwaukee 414-271-4545 (Restaurant/Bar)
Milwaukee Ale House 233 N. Water, Third Ward , Milwaukee 414-226-2336 (Bar)
Troy, MI Red Wagon Shoppe Troy (EFT) *has New Grist 1613 Livernois, Troy, MI 248-404-9999 (Grocery/Liquor)
Whole Foods Somerset (EFT) *has New Grist 2880 W. Maple, Troy, MI 248-649-9600 (Grocery/Liquor)
Walker Tony's Tavern 412 S. 2nd St, Walker (414) 273-6321 (Bar)
Washington D.C. Chevy Chase Wine and Spirits *has New Grist 5544 Connecticut Ave. N.W., Washington D.C. 202-363-4000 (Grocery/Liquor)
Whole Foods Market *has New Grist 1440 P. St. NW, Washington D.C. 202-332-4300 (Grocery/Liquor)
Water Street Area, Milwaukee Brew City Barbeque 1114 N. Water St., Water Street Area, Milwaukee (414) 278-7033 (Restaurant/Bar)
McGillycuddy's N. Water and E. Juneau St, Water Street Area, Milwaukee (Restaurant/Bar)
Waukesha , Wisconsin Dady-Oh's Restaurant 250 West Broadway, Waukesha , Wisconsin 262-547-7077. (Restaurant/Bar)
Waukesha County Discount Liquor 919 N Barstow, Waukesha County (262) 547-7525 (Grocery/Liquor)
Wauwautosa , Wisconsin Club Tap 8828 W. North Ave., Wauwautosa , Wisconsin (414) 257-4142 (Bar)
Jolly's on Harwood 7754 Harwood Av, Wauwautosa , Wisconsin (414)476-7393 (Restaurant/Bar)
Outpost Foods-Wauwatosa 7000 W. State St, Wauwautosa , Wisconsin (414) 778-2012 (Grocery/Liquor)
Ray's Liquor, Wauwatosa Inc. 8930 W. North Ave., Wauwautosa , Wisconsin (414) 258-9821 (Grocery/Liquor)
Sentry Markets 6700 W State St., Wauwautosa , Wisconsin (414)259-8560 (Grocery/Liquor)
Walter's on North 6930 W. North Ave., Wauwautosa , Wisconsin (Restaurant/Bar)
West Allis, Wisconsin Benno's 4713 W. Greenfield Ave, West Allis, Wisconsin (414)453-9094 (Restaurant/Bar)
Crawdaddy's Cajun and Creole Restaurant 6414 W Greenfield Ave, West Allis, Wisconsin (414) 778-2162 (Restaurant/Bar)
West Side, Milwaukee O'Brians tavern 4928 W Vliet, West Side, Milwaukee (414) 453-6200 (Bar)
Wonder Bar 5520 W. Vliet St., West Side, Milwaukee (414) 257-9112 (Bar)
Worthington, Ohio Jubilee 900 High St., Worthington, Ohio 614) 885-9715 (Grocery/Liquor)
Wyandotte, MI Discount Drinks Wyandotte *has New Grist 2811 Fort, Wyandotte, MI (Grocery/Liquor)
Ypsilanti, MI Huckleberry Party Store * has New Grist 2872 Washtenaw, Ypsilanti, MI (734) 434-2777 (Grocery/Liquor)