MUScoop Wiki - By the fans, for the fans.
Al Avant #32
High School Career
Avant successfully led his Mt. Vernon, Illinois high school team - which had won two state championships in the past five years - through the 1954 season including the state tournament.
At the state tournament, Avant scored 19 points to defeat Danville in the first round. Moline, their quarterfinals opponent, could not overcome Mt. Vernon behind Avant's 27 points. The semifinal game paired Mt. Vernon with Pinckneyville. Avant, who scored 14 points, wasn't even the top scorer of the game as his team downed the opposition, 70-44, and earned a spot in the title game versus Chicago's Du Sable, the state's first all-black team to qualify for the state finals.
Jim Brown, a player on the Du Sable team, was quoted in the book Sweet Charlie, Dike, Cazzie, and Bobby Joe: High School Basketball in Illinois as saying, "We didn't think Don Richards and Al Avant would dominate the game." However, Avant scored 23 points and Richards added 25 points to help defeat Du Sable 76-70. Later, there would be accusations that the game's officials made unfair calls in the game's closing minutes which helped seal Du Sable's fate. In a 2004 Chicago Sun-Times article, Avant revisited the game's officiating: "I thought it was a very fair game…The controversial calls were legitimate. We reviewed the film and Brown definitely moved both feet. They didn't play hard defense. That's what beat them. We played good defense and had good shooters. They weren't unbeatable." Du Sable's Pain Endures
He was named by the Champaign News-Gazette's to their All-State 1st Team and by the Chicago Daily News to their All-State 3rd team.
When Mt. Vernon won the state title, Avant was the only black player on his team.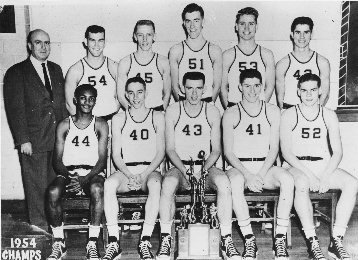 He was later nominated to the ISHA's top 100 Legends of Boys Basketball Tournament in 2005-06.
Marquette Career
Professional Career
Before resigning from his post in 2004, Avant served as Chicago State's Athletic Director and made the decision to fire Bo Ellis during the 2002-03 season. At that point of the season, they compiled a 3-15 record and a 23-104 overall record under Bo Ellis. Avant spoke of the former Marquette cager: "I appreciate all the effort and hard work of Bo Ellis in trying to rebuild the basketball program. He ran a first- class program and always had the students' interests first in mind, but he was not able to get … the program to where he wanted it to go."
Bo Ellis Out as Cougars' Head Coach