MUScoop Wiki - By the fans, for the fans.
William Chandler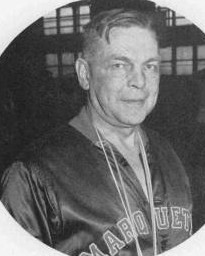 William "Bill" Chandler coached Marquette basketball for 21 seasons (1931-51) and his 193 victories are second all-time behind Al McGuire. Chandler was president of the National Association of Basketball Coaches Association in 1938 and was instrumental in forming the NCAA Basketball Tournament. As one of Chicago's best prep basketball players at Waller High School, he would continue playing his collegiate basketball as a center at UW-Madison, for legendary coach, Doc Meanwell. During World War I, he played with George Halas and Paddy Driscoll at Great Lakes. Chandler would later coach at UW-River Falls, Iowa State and UW-Madison before becoming MU's fourth basketball coach in 1931. His best year came in 1932-33 when he directed the squad to a mark of 14-3. The following campaign, Marquette compiled an impressive 15-4 effort.
Chandler's teams faltered late in his career at Marquette, averaging just eight wins per year over his final five seasons. None of those squads were able to break into double digits in the win column during that time. The decline in Chandler's success could be attributed at least in part, to the rise in popularity of basketball in the country during that time and Chandler's refusal to adjust to the changes in the college game.
Chandler started coaching at Marquette during an era when much of the basketball team was comprised of football players and walk-ons from open tryouts. When the recruitment of high school players began to take on a more prominent role in college basketball, Chandler never adapted. Throughout his tenure, Chandler's philosophy on recruiting was that the quality of a Marquette education was all the convincing a young man should need to attend Marquette. Meanwhile, coaches from rival schools began to seek out and sign up talented players, including Don Rehfeldt, Walt Lautenbach at UW-Madison, Richie Niemiera at Notre Dame, and (not least of all) the Mikan brothers at DePaul.
His overall record at Marquette is 193-198 (49.4%). He was inducted into the Marquette Hall of Fame in 1988.
In 21 Seasons Bill Chandler Recruited
Three All-Americans

Two 1,000+ Point Scorers

Two 500+ Rebounders