MUScoop Wiki - By the fans, for the fans.
Brandon Bell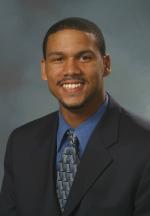 Biography
Birthday: 3/29/85
Hometown: Flint, MI
Highschool: Southwestern Academy
Parents:Charlie and Belle

Brandon is the younger brother of former Michigan State standout and current Milwaukee Buck Charlie Bell.

College Career
Brandon lettered one year at Marquette, playing sparingly in the 03'/'04 season.
After not playing during the first two months of his sophomore season at Marquette, Bell transfered to the University of Detroit in December 2004.

school
season
GP-GS
Min
FG-A
FG%
3FG-A
3P%
FT-A
FT%
Reb
Ast
Stl
Blk
TO
PF
Pts
Avg
MARQUETTE
2003-04
21- 0
103
7-25
.280
4-12
.333
14-18
.778
5
9
4
0
14
14
32
1.5
2004-05
Did Not Play
2005-06
Did Not Play
Detroit
2006-07
29-25
672
57-155
.368
35-104
.337
35-40
.875
66
85
17
0
59
43
184
6.3
Awards and Honors
Highschool
2003- 4th in Mr. Basketball (Michigan) Voting

'01/'02 & '02/'03 1st team All-City and All-Confrence

3rd All-Time in Michigan with 585 Assists

'02/'03- Confrence Student Athlete of the Year