MUScoop Wiki - By the fans, for the fans.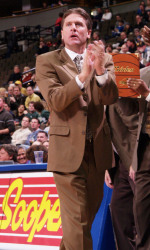 First-year Marquette University head men's basketball coach Buzz Williams has filled a third position on his debut coaching staff with longtime friend and mentor Dale Layer.
A veteran of the collegiate coaching business with nearly 30 years of experience as both an assistant and head coach (16 seasons as a program mentor), Layer brings to the Golden Eagles a wealth of experience and success both on and off the court. His career has already included multiple postseason appearances, coach of the year accolades, all-conference performers and NBA draft selections.
"Coach Layer is the exact right fit for what we needed on this staff" Williams said. "He has impeccable character and is one of the best I have been around in terms of taking care of the players. His career path to this point is different from the other coaches on staff, allowing him to bring a unique perspective to the program."
Layer arrives in Milwaukee after most recently serving as an assistant coach at Liberty University under Ritchie McKay. Layer helped guide the Flames to 16 victories in 2007-08, his lone season with the program.
While the head coach at Colorado State, Layer had a 103-106 record (seven years), including a 17-13 mark in 2006-07. In 2003, Layer led the Rams to the Mountain West Conference Championship and its first NCAA Tournament bid in 13 years, falling to Duke in the first round. He was twice voted the region's coach of the year by the National Basketball Coaches Association and helped several student-athletes garner all-conference accolades.
Layer has also demonstrated the ability to develop talent, including former Colorado State center Jason Smith. The seven-footer scored over 1,500 points for Layer's Rams during his three seasons with the program before entering the NBA Draft following his junior campaign. Due to his development under Layer's tutelage, Smith was chosen with the 20th selection of the NBA Draft's first round by the Miami Heat. His rights were traded to the Philadelphia 76ers, with whom he recently completed a solid rookie season. Several of Layer's recruiting classes at Colorado State were ranked among the top 40 nationally by various recruiting publications.
Layer has a career 270-193 record (16 years) as a head coach, including nine seasons at the helm of Queens University (formally Queens College) in Charlotte, N.C. He also served as the athletics director while at the school.
After graduating with a bachelor's of arts in psychology from Eckerd College in St. Petersburg, Fla., in 1980, Layer started his coaching career as an assistant under Jim Harley, his former coach. Before moving on to Queens University, Layer spent seven of the next eight years at Eckerd College, except for the 1982-83 season when he was an assistant at Eastern Kentucky. While at Eastern Kentucky, Layer completed a master's of arts in counseling in 1983.
Layer made the jump to Division I in 1998, when McKay took the head coaching job at Colorado State and named him to his staff. During McKay's two seasons with the Rams, Layer helped lead Colorado State to the NIT in 1999, defeating Mississippi State and Colorado, before falling to eventual champion, California.
Layer and his wife, the former Brenda Peterson, have three children: Valerie (23), Tim (21) and Ethan (16).
Coaching Experience
2009- Head Coach, Liberty
2008-09 Asst. Coach, Marquette
2007-08 Asst. Coach, Liberty
2000-07 Head Coach, Colorado State
1998-00 Asst. Coach, Colorado State
1989-98 Head Coach, Queens College
1983-88 Asst. Coach, Eckerd College
1982-83 Grad. Asst. Coach, Eastern Kentucky
1980-82 Asst. Coach, Eckerd College

Head Coaching Record
Colorado State 2000-07, 103-106, 7 years
Queens College 1989-98, 167-87, 9 years
Total 270-193 16 years