MUScoop Wiki - By the fans, for the fans.
Dave Delsman #23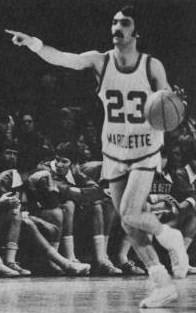 Position: Guard
Height: 5'10"
Weight: 160 lbs.
Born:
Hometown: Waukesha, WI
High School: Waukesha H.S.

High School Career
Dave led Waukesha High School to the number three ranking in the state as a senior, averaging 21 ppg. he won All-Suburban conference honors and All-State mention. He also set a school record for assists, including 17 in one game.
Marquette Career
Delsman made the Marquette Freshman team without a scholarship and finished the season as the third leading scorer, third leading field goal shooter, and top free throw shooter. Also, he averaged 13.1 ppg that season.
He was known as an excellent ballhandler and good assist man.
Delsman was the second walk-on to win a scholarship under Coach Al McGuire.