MUScoop Wiki - By the fans, for the fans.
Al McGuire
Al McGuire (born September 7, 1928 in New York City - died January 26, 2001 in Milwaukee, Wisconsin) coached the Marquette University men's basketball team from 1964 to 1977. He compiled impressive numbers throughout his coaching career, resulting in his induction to the Basketball Hall of Fame in 1992, and was also well known for his colorful personality.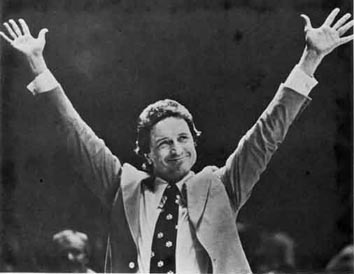 McGuire was born poor, the son of an Irish immigrant saloonkeeper. He played three years of basketball at St. John's Prep., Queens, New York (graduated 1947), and went on to star at St. John's University (1947-1951), where he played for four years and captained the 1951 team that posted a 26-5 mark and finished third in the NIT.
After college, McGuire played in the NBA, first with the New York Knicks (1951-52) and then with the Baltimore Bullets (1954). While with the Knicks, he once famously pleaded with his coach for playing time, with this guarantee: "I can stop (Bob) Cousy." Inserted into the lineup, McGuire proceeded to foul Cousy on his next six trips down the court.

McGuire began his illustrious coaching career as an assistant to Alvin "Doggie" Julian at Dartmouth College (1955-1957). He then took his first head coaching job at Belmont Abbey College (1957-1964), where he wooed high school players off the streets of New York by showing them a picture of the quad at Duke and telling them it was really Belmont Abbey.
In April, 1964, McGuire was selected from over 30 applicants for the job of coaching basketball at Marquette, replacing Eddie Hickey. Belmont Abbey Cage Coach to Marquette, St. Petersburg Times, April 12, 1964
McGuire persuaded the then resigned assistant coach, Hank Raymonds, to return. The two began an extensive recruiting program, which got eight freshmen in their first year; two of them were from McGuire's native New York. McGuire and Raymonds did such a fine recruiting job that the freshmen defeated the varsity, 70-66, to "spoil" McGuire's Marquette coaching debut.
Success did come in remarkable fashion, including the NIT Championship in 1970 and a Final Four appearance in 1974. McGuire led the Warriors to the university's only NCAA basketball championship in 1977, his final season as a head coach. When McGuire left Marquette, the school's NCAA tournament record was tied with North Carolina for third all-time at 23-13, behind only UCLA (52-12) and Kentucky (37-21).
After retiring from coaching, he became a popular commentator for NBC Sports and CBS Sports.

McGuire died after a long bout with leukemia on January 26, 2001, aged 72, in Milwaukee, Wisconsin.

The Al McGuire Center, which includes a statue in his honor, opened on the Marquette campus in 2004.

Al McGuire's former television broadcast partner and friend, Dick Enberg, penned a one-man theatrical play entitled "McGuire". It debuted at Marquette University's Helfaer Theater in 2005. There may be plans to take the show on the road, as it drew positive reviews as an accurate portrayal of the eccentric coach.
Coaching Accomplishments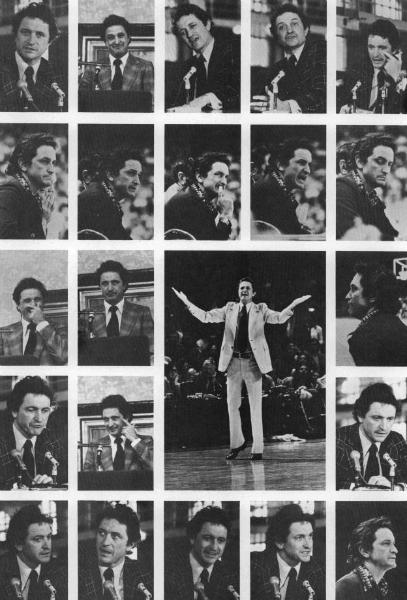 Belmont Abbey record: 109-64

Coached Belmont Abbey to five postseason appearances

Marquette record: 295-80 (78.7%)

Coached team to 11 consecutive postseason bids at Marquette

NIT championship (1970)

Coached team to a 28-1 season (1971)

Al's 39-game winning streak is the ninth-longest in NCAA History

Al's 56-game regular season winning streak is the third-longest in NCAA History

Al's winning percentage (.908) over a three-year period (1970-72) ranks 27th in NCAA History

Al's 81-game home winning streak ranks fifth in NCAA History

Associated Press, United Press International and United States Basketball Writers Association Coach of the Year (1971)

NABC Coach of the Year (1974)

NCAA championship (1977)

Among a select few coaches who have won both the NIT and NCAA championships

Marquette captured its first ever NCAA championship with a 67-59 victory over North Carolina in McGuire's last game as coach

More than 92 percent of his student-athletes completed requirements to earn their degrees from Marquette

Twenty-six of his players were drafted into the NBA

Marquette University Athletic Director (1974-77)

Conducted clinics at two Air Force bases in Europe (1971)
In 13 Seasons Al McGuire Recruited-
10 All-Americans

13 Future NBA Players

Eight 1,000+ Point Scorers

11 500+ Rebounders

Marquette's All-Time Leader in Free Throw Attempts

Marquette's All-Time Leader in Free Throws Made

Marquette's All-Time Leader in Field Goals Made

Marquette's All-Time Leader in Scoring Average
Broadcasting Career
College basketball analyst, NBC Sports and CBS Sports

Basketball analyst, 1988 Olympic Games

Play-by-play announcer for CBS Sports' March Madness

Following his broadcast of a 1996 NCAA Regional Championship, McGuire garnered fame for dancing with the players of Syracuse who were celebrating their entry into the Final Four. He would do the same the following year with the players from the University of Minnesota. The Minnesota players proclaimed they wanted to "Get Down with Al!"
Quotable Al
"I tell all my ballplayers that before they go out in the world, they should spend six months as a bartender and six months as a cab driver- then they will know what life is all about."

"A lot of people think I'm just a jock, but I love my son Robbie, who is not an athlete, as much as I do my son Allie, who is an exceptional one."

When counseling his "boys" on whether or not to leave Marquette, he always said, "Do what's best for you."

"I don't know, maybe some day I'll wake up and find I've been dreaming. I've always thought myself to be the luckiest guy in the world."

"One day, you're in the dumps. The next day, you're up high. I wouldn't advise anyone to get into this business."

"Winning is only important in surgery and war."

"A team should be an extension of a coach's personality. My teams are arrogant and obnoxious."

On his retirement from coaching- "It's time for the next stratum. For me, there's more than yelling at guys who wear short pants. This is no last hurrah, I'm just moving on."

"My players and I have an understanding. I'm the boss. I can help them, but I can't be a social worker or a man of the cloth."

"I'm more interested in the boy than in whether he's wearing bright shoes, a double windsor knot or sideburns."

"Every coach coaches the way he played. I couldn't shoot, so I coach defense."

"Coaching is just a passing love affair with me."

"I'm not foolish enough to think it will go on forever. The drought will come. We've been on a merry go-round for six or seven years."

"A ballplayer has got to learn that he can't be on Park Avenue all his life. He's got to be ready for the 10th Avenue knocks, too."

"I sometimes say things I shouldn't. I go berserk. If I were a university, I'd never hire me."

To potential recruits- "We're going to win if you come or if you don't. If you do, it'll be easier. If you don't, we'll beat you."
McGuirisms
| Term | Meaning |
| --- | --- |
| Aircraft carrier | A dominant big man |
| Ballerina in the sky | Player who jumps well |
| Back-room lawyers | Pro agents |
| Belly | An opponent's weak spot |
| Butcher | A player who fouls a lot |
| Carnival gates are closed | Game's over |
| Certified | Outstanding player |
| Checkerboard | Refers to Black-White relationships |
| Cloud piercer | Player who jumps well |
| Confessional Box | Small gym |
| Congratulate the temporary | Live the moment |
| Cracked sidewalks | Bad part of town |
| Cupcake | Easy opponent |
| Curtain-time | Games |
| Curtains | Game's over |
| Dance hall player | Player short on talent, but big on effort |
| Deep in pine city | Last substitute |
| Diving-points | Refers to players who do tricks or get fancy when they shoot |
| Dress rehearsal | Practice |
| Drydocks | Large basketball shoes |
| Dunkirk | A disaster or extremely poor team performance |
| Dynamite | Used to describe a great game or player |
| French pastry | A showy move |
| Go barefoot in the wet grass | Enjoy the moment |
| Hit the rain | Take a shower |
| Memos and pipes | University administrators and professors |
| Merry-go-round | The world of sports |
| Mombo | Repeated head and shoulder fakes |
| Nab | Referee |
| Nose-bleeder | A super-jumper |
| Out of the gate | Pertains to early season |
| Park Avenue | Anything first class |
| Push | An even game; no team should be considered a favorite |
| Salt and pepper coach | X' and O's coach |
| Sand fights | Hard-fought games |
| Seashells and balloons | Everything is cool |
| Tailenders | Walk-ons or complementary players |
| Tap city | Game's over |
| Tenth Avenue | Opposite of Park Avenue |
| Thoroughbred | A gifted athlete |
| Three O'Clocker | A "thoroughbred" who's "dynamite" in practice and mediocre at "curtain-time." |
| Two loaves of bread under their arms | Good jobs |
| Uptick | Refers to a team playing toward its capacity |
| Uptown | A post-season tournament invitation |
| Whistle-blower | A coach who uses a lot of drills and like his team to wear look-alike sports coats |
| White knuckler | Close game |
| Yellow ribbons and medals | Success in recruiting |
Links