MUScoop Wiki - By the fans, for the fans.
David Liccione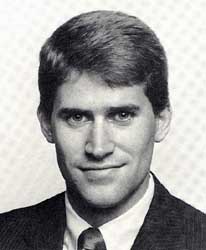 Birthdate- March 13, 1962
Liccione was named Part-Time Assistant Basketball Coach of the Marquette Warriors in 1988. He replaced Fred Hill, who left to become an assistant coach at the University of Maine. "I got to know Dave through basketball camps," said Coach Bob Dukiet. "One can observe people during a week of camp and I was very impressed with his work ethic and his knowledge of the game. He's ahead of his time- a winner, and we're glad he's going to join us.

"I am looking forward to the opportunity and challenge of coaching at the college level," said Liccione. "It's a great privilege to be associated with Marquette and to work for its basketball program….one that I hae supported since my youth. With the opening of the Bradley Center and with Marquette joining the Midwestern Collegiate Conference next season, great things are in store for MU."

Liccione was a teacher at Whitefish Bay High School last year, teaching personal law and world history. He was also an assistant varsity basketball coach at Dominican High School. At Dominican, he was involved with game and practice coaching, scouting opponents and academic advising. Liccione earned a bachelor's degree in history in 1984 from Northwestern and in 1987, he earned his teaching certification in secondary education (history and political science) from Marquette.

This past summer, Liccione was involved in basketball camps at Marquette, Northwestern and Nebraska, as well as the Dixie basketball camp in Summitt, Mississippi and the Pocono Invitational basketball camp in Stroudsburg, Pennsylvania. A 1980 graduate of Marquette High School, Liccione is (was) single and resided in Whitefish Bay.