MUScoop Wiki - By the fans, for the fans.
Glenn Adams #14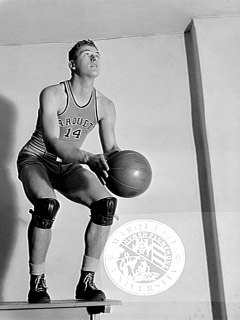 Nickname: "Sparky"
Position: Forward
Height: 6'2"
Weight:
Born:
Hometown: Carpentersville, Illinois
High School:

High School Career
Marquette Career
1936-37
Adams led Marquette in scoring with 5 points per game.
1937-38
Adams averaged 3.9 points per game.
1938-39
Adams upped his scoring average to 6.3 points per game for his senior season.
Professional Career
From 1938-1940, he played for the Sheboygan Red Skins of the National Basketball League (NBL) under Coach Frank Zummach, a former Marquette player and assistant coach.
Adams on his experience in the NBL:
"There was a jeweler in Sheboygan that took me under his wing. I drove back from my home in Chicago to pick up an engagement ring from him. … I would commute from Milwaukee to play basketball. I was working in promotions for A&P Tea Company in Milwaukee. I used to ride back and forth with (center) Eddie Dancker. … They had a pretty good following. As far as that community, they filled (the 1,500-seat Eagle Auditorium on New York Avenue). It was very intense. Oshkosh was probably the best pro team at that time. … (Head coach) Frank Zummach was a very fine student of Bill Chandler's at Marquette, had the same traits Bill Chandler had, and they were all excellent."
Local Basketball: 'The Gym Was Always Full', Sheboygan Press, 11/26/2007