MUScoop Wiki - By the fans, for the fans.
Francis (Frank) Zummach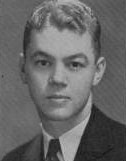 Position: Forward
Height: 5'10"
Weight:
Born:
Hometown: Milwaukee, WI
High School: Marquette H.S.

High School Career
Marquette Career
Zummach started basketball at Marquette as a walk-on.
1930-31
Averaged 2.4 points per game.
1931-32
Served as team co-captain and averaged 3.6 points per game.
1932-33
Averaged 3 points per game.
He later became Marquette's first paid assistant coach and helped develop such notable Marquette cagers as Eugene Ronzani, Ernest Kukla, Adolph "Big Mitts" Gorychka and Raymond Morstadt.
Professional Career
From 1939 to 1942, Zummach coached professionally for the Sheboygan Red Skins of the the National Basketball League (NBL). His Sheboygan team featured former Marquette players.
Zummach reflecting on his experience in the NBL:
"It was huge. Season tickets were sold out. … I got $500 to coach and $100 for legal problems, of which they didn't have any. My law office was in the Security National Bank building. The day after a game, I used to go down the alley behind The Press to the courthouse. Otherwise, I could waste two hours because everyone wanted to talk about the game. I stayed hidden away when we lost. … Once in a while today, someone will yell, 'Hey, Coach.' And that's 60-some years ago. … A few years back, I went to the Basketball Hall of Fame in Springfield, Massachusetts, and saw a team picture of the Red Skins the day I was there. I don't know if they knew I was coming or what."
Former player, Glenn "Sparky" Adams on Coach Zummach:
"(Head coach) Frank Zummach was a very fine student of Bill Chandler's at Marquette, had the same traits Bill Chandler had, and they were all excellent."
Local Basketball: 'The Gym Was Always Full', Sheboygan Press, 11/26/2007
Personal
Zummach graduated from Marquette with an Arts and Sciences degree in 1933 and a Law degree in 1935. His older brother, Jack Zummach also played at Marquette.
Trivia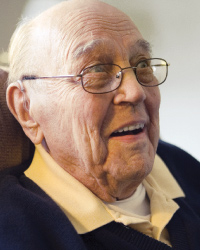 Frank is retired, living in Sheboygan and as of 2009, he is the oldest living Marquette basketball player at the age of 98.
Links