MUScoop Wiki - By the fans, for the fans.
Jerry Homan #45

Position: Center
Height: 6'7"
Weight: 205 lbs.
Birthdate:
Hometown: Wauwatosa, WI
High School: Marquette H.S.

High School Career
Homan won All-Catholic and All-State honors at Milwaukee's Marquette High School, averaging 20 points and 15 rebounds per game as a senior.
He eventually led Milwaukee Marquette to 3rd place in the state private schools' tournament.
Collegiate Career
Jerry originally signed with the University of Detroit and led the Detroit freshman team in scoring where he averaged 18.6 ppg and 10.9 rpg.
Despite a successful freshman year, he transferred to Marquette and sat out the 1971-72 season.
Homan averaged 9.3 points per game during the 1974-75 season.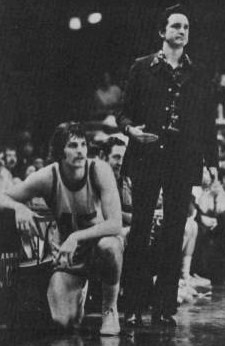 Personal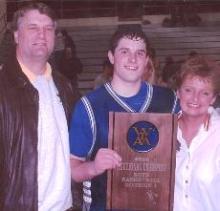 Jerry (left) pictured with his late son Luke.