MUScoop Wiki - By the fans, for the fans.
Grant Wittberger #46
High School Career
Marquette Career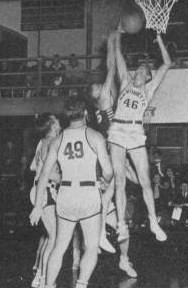 Grant was Marquette's leading scorer during the 1950-51 season (12.8 ppg). He also led the team in rebounding in both 1950-51 (10.5 rpg) and 1951-52 (9.1 rpg). He also averaged nine points per game during that season.
Marquette All-Time Rankings
All-Time Sophomore Season Rankings
10th, Rebounds (230)

7th, Rebounding Average (10.45)
All-Time Freshman Season Rankings
7th (tied), Free Throws Attempted (83)
Professional Career
He played for the Milwaukee Allen-Bradleys of the National Industrial Basketball League (NIBL) and was named to their All-Star team three times (1952-53, 1953-54, and 1954-55).
In the 1995-56 AAU National Semi-Final loss to the Buchan Bakers (Seattle, WA), Wittberger scored nine points which complemented a twenty-point performance by ex-Marquette star Terry Rand, who was in his first season with the Milwaukee Allen-Bradleys.