MUScoop Wiki - By the fans, for the fans.
Michael "Mike" Flory #31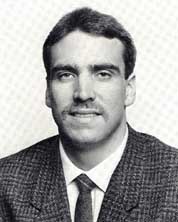 Position: Guard/Forward
Height: 6'5''
Weight: 210 lbs.
Born: November 28, 1965
Hometown: Rhinelander, WI
High School: Rhinelander H.S.

High School Career
Mike played for Tony Fiore from 1980-84. He scored 1,566 points, including 616 as a senior. Averaged 32.8 points and 21 rebounds per game as a senior. "The best player I've seen up in this area was Mike Flory," said Ted Voigt, coach at Lakeland. "He'd grab a rebound and go coast-to-coast on the dribble. He could post up, shoot it." AP all-state and UPI second team as a senior. AP fourth team as a junior.Milwaukee Journal Sentinel Article
Received 30 votes in Milwaukee Journal Sentinel's All-Time State Team poll. (He didn't make any of the top 5 teams.) Milwaukee Journal Sentinel Article
He signed to play at the University of Colorado.
Accolades
1984 All-State Selection

1984 All-Wisconsin Valley Conference Selection
Collegiate Career (Colorado/Ellsworth C.C./Marquette)
Mike attended the University of Colorado as a freshman, where he averaged six points and 5.3 rebounds in a part-time starting role. After playing his freshman year at Colorado, Flory transferred to Ellsworth Community College in Iowa Falls, Iowa. He then transferred to Marquette and played for two years.
1986-87
Flory led the team in three point shots, making 48 of 110 for a percentage of .436. He started 26 games and averaged 12.9 points, with a career-high 29 points in MU's win over Evansville. In that game, he was perfect from the foul line (10-10), which tied the school record for free-throw percentage in a single game.
1987-88
Mike decided to take a redshirt year, to improve his academics. The Warriors were looking forward to his return the following season, when they heard news that on Mother's Day 1988, Mike was involved in a car crash, when his car was struck head-on when an oncoming vehicle crossed the center line. Mike suffered a fractured right ankle and foot, a broken left wrist and facial lacerations. He underwest surgery and recovered in time for the 1988-89 season.

| | | | | | | | | | | | | | | | |
| --- | --- | --- | --- | --- | --- | --- | --- | --- | --- | --- | --- | --- | --- | --- | --- |
| | G | MIN | FG | FGA | 3P | 3PA | FT | FTA | REB | PF | AST | TO | BLK | STL | PTS |
| 84-85 Colorado | 15 | 380 | 33 | 69 | | | 24 | 35 | 79 | 46 | 42 | 23 | 2 | 6 | 90 |
| 85-86 Ellsworth - Stats Unavail. | | | | | | | | | | | | | | | |
| 86-87 Marquette | 29 | 910 | 135 | 287 | 48 | 110 | 55 | 67 | 112 | 79 | 112 | 70 | 5 | 30 | 373 |
| 87-88 Marquette - DNP Redshirt | | | | | | | | | | | | | | | |
| 88-89 Marquette | 28 | 855 | 125 | 264 | 33 | 90 | 68 | 80 | 154 | 62 | 85 | 52 | 6 | 34 | 351 |
| TOTALS | 72 | 2145 | 293 | 620 | 81 | 200 | 147 | 182 | 345 | 187 | 239 | 145 | 13 | 70 | 814 |
| | | | | | | | | | | |
| --- | --- | --- | --- | --- | --- | --- | --- | --- | --- | --- |
| | MPG | FG% | 3P% | FT% | RPG | APG | TPG | BPG | SPG | PPG |
| 84-85 Colorado | 25.3 | 47.8 | | 68.6 | 5.3 | 2.8 | 1.5 | 0.1 | 0.4 | 6.0 |
| 85-86 Ellsworth - Stats Unavail. | | | | | | | | | | |
| 86-87 Marquette | 31.4 | 47.0 | 43.6 | 82.1 | 3.9 | 3.9 | 2.4 | 0.2 | 1.0 | 12.9 |
| 87-88 Marquette - DNP Redshirt | | | | | | | | | | |
| 88-89 Marquette | 30.5 | 47.3 | 36.7 | 85.0 | 5.5 | 3.0 | 1.9 | 0.2 | 1.2 | 12.5 |
| TOTALS | 29.8 | 47.3 | 40.5 | 80.8 | 4.8 | 3.3 | 2.0 | 0.2 | 1.0 | 11.3 |
All-Time Career Leader Rankings
3rd, Three Point Field Goal Percentage (min. 200 att.) (41.5%)
All-Time Single Season Rankings
9th, Three Point Field Goal Percentage (min. 100 att.) (43.6%)
All-Time Single Game Rankings
1st, Free Throw Percentage (tied with 12 others), 100% (10-10) vs. Evansville (March 3, 1987)
All-Time Junior Season Rankings
3rd, Three Point Field Goal Percentage (min. 100 att.) (43.6%)