MUScoop Wiki - By the fans, for the fans.
October 25, 2008 - Marquette Madness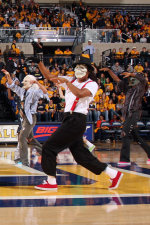 Dunk Champion: Wesley Matthews

Over 4,000 fans packed the Al McGuire Center for an introduction to the 2008-09 MU men's and women's basketball teams at the annual "Marquette Madness" event.

Both squads participated in the two-hour event, which included highlight videos, contests and scrimmage sessions. Terri Mitchell's defending WNIT champion squad took to the court first, followed by the men's team and first-year head coach Buzz Williams.

The program was highlighted by Wesley Matthews' championship in the dunk contest and a self-produced dance by the women's team.

The women's team got Madness started and surprised the crowd with its well-choreographed dance to Michael Jackson's hit "Thriller." After they revealed themselves from under their masks, introductions followed and the Golden Eagles broke off into Blue and Gold teams for a scrimmage while head coach Terri Mitchell addressed all in attendance. The gold team, consisting of sophomores Tatiyiana McMorris, Paige Fiedorowicz, Courtney Weibel and Jocelyn Mellen and newcomers Lauren Thomas-Johnson, Breann Hill and Georgie Jones handily took care of its blue team counterparts (Krystal Ellis, Angel Robinson, Marissa Thrower, Erin Monfre, Janelle Harris, Jasmine Collins and Jessica Pachko), 27-19.

The women's team got the crowd involved and wrapped up its portion of madness with a 3-2-1 contest and taught everyone in attendance its pre-game cheer.

The men's staff and team was introduced in between a pair of videos, one featuring text used in a recent Converse ad campaign and a second highlighting 2008 Boot Camp. The entire roster then took part in a "dunk fest" and scrimmaged for a pair of 13-minute scrimmage sessions.

The Blue team posted a 33-30 victory in the scrimmage, hanging on for the win after a last-second 3-pointer by Dominic James bounced off the rim. Junior Lazar Hayward led all scorers with 18 points on 5-of-9 shooting from the floor. James finished with seven points and senior Dwight Burke grabbed a team-best seven boards.