MUScoop Wiki - By the fans, for the fans.
Rick Majerus
Rick Majerus was born on February 17, 1948 in Sheboygan, Wisconsin. Majerus is something of a fan favorite and cult figure around college basketball, known for being overweight and his quirky, jovial personality. He has had several heart attacks, and suffers from diabetes. After years of rumors that Rick was considered by college programs in need of a coach, he accepted a job as the head coach at Saint Louis University in April 2007.
Marquette Career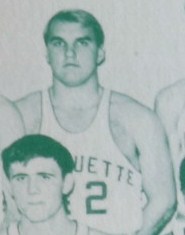 Majerus attended Marquette University, where he played as a walk-on in the 1967 season, but was cut from the team before his sophomore year. He graduated in 1970 with a degree in History, and would work as an assistant coach with the Warriors for the next 12 years. He worked under mentor Al McGuire until 1977, and under Hank Raymonds until taking over as head coach himself in 1983.

His three-year record at Marquette was 56-35 (61.5%) and his best season came in 1984-85, when the Warriors went 20-11. After three years as head coach at Marquette, he became an assistant coach with the Milwaukee Bucks for the 1986-87 season.







In Three Seasons Rick Majerus Recruited
Other Coaching Jobs
He coached at Ball State during the 1987-88 and 88-89 seasons, finishing with a record of 43-17. He lead Utah to the Final Four in 1998, eventually losing to Kentucky in the National Championship Game.
In 2004, Majerus was hired as coach of the University of Southern California basketball team. However, just days after being hired, he changed his mind, and hadn't been in coaching since. He now works as a commentator for ESPN.
On April 27, 2007, Majerus accepted the head coaching position at Saint Louis University, signing a six-year contract.
Published Works
In 2000, he released an autobiography My Life On a Napkin : Pillow Mints, Playground Dreams and Coaching the Runnin' Utes, co-written by Gene Wojciechowski. Amazon.com