MUScoop Wiki - By the fans, for the fans.
Ron Glaser #33
High School Career
Ron played at Washington from 1956-59, scoring 1,232 points during his career, including 493 as a senior. Averaged 30.8 points per game as a senior and was named to the AP and UPI All-State teams as a senior.
Marquette Career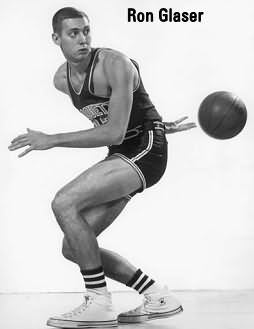 1959-60 (Freshman Team)
He led the 1959-1960 frosh squad with 215 points.
1960-61
"Leading scorer on last year's freshman team. Possesses an uncanny jump shot, releasing the ball behind his head and drilling it to the basket without an arch. A smart ball handler and good competitor."
Glaser averaged 14.6 points per game as a sophomore. With the graduation of Don Kojis, Ron stepped into a leadership role on the court, leading Marquette in scoring as a junior (16.4 ppg) and senior (16.1 ppg).
All-Time Marquette Rankings
All-Time Career Leader Rankings
10th, Scoring Average (16.2)
All-Time Single Game Rankings
1st, Free Throw Percentage (tied with 12 others), 100% (12-12) vs. Louisville (January 6, 1962)
All-Time Senior Season Rankings
10th, Field Goals Made (203)
All-Time Junior Season Rankings
5th, Free Throw Percentage (min. 100 att.) (80.3%)
All-Time Sophomore Season Rankings