MUScoop Wiki - By the fans, for the fans.
Barro's double-double powers Marquette past Rutgers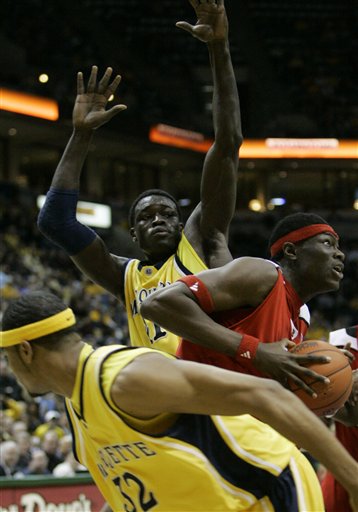 MILWAUKEE – Ousmane Barro had 11 points and 11 rebounds to lead Marquette (No. 12 ESPN/USA Today; No. 11 AP) to a 67-47 win over Rutgers on Wednesday night. The Golden Eagles (21-4, 8-2 Big East) opened the conference season with losses to Providence and Syracuse, but are unbeaten since, winning eight straight games. Rutgers (9-15, 2-9) has lost three consecutive games and eight of nine. Jerel McNeal, Wesley Matthews, David Cubillan and Dan Fitzgerald each scored 10 points as Marquette had little trouble in a tuneup before a key game Saturday against Georgetown (No. 23 ESPN/USA Today; No. 22 AP). The Hoyas have won six consecutive Big East games and trail the second-place Golden Eagles by only a half-game. Rutgers has had trouble scoring and rebounding all season and continued to struggle against Marquette. The Scarlet Knights made only 17-of-48 shots (35 percent) and were outrebounded 40-28. Marquis Webb led Rutgers with 12 points and JR Inman added 11. Inman hit a 3-pointer to bring Rutgers within 40-34 with 14:38 left. Marquette, though, scored the next seven points to take a 47-34 lead on Cubillan's 3-pointer with 12:20 to go. The Golden Eagles led by double digits the rest of the game. Dominic James, Marquette's leading scorer, had his second consecutive subpar scoring game, tying a season-low with six points on 1-of-7 shooting. In the Golden Eagles' 69-62 victory over Providence on Saturday, he also was held to six points. James, though, had seven assists without any turnovers in 34 minutes. Marquette used a 12-2 run to open a 29-18 lead, capped by McNeal's 3-pointer with 4:40 left in the first half. Rutgers, which is 0-15 when trailing at halftime, held James scoreless until he hit a pair of free throws with 72 seconds left to give Marquette a 32-23 halftime lead. Marquette is in second place in the Big East, trailing No. 7 Pittsburgh (9-1) by a game and leading Georgetown (7-2) by a half-game. Fitzgerald started for the first time in five games for Marquette. He made 4-of-14 shots in 30 minutes. Rutgers' junior Ollie Bailey, the team's leading bench scorer at 4.2 points, was held out of the game for making an obscene gesture to Connecticut's fans during UConn's 61-50 overtime victory over the Scarlet Knights Saturday. Inman returned to the Rutgers lineup after missing the UConn game to attend his grandmother's funeral.
Box Score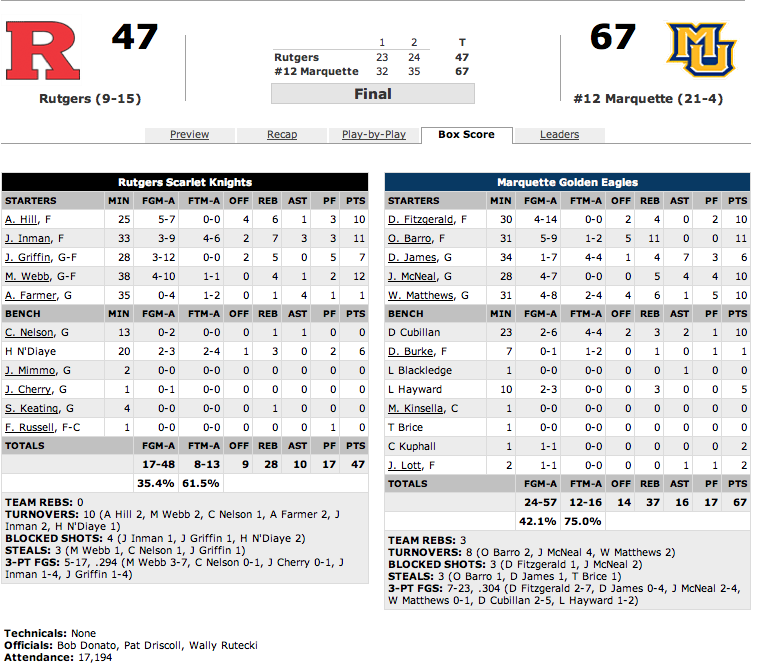 Official Basketball Box Score


Official Basketball Box Score
Rutgers vs 11/12 Marquette
02/07/07 7 p.m. at Milwaukee, Wis. (Bradley Center)

--------------------------------------------------------------------------------
VISITORS: Rutgers 9-15, 2-9
                          TOT-FG  3-PT         REBOUNDS
## Player Name            FG-FGA FG-FGA FT-FTA OF DE TOT PF  TP  A TO BLK S MIN
04 HILL, Adrian........ f  5-7    0-0    0-0    4  2  6   3  10  1  2  0  0  25
15 INMAN, JR........... f  3-9    1-4    4-6    2  5  7   3  11  3  2  1  0  33
32 GRIFFIN, Jaron...... f  3-12   1-4    0-0    2  3  5   5   7  0  0  1  1  28
01 WEBB, Marquis....... g  4-10   3-7    1-1    0  4  4   2  12  1  2  0  1  38
02 FARMER, Anthony..... g  0-4    0-0    1-2    0  1  1   1   1  4  2  0  0  35
03 NELSON, Courtney....    0-2    0-1    0-0    0  1  1   0   0  1  1  0  1  13
05 N'DIAYE, Hamady.....    2-3    0-0    2-4    1  2  3   2   6  0  1  2  0  20
10 MIMMO, Jon..........    0-0    0-0    0-0    0  0  0   0   0  0  0  0  0   2
23 CHERRY, Jason.......    0-1    0-1    0-0    0  0  0   0   0  0  0  0  0   2
33 KEATING, Shayle.....    0-0    0-0    0-0    0  1  1   0   0  0  0  0  0   4
42 RUSSELL, Frank......    0-0    0-0    0-0    0  0  0   1   0  0  0  0  0  0+
   TEAM................                                             1
   Totals..............   17-48   5-17   8-13   9 19 28  17  47 10 11  4  3 200

TOTAL FG% 1st Half:  9-24 37.5%   2nd Half:  8-24 33.3%   Game: 35.4%  DEADB
3-Pt. FG% 1st Half:  3-12 25.0%   2nd Half:  2-5  40.0%   Game: 29.4%   REBS
F Throw % 1st Half:  2-3  66.7%   2nd Half:  6-10 60.0%   Game: 61.5%    3


--------------------------------------------------------------------------------
HOME TEAM: 11/12 Marquette 21-4, 8-2
                          TOT-FG  3-PT         REBOUNDS
## Player Name            FG-FGA FG-FGA FT-FTA OF DE TOT PF  TP  A TO BLK S MIN
05 Fitzgerald, Dan..... f  4-14   2-7    0-0    2  2  4   2  10  0  0  1  0  30
41 Barro, Ousmane...... f  5-9    0-0    1-2    5  6 11   0  11  0  2  0  1  31
01 James, Dominic...... g  1-7    0-4    4-4    1  3  4   3   6  7  0  0  1  34
22 McNeal, Jerel....... g  4-7    2-4    0-0    0  5  5   4  10  4  4  2  0  28
23 Matthews, Wesley.... g  4-8    0-1    2-4    4  2  6   5  10  1  2  0  0  31
10 Cubillan, David.....    2-6    2-5    4-4    2  1  3   1  10  2  0  0  0  23
12 Burke, Dwight.......    0-1    0-0    1-2    0  1  1   1   1  0  0  0  0   7
21 Blackledge, Lawrence    0-0    0-0    0-0    0  0  0   0   0  1  0  0  0   1
32 Hayward, Lazar......    2-3    1-2    0-0    0  3  3   0   5  0  0  0  0  10
40 Kinsella, Mike......    0-0    0-0    0-0    0  0  0   0   0  0  0  0  0   1
42 Brice, Tommy........    0-0    0-0    0-0    0  0  0   0   0  0  0  0  1   1
45 Kuphall, Craig......    1-1    0-0    0-0    0  0  0   0   2  0  0  0  0   1
51 Lott, Jamil.........    1-1    0-0    0-0    0  0  0   1   2  1  0  0  0   2
   TEAM................                         2  1  3
   Totals..............   24-57   7-23  12-16  16 24 40  17  67 16  8  3  3 200

TOTAL FG% 1st Half: 13-29 44.8%   2nd Half: 11-28 39.3%   Game: 42.1%  DEADB
3-Pt. FG% 1st Half:  3-13 23.1%   2nd Half:  4-10 40.0%   Game: 30.4%   REBS
F Throw % 1st Half:  3-4  75.0%   2nd Half:  9-12 75.0%   Game: 75.0%    2


--------------------------------------------------------------------------------
Officials: Bob Donato, Pat Driscoll, Wally Rutecki
Technical fouls: Rutgers-None. 11/12 Marquette-None.
Attendance: 17194
Score by Periods                1st  2nd   Total
Rutgers.......................   23   24  -   47
11/12 Marquette...............   32   35  -   67
ID-485097

Points in the paint-RUTGERS 24,MARQ 28. Points off turnovers-RUTGERS 4,MARQ 12.
2nd chance points-RUTGERS 16,MARQ 8. Fast break points-RUTGERS 2,MARQ 13.
Bench points-RUTGERS 6,MARQ 20. Score tied-3 times. Lead changed-1 time.
Last FG-RUTGERS 2nd-01:25, MARQ 2nd-00:03.
Largest lead-RUTGERS by 3 1st-17:02, MARQ by 20 2nd-00:03.

Play-by-Play


Play-by-Play
Rutgers vs 11/12 Marquette
02/07/07 7 p.m. at Milwaukee, Wis. (Bradley Center)

1st PERIOD Play-by-Play (Page 1)
HOME TEAM: 11/12 Marquette                      TIME   SCORE  MAR  VISITORS: Rutgers
------------------------------------------------------------------------------------------------
REBOUND (DEF) by Barro, Ousmane                 19:41              MISSED 3 PTR by GRIFFIN, Jaron
MISSED 3 PTR by Fitzgerald, Dan                 19:23              REBOUND (DEF) by GRIFFIN, Jaron
                                                19:05              MISSED 3 PTR by GRIFFIN, Jaron
                                                19:05              REBOUND (OFF) by HILL, Adrian
                                                18:41   0-2   V 2  GOOD! JUMPER by HILL, Adrian [PNT]
                                                18:41              ASSIST by FARMER, Anthony
                                                18:24              FOUL by HILL, Adrian (P1T1)
GOOD! JUMPER by Matthews, Wesley                18:15   2-2   T 1
                                                17:53              MISSED JUMPER by FARMER, Anthony
                                                17:53              REBOUND (OFF) by HILL, Adrian
                                                17:51   2-4   V 2  GOOD! TIP-IN by HILL, Adrian [PNT]
GOOD! LAYUP by Matthews, Wesley [PNT]           17:32   4-4   T 2
ASSIST by McNeal, Jerel                         17:32
                                                17:02   4-7   V 3  GOOD! 3 PTR by WEBB, Marquis
                                                17:02              ASSIST by FARMER, Anthony
GOOD! JUMPER by Barro, Ousmane [PNT]            16:51   6-7   V 1
                                                16:33   6-9   V 3  GOOD! JUMPER by INMAN, JR [PNT]
                                                16:33              ASSIST by WEBB, Marquis
GOOD! 3 PTR by McNeal, Jerel                    16:22   9-9   T 3
REBOUND (DEF) by McNeal, Jerel                  15:46              MISSED 3 PTR by INMAN, JR
GOOD! LAYUP by Barro, Ousmane [FB/PNT]          15:39  11-9   H 2
ASSIST by McNeal, Jerel                         15:39
BLOCK by Fitzgerald, Dan                        15:20              MISSED JUMPER by GRIFFIN, Jaron
REBOUND (DEF) by Barro, Ousmane                 15:18
GOOD! LAYUP by Matthews, Wesley [FB/PNT]        15:11  13-9   H 4
REBOUND (DEF) by Barro, Ousmane                 14:42              MISSED JUMPER by HILL, Adrian
TURNOVR by McNeal, Jerel                        14:35
                                                14:35              TIMEOUT MEDIA
REBOUND (DEF) by Barro, Ousmane                 14:35              MISSED 3 PTR by INMAN, JR
TURNOVR by Matthews, Wesley                     13:58
                                                13:58              SUB IN : N'DIAYE, Hamady
                                                13:58              SUB OUT: INMAN, JR
                                                13:28  13-12  H 1  GOOD! 3 PTR by GRIFFIN, Jaron
                                                13:28              ASSIST by FARMER, Anthony
GOOD! LAYUP by Barro, Ousmane [PNT]             13:09  15-12  H 3
ASSIST by Matthews, Wesley                      13:09
REBOUND (DEF) by Matthews, Wesley               12:51              MISSED 3 PTR by GRIFFIN, Jaron
MISSED 3 PTR by McNeal, Jerel                   12:43              REBOUND (DEF) by GRIFFIN, Jaron
                                                12:19              TIMEOUT 30sec
SUB IN : Hayward, Lazar                         12:19              SUB IN : INMAN, JR
SUB OUT: Fitzgerald, Dan                        12:19              SUB OUT: HILL, Adrian
                                                12:10              TURNOVR by INMAN, JR
                                                12:10              FOUL by INMAN, JR (P1T2)
TURNOVR by McNeal, Jerel                        11:50
FOUL by McNeal, Jerel (P1T1)                    11:50
                                                11:50              TIMEOUT MEDIA
                                                11:50              SUB IN : NELSON, Courtney
                                                11:50              SUB OUT: GRIFFIN, Jaron
REBOUND (DEF) by Hayward, Lazar                 11:18              MISSED 3 PTR by WEBB, Marquis
GOOD! JUMPER by Hayward, Lazar [PNT]            11:09  17-12  H 5
ASSIST by James, Dominic                        11:09
                                                10:32  17-15  H 2  GOOD! 3 PTR by WEBB, Marquis
                                                10:32              ASSIST by INMAN, JR
MISSED 3 PTR by James, Dominic                  10:11
REBOUND (OFF) by Barro, Ousmane                 10:11
                                                10:10              FOUL by N'DIAYE, Hamady (P1T3)
SUB IN : Burke, Dwight                          10:10              SUB IN : HILL, Adrian
SUB IN : Cubillan, David                        10:10              SUB OUT: N'DIAYE, Hamady
SUB OUT: James, Dominic                         10:10
SUB OUT: Barro, Ousmane                         10:10
MISSED JUMPER by Burke, Dwight                  09:53              REBOUND (DEF) by INMAN, JR
FOUL by Burke, Dwight (P1T2)                    09:53
REBOUND (DEF) by Hayward, Lazar                 09:20              MISSED 3 PTR by NELSON, Courtney
MISSED JUMPER by Matthews, Wesley               09:12              REBOUND (DEF) by WEBB, Marquis
FOUL by Matthews, Wesley (P1T3)                 08:56              MISSED FT SHOT by FARMER, Anthony
                                                08:56              REBOUND (OFF) by (DEADBALL)
                                                08:56  17-16  H 1  GOOD! FT SHOT by FARMER, Anthony
SUB IN : Fitzgerald, Dan                        08:56              SUB IN : GRIFFIN, Jaron
SUB OUT: McNeal, Jerel                          08:56              SUB OUT: NELSON, Courtney
MISSED 3 PTR by Cubillan, David                 08:42
REBOUND (OFF) by (TEAM)                         08:42
MISSED JUMPER by Fitzgerald, Dan                08:40              BLOCK by INMAN, JR
REBOUND (OFF) by Fitzgerald, Dan                08:37
GOOD! TIP-IN by Fitzgerald, Dan [PNT]           08:35  19-16  H 3
                                                07:59              TURNOVR by (TEAM)
TIMEOUT MEDIA                                   07:59
GOOD! 3 PTR by Hayward, Lazar                   07:36  22-16  H 6
ASSIST by Cubillan, David                       07:36
FOUL by Cubillan, David (P1T4)                  07:12
SUB IN : McNeal, Jerel                          07:12
SUB IN : Barro, Ousmane                         07:12
SUB IN : James, Dominic                         07:12
SUB OUT: Matthews, Wesley                       07:12
SUB OUT: Burke, Dwight                          07:12
SUB OUT: Hayward, Lazar                         07:12
                                                07:09              MISSED 3 PTR by INMAN, JR
REBOUND (DEF) by James, Dominic                 07:01
                                                06:58              FOUL by INMAN, JR (P2T4)
                                                06:58              SUB IN : NELSON, Courtney
                                                06:58              SUB OUT: FARMER, Anthony
MISSED 3 PTR by Fitzgerald, Dan                 06:40              REBOUND (DEF) by NELSON, Courtney
                                                06:17              TURNOVR by WEBB, Marquis
STEAL by Barro, Ousmane                         06:16
GOOD! LAYUP by McNeal, Jerel [FB/PNT]           06:12  24-16  H 8
                                                06:06              TIMEOUT 30sec
                                                05:41              MISSED JUMPER by NELSON, Courtney
                                                05:41              REBOUND (OFF) by HILL, Adrian
                                                05:37  24-18  H 6  GOOD! TIP-IN by HILL, Adrian [PNT]
GOOD! LAYUP by Fitzgerald, Dan [PNT]            05:09  26-18  H 8
ASSIST by James, Dominic                        05:09
REBOUND (DEF) by Barro, Ousmane                 04:50              MISSED JUMPER by GRIFFIN, Jaron
GOOD! 3 PTR by McNeal, Jerel [FB]               04:40  29-18  H 11
ASSIST by Cubillan, David                       04:40
                                                04:18  29-20  H 9  GOOD! JUMPER by WEBB, Marquis [PNT]
FOUL by McNeal, Jerel (P2T5)                    04:18  29-21  H 8  GOOD! FT SHOT by WEBB, Marquis
SUB IN : Matthews, Wesley                       04:18              SUB IN : N'DIAYE, Hamady
SUB OUT: McNeal, Jerel                          04:18              SUB IN : FARMER, Anthony
                                                04:18              SUB OUT: INMAN, JR
                                                04:18              SUB OUT: NELSON, Courtney
MISSED 3 PTR by Fitzgerald, Dan                 04:03
REBOUND (OFF) by Barro, Ousmane                 04:03
MISSED 3 PTR by James, Dominic                  03:50
REBOUND (OFF) by Matthews, Wesley               03:50
                                                03:50              FOUL by GRIFFIN, Jaron (P1T5)
TIMEOUT media                                   03:50
MISSED FT SHOT by Matthews, Wesley              03:50
REBOUND (OFF) by (DEADBALL)                     03:50
GOOD! FT SHOT by Matthews, Wesley               03:50  30-21  H 9
SUB IN : Hayward, Lazar                         03:50
SUB OUT: Fitzgerald, Dan                        03:50
                                                03:26              TURNOVR by FARMER, Anthony
MISSED 3 PTR by Cubillan, David                 03:13
REBOUND (OFF) by Barro, Ousmane                 03:13
MISSED TIP-IN by Barro, Ousmane                 03:10              REBOUND (DEF) by N'DIAYE, Hamady
FOUL by James, Dominic (P1T6)                   02:56
                                                02:32              FOUL by HILL, Adrian (P2T6)
                                                02:32              TURNOVR by HILL, Adrian
SUB IN : Fitzgerald, Dan                        02:32              SUB IN : INMAN, JR
SUB OUT: Cubillan, David                        02:32              SUB OUT: HILL, Adrian
MISSED 3 PTR by Matthews, Wesley                02:06
REBOUND (OFF) by (TEAM)                         02:06
TIMEOUT 30sec                                   02:00
MISSED JUMPER by Fitzgerald, Dan                01:44              BLOCK by GRIFFIN, Jaron
                                                01:41              REBOUND (DEF) by WEBB, Marquis
                                                01:19  30-23  H 7  GOOD! LAYUP by GRIFFIN, Jaron [PNT]
                                                01:19              ASSIST by INMAN, JR
GOOD! FT SHOT by James, Dominic                 01:12  31-23  H 8  FOUL by FARMER, Anthony (P1T7)
GOOD! FT SHOT by James, Dominic                 01:12  32-23  H 9
SUB IN : Cubillan, David                        01:12
SUB OUT: Hayward, Lazar                         01:12
REBOUND (DEF) by James, Dominic                 00:40              MISSED 3 PTR by WEBB, Marquis
MISSED 3 PTR by James, Dominic                  00:06
REBOUND (OFF) by Fitzgerald, Dan                00:06
MISSED TIP-IN by Fitzgerald, Dan                00:04              REBOUND (DEF) by INMAN, JR
                                                00:00              MISSED JUMPER by FARMER, Anthony
                                                00:00              REBOUND (OFF) by (DEADBALL)


                                 11/12 Marquette 32, Rutgers 23

          1st period-only      InPaint Pts-T/O 2nd-Chc FastBrk BnchPts Ties  Leads
          Rutgers                12       3       6       0       0      0     0
          11/12 Marquette        18       5       3       9       5      3     1


2nd PERIOD Play-by-Play (Page 1)
HOME TEAM: 11/12 Marquette                      TIME   SCORE  MAR  VISITORS: Rutgers
------------------------------------------------------------------------------------------------
TURNOVR by Barro, Ousmane                       19:43              STEAL by WEBB, Marquis
                                                19:32              FOUL by HILL, Adrian (P3T1)
                                                19:32              TURNOVR by HILL, Adrian
MISSED JUMPER by James, Dominic                 19:10
REBOUND (OFF) by Matthews, Wesley               19:10
MISSED TIP-IN by Matthews, Wesley               19:08
REBOUND (OFF) by Matthews, Wesley               19:08
GOOD! TIP-IN by Matthews, Wesley [PNT]          19:06  34-23  H 11
                                                18:32  34-26  H 8  GOOD! 3 PTR by WEBB, Marquis
                                                18:32              ASSIST by HILL, Adrian
FOUL by McNeal, Jerel (P3T1)                    18:17
TURNOVR by McNeal, Jerel                        18:17
                                                18:17              SUB IN : NELSON, Courtney
                                                18:17              SUB OUT: FARMER, Anthony
REBOUND (DEF) by McNeal, Jerel                  18:03              MISSED JUMPER by GRIFFIN, Jaron
MISSED FT SHOT by Barro, Ousmane                17:58              FOUL by GRIFFIN, Jaron (P2T2)
REBOUND (OFF) by (DEADBALL)                     17:58
GOOD! FT SHOT by Barro, Ousmane                 17:58  35-26  H 9
                                                17:58              SUB IN : FARMER, Anthony
                                                17:58              SUB OUT: GRIFFIN, Jaron
                                                17:47  35-28  H 7  GOOD! DUNK by HILL, Adrian [FB/PNT]
                                                17:47              ASSIST by NELSON, Courtney
FOUL by Matthews, Wesley (P2T2)                 17:33
TURNOVR by Matthews, Wesley                     17:33
BLOCK by McNeal, Jerel                          17:16              MISSED 3 PTR by WEBB, Marquis
REBOUND (DEF) by Barro, Ousmane                 17:15
GOOD! DUNK by James, Dominic [PNT]              16:59  37-28  H 9
ASSIST by McNeal, Jerel                         16:59
FOUL by James, Dominic (P2T3)                   16:19  37-29  H 8  GOOD! FT SHOT by INMAN, JR
REBOUND (DEF) by Fitzgerald, Dan                16:19              MISSED FT SHOT by INMAN, JR
                                                16:19              SUB IN : GRIFFIN, Jaron
                                                16:19              SUB OUT: NELSON, Courtney
MISSED JUMPER by Fitzgerald, Dan                15:59
REBOUND (OFF) by Barro, Ousmane                 15:59
                                                15:55              FOUL by INMAN, JR (P3T3)
TIMEOUT MEDIA                                   15:55
GOOD! FT SHOT by Matthews, Wesley               15:55  38-29  H 9
MISSED FT SHOT by Matthews, Wesley              15:55              REBOUND (DEF) by WEBB, Marquis
REBOUND (DEF) by McNeal, Jerel                  15:30              MISSED JUMPER by HILL, Adrian
MISSED JUMPER by Barro, Ousmane                 15:22              REBOUND (DEF) by INMAN, JR
                                                15:07  38-31  H 7  GOOD! JUMPER by INMAN, JR [PNT]
GOOD! LAYUP by Barro, Ousmane [FB/PNT]          15:01  40-31  H 9
ASSIST by James, Dominic                        15:01
                                                14:38  40-34  H 6  GOOD! 3 PTR by INMAN, JR
                                                14:38              ASSIST by FARMER, Anthony
TURNOVR by McNeal, Jerel                        14:29
                                                14:28              STEAL by GRIFFIN, Jaron
FOUL by Fitzgerald, Dan (P1T4)                  14:22
SUB IN : Cubillan, David                        14:22              SUB IN : N'DIAYE, Hamady
SUB OUT: Matthews, Wesley                       14:22              SUB OUT: HILL, Adrian
                                                14:06              TURNOVR by INMAN, JR
GOOD! JUMPER by McNeal, Jerel [PNT]             13:52  42-34  H 8
ASSIST by James, Dominic                        13:52
FOUL by James, Dominic (P3T5)                   13:39
REBOUND (DEF) by McNeal, Jerel                  13:20              MISSED JUMPER by WEBB, Marquis
MISSED LAYUP by McNeal, Jerel                   13:14              BLOCK by N'DIAYE, Hamady
REBOUND (OFF) by James, Dominic                 13:10
GOOD! TIP-IN by Barro, Ousmane [PNT]            13:05  44-34  H 10
ASSIST by James, Dominic                        13:05
FOUL by Fitzgerald, Dan (P2T6)                  12:35
SUB IN : Hayward, Lazar                         12:35
SUB IN : Matthews, Wesley                       12:35
SUB OUT: James, Dominic                         12:35
SUB OUT: Fitzgerald, Dan                        12:35
BLOCK by McNeal, Jerel                          12:31              MISSED JUMPER by GRIFFIN, Jaron
REBOUND (DEF) by Hayward, Lazar                 12:29
                                                12:26              FOUL by GRIFFIN, Jaron (P3T4)
                                                12:26              SUB IN : NELSON, Courtney
                                                12:26              SUB OUT: GRIFFIN, Jaron
GOOD! 3 PTR by Cubillan, David                  12:20  47-34  H 13
                                                11:53              MISSED DUNK by N'DIAYE, Hamady
                                                11:53              REBOUND (OFF) by INMAN, JR
                                                11:49  47-36  H 11 GOOD! DUNK by N'DIAYE, Hamady [PNT]
                                                11:49              ASSIST by INMAN, JR
MISSED JUMPER by Barro, Ousmane                 11:38              REBOUND (DEF) by INMAN, JR
                                                11:09              TURNOVR by WEBB, Marquis
TIMEOUT MEDIA                                   11:09
                                                11:09              SUB IN : KEATING, Shayle
                                                11:09              SUB IN : HILL, Adrian
                                                11:09              SUB OUT: INMAN, JR
                                                11:09              SUB OUT: NELSON, Courtney
MISSED 3 PTR by Hayward, Lazar                  10:55              REBOUND (DEF) by WEBB, Marquis
                                                10:44              FOUL by N'DIAYE, Hamady (P2T5)
                                                10:44              TURNOVR by N'DIAYE, Hamady
MISSED JUMPER by Barro, Ousmane                 10:33
REBOUND (OFF) by Matthews, Wesley               10:33
MISSED TIP-IN by Matthews, Wesley               10:31              REBOUND (DEF) by KEATING, Shayle
FOUL by McNeal, Jerel (P4T7)                    10:15              MISSED FT SHOT by N'DIAYE, Hamady
REBOUND (DEF) by Burke, Dwight                  10:15
SUB IN : Burke, Dwight                          10:15
SUB IN : James, Dominic                         10:15
SUB IN : Fitzgerald, Dan                        10:15
SUB OUT: Hayward, Lazar                         10:15
SUB OUT: McNeal, Jerel                          10:15
SUB OUT: Barro, Ousmane                         10:15
GOOD! 3 PTR by Fitzgerald, Dan                  09:59  50-36  H 14
ASSIST by James, Dominic                        09:59
REBOUND (DEF) by (TEAM)                         09:32              MISSED 3 PTR by WEBB, Marquis
                                                09:29              SUB IN : INMAN, JR
                                                09:29              SUB OUT: KEATING, Shayle
MISSED 3 PTR by James, Dominic                  09:00
REBOUND (OFF) by Cubillan, David                09:00
MISSED 3 PTR by Fitzgerald, Dan                 08:52              REBOUND (DEF) by FARMER, Anthony
REBOUND (DEF) by Matthews, Wesley               08:43              MISSED JUMPER by FARMER, Anthony
MISSED JUMPER by James, Dominic                 08:35
REBOUND (OFF) by Cubillan, David                08:35
MISSED JUMPER by Cubillan, David                08:28              REBOUND (DEF) by N'DIAYE, Hamady
STEAL by James, Dominic                         07:54              TURNOVR by FARMER, Anthony
                                                07:54              FOUL by WEBB, Marquis (P1T6)
TIMEOUT MEDIA                                   07:54
                                                07:54              SUB IN : GRIFFIN, Jaron
                                                07:54              SUB IN : RUSSELL, Frank
                                                07:54              SUB OUT: N'DIAYE, Hamady
                                                07:54              SUB OUT: HILL, Adrian
GOOD! FT SHOT by Burke, Dwight                  07:29  51-36  H 15 FOUL by RUSSELL, Frank (P1T7)
MISSED FT SHOT by Burke, Dwight                 07:29              REBOUND (DEF) by HILL, Adrian
                                                07:29              SUB IN : HILL, Adrian
                                                07:29              SUB OUT: RUSSELL, Frank
                                                07:17              MISSED JUMPER by INMAN, JR
                                                07:17              REBOUND (OFF) by HILL, Adrian
                                                07:13  51-38  H 13 GOOD! TIP-IN by HILL, Adrian [PNT]
GOOD! FT SHOT by James, Dominic                 06:41  52-38  H 14 FOUL by WEBB, Marquis (P2T8)
GOOD! FT SHOT by James, Dominic                 06:41  53-38  H 15
SUB IN : Barro, Ousmane                         06:41
SUB OUT: Burke, Dwight                          06:41
REBOUND (DEF) by Fitzgerald, Dan                06:25              MISSED JUMPER by INMAN, JR
MISSED 3 PTR by Fitzgerald, Dan                 06:06              REBOUND (DEF) by HILL, Adrian
                                                05:59              SUB IN : N'DIAYE, Hamady
                                                05:59              SUB OUT: HILL, Adrian
FOUL by Matthews, Wesley (P3T8)                 05:40              MISSED FT SHOT by N'DIAYE, Hamady
                                                05:40              REBOUND (OFF) by INMAN, JR
FOUL by Matthews, Wesley (P4T9)                 05:33  53-39  H 14 GOOD! FT SHOT by INMAN, JR
                                                05:33  53-40  H 13 GOOD! FT SHOT by INMAN, JR
SUB IN : McNeal, Jerel                          05:33
SUB OUT: Matthews, Wesley                       05:33
MISSED JUMPER by Fitzgerald, Dan                05:00              BLOCK by N'DIAYE, Hamady
                                                04:57              REBOUND (DEF) by INMAN, JR
REBOUND (DEF) by Cubillan, David                04:26              MISSED JUMPER by GRIFFIN, Jaron
GOOD! FT SHOT by Cubillan, David                04:24  54-40  H 14 FOUL by GRIFFIN, Jaron (P4T9)
GOOD! FT SHOT by Cubillan, David                04:24  55-40  H 15
REBOUND (DEF) by James, Dominic                 04:09              MISSED JUMPER by FARMER, Anthony
MISSED 3 PTR by Cubillan, David                 04:02              REBOUND (DEF) by GRIFFIN, Jaron
                                                03:43              MISSED JUMPER by INMAN, JR
                                                03:43              REBOUND (OFF) by GRIFFIN, Jaron
                                                03:38              MISSED TIP-IN by GRIFFIN, Jaron
                                                03:38              REBOUND (OFF) by GRIFFIN, Jaron
                                                03:38  55-42  H 13 GOOD! TIP-IN by GRIFFIN, Jaron [PNT]
                                                03:38              TIMEOUT 30sec
SUB IN : Matthews, Wesley                       03:38
SUB OUT: Fitzgerald, Dan                        03:38
                                                03:14              FOUL by GRIFFIN, Jaron (P5T10)
TIMEOUT MEDIA                                   03:14
GOOD! FT SHOT by Cubillan, David                03:14  56-42  H 14
GOOD! FT SHOT by Cubillan, David                03:14  57-42  H 15
                                                03:14              SUB IN : NELSON, Courtney
                                                03:14              SUB OUT: GRIFFIN, Jaron
REBOUND (DEF) by McNeal, Jerel                  02:50              MISSED JUMPER by WEBB, Marquis
MISSED 3 PTR by McNeal, Jerel                   02:14
REBOUND (OFF) by Barro, Ousmane                 02:14
TURNOVR by Barro, Ousmane                       02:11
                                                02:10              STEAL by NELSON, Courtney
FOUL by Matthews, Wesley (P5T10)                02:06              MISSED FT SHOT by INMAN, JR
                                                02:06              REBOUND (OFF) by (DEADBALL)
                                                02:06  57-43  H 14 GOOD! FT SHOT by INMAN, JR
SUB IN : Lott, Jamil                            02:06              SUB IN : KEATING, Shayle
SUB IN : Fitzgerald, Dan                        02:06              SUB IN : CHERRY, Jason
SUB OUT: Barro, Ousmane                         02:06              SUB IN : MIMMO, Jon
SUB OUT: Matthews, Wesley                       02:06              SUB OUT: FARMER, Anthony
                                                02:06              SUB OUT: INMAN, JR
                                                02:06              SUB OUT: WEBB, Marquis
GOOD! 3 PTR by Fitzgerald, Dan                  01:46  60-43  H 17
ASSIST by James, Dominic                        01:46
                                                01:30              MISSED 3 PTR by CHERRY, Jason
                                                01:30              REBOUND (OFF) by N'DIAYE, Hamady
                                                01:25  60-45  H 15 GOOD! TIP-IN by N'DIAYE, Hamady [PNT]
GOOD! 3 PTR by Cubillan, David                  01:12  63-45  H 18
ASSIST by McNeal, Jerel                         01:12
FOUL by Lott, Jamil (P1T11)                     00:52  63-46  H 17 GOOD! FT SHOT by N'DIAYE, Hamady
                                                00:52  63-47  H 16 GOOD! FT SHOT by N'DIAYE, Hamady
SUB IN : Blackledge, Lawrence                   00:52
SUB IN : Kinsella, Mike                         00:52
SUB OUT: McNeal, Jerel                          00:52
SUB OUT: Cubillan, David                        00:52
SUB IN : Kuphall, Craig                         00:32
SUB IN : Brice, Tommy                           00:32
SUB OUT: James, Dominic                         00:32
SUB OUT: Fitzgerald, Dan                        00:32
GOOD! JUMPER by Kuphall, Craig                  00:21  65-47  H 18
ASSIST by Lott, Jamil                           00:21
STEAL by Brice, Tommy                           00:05              TURNOVR by NELSON, Courtney
GOOD! JUMPER by Lott, Jamil [FB]                00:03  67-47  H 20
ASSIST by Blackledge, Lawrence                  00:03


                                 11/12 Marquette 67, Rutgers 47

          2nd period-only      InPaint Pts-T/O 2nd-Chc FastBrk BnchPts Ties  Leads
          Rutgers                12       1      10       2       6      0     0
          11/12 Marquette        10       7       5       4      15      0     0


Official Basketball Box Score -- 1st Half


Official Basketball Box Score -- 1st Half
Rutgers vs 11/12 Marquette
02/07/07 7 p.m. at Milwaukee, Wis. (Bradley Center)

--------------------------------------------------------------------------------
VISITORS: Rutgers 9-15, 2-9
                          TOT-FG  3-PT         REBOUNDS
## Player Name            FG-FGA FG-FGA FT-FTA OF DE TOT PF  TP  A TO BLK S MIN
04 HILL, Adrian........ f  3-4    0-0    0-0    3  0  3   2   6  0  1  0  0  15
15 INMAN, JR........... f  1-4    0-3    0-0    0  2  2   2   2  2  1  1  0  17
32 GRIFFIN, Jaron...... f  2-7    1-4    0-0    0  2  2   1   5  0  0  1  0  17
01 WEBB, Marquis....... g  3-5    2-4    1-1    0  2  2   0   9  1  1  0  0  20
02 FARMER, Anthony..... g  0-2    0-0    1-2    0  0  0   1   1  3  1  0  0  17
03 NELSON, Courtney....    0-2    0-1    0-0    0  1  1   0   0  0  0  0  0   6
05 N'DIAYE, Hamady.....    0-0    0-0    0-0    0  1  1   1   0  0  0  0  0   8
10 MIMMO, Jon..........    0-0    0-0    0-0    0  0  0   0   0  0  0  0  0   0
23 CHERRY, Jason.......    0-0    0-0    0-0    0  0  0   0   0  0  0  0  0   0
33 KEATING, Shayle.....    0-0    0-0    0-0    0  0  0   0   0  0  0  0  0   0
42 RUSSELL, Frank......    0-0    0-0    0-0    0  0  0   0   0  0  0  0  0   0
   TEAM................                                             1
   Totals..............    9-24   3-12   2-3    3  8 11   7  23  6  5  2  0 100

TOTAL FG% 1st Half:  9-24 37.5%
3-Pt. FG% 1st Half:  3-12 25.0%
F Throw % 1st Half:  2-3  66.7%


--------------------------------------------------------------------------------
HOME TEAM: 11/12 Marquette 21-4, 8-2
                          TOT-FG  3-PT         REBOUNDS
## Player Name            FG-FGA FG-FGA FT-FTA OF DE TOT PF  TP  A TO BLK S MIN
05 Fitzgerald, Dan..... f  2-8    0-3    0-0    2  0  2   0   4  0  0  1  0  15
41 Barro, Ousmane...... f  3-4    0-0    0-0    3  5  8   0   6  0  0  0  1  17
01 James, Dominic...... g  0-3    0-3    2-2    0  2  2   1   2  2  0  0  0  17
22 McNeal, Jerel....... g  3-4    2-3    0-0    0  1  1   2   8  2  2  0  0  14
23 Matthews, Wesley.... g  3-5    0-1    1-2    1  1  2   1   7  1  1  0  0  17
10 Cubillan, David.....    0-2    0-2    0-0    0  0  0   1   0  2  0  0  0   9
12 Burke, Dwight.......    0-1    0-0    0-0    0  0  0   1   0  0  0  0  0   3
21 Blackledge, Lawrence    0-0    0-0    0-0    0  0  0   0   0  0  0  0  0   0
32 Hayward, Lazar......    2-2    1-1    0-0    0  2  2   0   5  0  0  0  0   8
40 Kinsella, Mike......    0-0    0-0    0-0    0  0  0   0   0  0  0  0  0   0
42 Brice, Tommy........    0-0    0-0    0-0    0  0  0   0   0  0  0  0  0   0
45 Kuphall, Craig......    0-0    0-0    0-0    0  0  0   0   0  0  0  0  0   0
51 Lott, Jamil.........    0-0    0-0    0-0    0  0  0   0   0  0  0  0  0   0
   TEAM................                         2     2
   Totals..............   13-29   3-13   3-4    8 11 19   6  32  7  3  1  1 100

TOTAL FG% 1st Half: 13-29 44.8%
3-Pt. FG% 1st Half:  3-13 23.1%
F Throw % 1st Half:  3-4  75.0%


--------------------------------------------------------------------------------
Officials: Bob Donato, Pat Driscoll, Wally Rutecki
Technical fouls: Rutgers-None. 11/12 Marquette-None.
Attendance: 17194
Score by Periods                1st
Rutgers.......................   23
11/12 Marquette...............   32
ID-485097

Points in the paint-RUTGERS 12,MARQ 18. Points off turnovers-RUTGERS 3,MARQ 5.
2nd chance points-RUTGERS 6,MARQ 3. Fast break points-RUTGERS 0,MARQ 9.
Bench points-RUTGERS 0,MARQ 5. Score tied-3 times. Lead changed-1 time.
Last FG-RUTGERS 2nd-01:25, MARQ 2nd-00:03.
Largest lead-RUTGERS by 3 1st-17:02, MARQ by 20 2nd-00:03.

Official Basketball Box Score -- 2nd Half


Official Basketball Box Score -- 2nd Half
Rutgers vs 11/12 Marquette
02/07/07 7 p.m. at Milwaukee, Wis. (Bradley Center)

--------------------------------------------------------------------------------
VISITORS: Rutgers 9-15, 2-9
                          TOT-FG  3-PT         REBOUNDS
## Player Name            FG-FGA FG-FGA FT-FTA OF DE TOT PF  TP  A TO BLK S MIN
04 HILL, Adrian........ f  2-3    0-0    0-0    1  2  3   1   4  1  1  0  0  10
15 INMAN, JR........... f  2-5    1-1    4-6    2  3  5   1   9  1  1  0  0  16
32 GRIFFIN, Jaron...... f  1-5    0-0    0-0    2  1  3   4   2  0  0  0  1  11
01 WEBB, Marquis....... g  1-5    1-3    0-0    0  2  2   2   3  0  1  0  1  18
02 FARMER, Anthony..... g  0-2    0-0    0-0    0  1  1   0   0  1  1  0  0  18
03 NELSON, Courtney....    0-0    0-0    0-0    0  0  0   0   0  1  1  0  1   7
05 N'DIAYE, Hamady.....    2-3    0-0    2-4    1  1  2   1   6  0  1  2  0  12
10 MIMMO, Jon..........    0-0    0-0    0-0    0  0  0   0   0  0  0  0  0   2
23 CHERRY, Jason.......    0-1    0-1    0-0    0  0  0   0   0  0  0  0  0   2
33 KEATING, Shayle.....    0-0    0-0    0-0    0  1  1   0   0  0  0  0  0   4
42 RUSSELL, Frank......    0-0    0-0    0-0    0  0  0   1   0  0  0  0  0  0+
   TEAM................
   Totals..............    8-24   2-5    6-10   6 11 17  10  24  4  6  2  3 100

TOTAL FG% 1st Half:  9-24 37.5%   2nd Half:  8-24 33.3%   Game: 35.4%
3-Pt. FG% 1st Half:  3-12 25.0%   2nd Half:  2-5  40.0%   Game: 29.4%
F Throw % 1st Half:  2-3  66.7%   2nd Half:  6-10 60.0%   Game: 61.5%


--------------------------------------------------------------------------------
HOME TEAM: 11/12 Marquette 21-4, 8-2
                          TOT-FG  3-PT         REBOUNDS
## Player Name            FG-FGA FG-FGA FT-FTA OF DE TOT PF  TP  A TO BLK S MIN
05 Fitzgerald, Dan..... f  2-6    2-4    0-0    0  2  2   2   6  0  0  0  0  15
41 Barro, Ousmane...... f  2-5    0-0    1-2    2  1  3   0   5  0  2  0  0  14
01 James, Dominic...... g  1-4    0-1    2-2    1  1  2   2   4  5  0  0  1  17
22 McNeal, Jerel....... g  1-3    0-1    0-0    0  4  4   2   2  2  2  2  0  14
23 Matthews, Wesley.... g  1-3    0-0    1-2    3  1  4   4   3  0  1  0  0  14
10 Cubillan, David.....    2-4    2-3    4-4    2  1  3   0  10  0  0  0  0  14
12 Burke, Dwight.......    0-0    0-0    1-2    0  1  1   0   1  0  0  0  0   4
21 Blackledge, Lawrence    0-0    0-0    0-0    0  0  0   0   0  1  0  0  0   1
32 Hayward, Lazar......    0-1    0-1    0-0    0  1  1   0   0  0  0  0  0   2
40 Kinsella, Mike......    0-0    0-0    0-0    0  0  0   0   0  0  0  0  0   1
42 Brice, Tommy........    0-0    0-0    0-0    0  0  0   0   0  0  0  0  1   1
45 Kuphall, Craig......    1-1    0-0    0-0    0  0  0   0   2  0  0  0  0   1
51 Lott, Jamil.........    1-1    0-0    0-0    0  0  0   1   2  1  0  0  0   2
   TEAM................                            1  1
   Totals..............   11-28   4-10   9-12   8 13 21  11  35  9  5  2  2 100

TOTAL FG% 1st Half: 13-29 44.8%   2nd Half: 11-28 39.3%   Game: 42.1%
3-Pt. FG% 1st Half:  3-13 23.1%   2nd Half:  4-10 40.0%   Game: 30.4%
F Throw % 1st Half:  3-4  75.0%   2nd Half:  9-12 75.0%   Game: 75.0%


--------------------------------------------------------------------------------
Officials: Bob Donato, Pat Driscoll, Wally Rutecki
Technical fouls: Rutgers-None. 11/12 Marquette-None.
Attendance: 17194
Score by Periods                1st  2nd   Total
Rutgers.......................   23   24  -   47
11/12 Marquette...............   32   35  -   67
ID-485097

Points in the paint-RUTGERS 24,MARQ 28. Points off turnovers-RUTGERS 4,MARQ 12.
2nd chance points-RUTGERS 16,MARQ 8. Fast break points-RUTGERS 2,MARQ 13.
Bench points-RUTGERS 6,MARQ 20. Score tied-3 times. Lead changed-1 time.
Last FG-RUTGERS 2nd-01:25, MARQ 2nd-00:03.
Largest lead-RUTGERS by 3 1st-17:02, MARQ by 20 2nd-00:03.

Play Analysis


Rutgers vs 11/12 Marquette (02/07/07 - Period 2 00:00)

POINTS OFF TURNOVERS        1   2 - Tot
Rutgers.................    3   1 -   4
11/12 Marquette.........    5   7 -  12

POINTS IN PAINT             1   2 - Tot
Rutgers.................   12  12 -  24
11/12 Marquette.........   18  10 -  28

2ND CHANCE POINTS           1   2 - Tot
Rutgers.................    6  10 -  16
11/12 Marquette.........    3   5 -   8

FAST BREAK POINTS           1   2 - Tot
Rutgers.................    0   2 -   2
11/12 Marquette.........    9   4 -  13

BENCH POINTS                1   2 - Tot
Rutgers.................    0   6 -   6
11/12 Marquette.........    5  15 -  20

SCORE TIED BY               1   2 - Tot
Rutgers.................    0   0 -   0
11/12 Marquette.........    3   0 -   3

LEAD GAINED BY              1   2 - Tot
Rutgers.................    0   0 -   0
11/12 Marquette.........    1   0 -   1