MUScoop Wiki - By the fans, for the fans.
This is an old revision of the document!
---
Ryan Amoroso #43
Current School: San Diego State University
Height / Weight: 6-8 / 242
Position: F
Birthdate: 7/12/85
Hometown: Burnsville, MN
Highschool: Burnsville HS
Parents: Andy and Peggy
Hobbies: Golfing, Fishing, Poker

College Career
Amo lettered during his first two seasons at Marquette playing in a total of 57 games and starting 8 of them. He averaged 5.8 points per game and 3.8 rebounds per game. There has been some speculation that Amo transferred due to tension with Tom Crean.

Amo currently is enrolled at San Diego State where he will have two years of eligibility remaining.

2005-06 Notes
Played in 26 games, starting in five … Scored 10 points in season debut in 13 minutes against Rice (Nov. 18) … was 4-for-7 off the bench to lead MU reserves in scoring against Rice … Registered a team leading and career high 30 points against South Carolina in the Great Alaska Shootout Championship game (Nov. 26) … Recorded career highs in five other categories; field goals (11), field goal attempts (17), three pointers (3), three point attempts (4) and minutes (30) against South Carolina … Matched a career high 12 rebounds and five free throws against South Carolina … recorded back-to-back games of double-digit rebounds adding 10 at Nebraska (Nov. 30) … Came off the bench as one of Marquette's leading reserves registering eight points, including two three pointers, and grabbed three rebounds against Valparaiso (Dec. 7) … the reliable reserve tallied nine points and four rebounds at Wisconsin (Dec. 10) … Etched his name into the starting line up against San Francisco (Dec. 17) and has started in the last five of six games … tallied eight points and a team leading eight rebounds against San Francisco including the first four boards of the game … registered eight points and a team high eight rebounds for the second consecutive game against Oakland (Dec. 19) … Led all Marquette's reserves in scoring recording nine points and seven rebounds against Lewis (Dec. 28) … Was held scoreless for the first time all season against Connecticut (Jan. 3) missing both of his attempts from the field … Bounced back after tallying two or less points in consecutive games with four points and five rebounds at Seton Hall (Jan. 11) … led the Golden Eagles' rebounding effort with seven at West Virginia (Jan. 14) … Came off the bench for eight points and seven rebounds, his highest point and rebound total in four games at West Virginia … Held with out a point against DePaul (Jan. 17, 25) in both meetings for the second time in three games … Had a productive performance off the bench at Pittsburgh (Jan. 28) with 14 points, five rebounds, one block and one assist in 18 minutes of action… His 14 points mark the third time this season, ninth in his career, he has registered double-figured points … Had a solid outing at Rutgers (Feb. 12) totalling five points and four offensive boards in nine minutes of play after being held scoreless the previous game at Villanova (Feb. 4).
2004-05 Notes
Played in all 31 games, making three starts… As MU's most productive reserve, averaged 6.0 points and 3.6 points in 15.2 minutes… Had six double figure scoring games… MU was 2-1 in games he started… Shot a team high 49.2-percent from the field… Averaged 7.8 points, 4.4 rebounds and shot 51.8-percent in MU's 16 conference games… Third on the team in rebounding during conference games… Third on the team in offensive rebounds (44)… Scored a career-high 18 points in just 14 minutes against Tulane (Jan. 8)… Collected his first career double-double with 16 points and 12 rebounds at Memphis (Jan. 13), becoming the first MU freshman to do so since February 2001… Pulled down eight rebounds in just 13 minutes against No. 22 Wisconsin (Dec. 11)… Nearly missed his second career double-double with eight points and nine rebounds in a career-high 26 minutes against East Carolina (Feb. 12)… Recipient of Marquette's Super Sub Award.
High School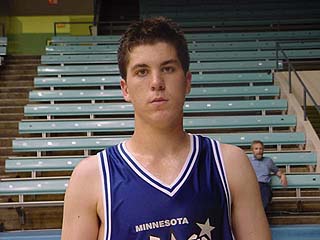 A three-year starter at Burnsville High School… Graduated as the school's all-time leading scorer and rebounder… Averaged 24.1 points and 12.2 rebounds and led Bursnville to the Class 4AAAA state championship game in his senior year… Named first team All-State, All-Conference and All-Metro following his senior season… Averaged 23.7 points and 11.0 rebounds during his junior year, and 9.7 points and 7.1 rebounds as a sophomore… Established single-season records for points and rebounds during his junior and senior seasons… Also earned varsity letters in football and golf… Selected Marquette over Minnesota.
Awards and Honors
Highschool
Burnsville HS All-Time leading scorer and rebounder

'03/'04- 1st team All-State

'03/'04- 1st team All-Conference

'03/'04- 1st team All-Metro
College
'04/'05- Received Marquette's Super Sub Award