MUScoop Wiki - By the fans, for the fans.
Shannon Smith #42
Position: Guard/Forward


Height: 6'5"


Weight: 195 lbs


Birthdate: October 19, 1973


Hometown: Milwaukee, WI


High School: Whitefish Bay Dominican

High School Career
Smith was a two-year starter at Dominican, leading them to the WISAA State High School Championship in 1991. He scored 1,133 career points, including 498 as a senior and tied for the WISSA state tournament scoring title as a senior. He averaged 10.1 points and 3.9 rebounds as a sophomore. Smith averaged 15.6 points, 5.3 rebounds and 1.7 assists as a junior, shooting 55.2% from the floor, 34.9% from three-point range and 80.7% from the foul line. He led Dominican in eight offensive categories as a senior: scoring (19.1), field goals made (169), field goals attempted (310), field goal percentage (54.5%), three-point percentage (44.7%), free throws attempted (153), free throws made (109) and offensive rebounds (85/3.2 per game). Shannon also played on the 1991 Wisconsin state all-star team.
Accolades
1990 AP All-State, Fourth Team

1990 All-Metro Conference, First Team

1991 AP All-State, First Team

1991 All-Metro Conference, First Team
Marquette Career
1991-92
Shannon started the first 12 games of his Marquette career at small forward, scoring 14 points two times in his first three games. Shannon lost his starting spot after scoring two points in a loss at Dayton, but responded by scoring 12 points in each of the next two games. He only reached double figures two more times in the remaining 15 contests, logging just seven points, two rebounds and no assists in the final five games.
1992-93
Smith came into Marquette with high expectations, but the arrival of Roney Eford signaled the beginning of the end for Shannon's time at Marquette. Eford was inserted into the starting lineup in the sixth game of the season, while Shannon's minutes and production on the court continued to decline. By January, Eford had locked up a starting spot, replacing Gates, while Smith continued to struggle. Shannon only played a total of 18 minutes in the final 13 games and subsequently transferred to UW-Milwaukee at the end of the year.
Freshman Season All-Time Rankings
8th, Free Throws Made (56)

10th (tied), Free Throw Attempts (80)

8th, Free Throw Percentage (min. 70 att.) (70%)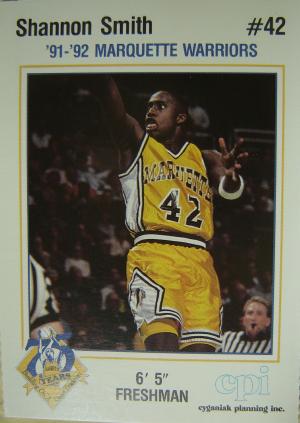 Did You Know?
Shannon was featured twice on CNN's "Play of the Day" segment. The first time he was working as a Brewers ballboy and scooped up a hit on the third base line. He assumed the ball went foul (it was fair) and threw it into the stands. The second time, he made the highlight film after his father submitted a video of him blocking Michael Jordan's dunk attempt during a summer pick-up game at Jordan's camp in 1991.