MUScoop Wiki - By the fans, for the fans.
Tommy Brice #42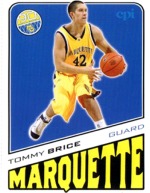 Position: Guard
Height: 5'11"
Weight: 174 lbs.
Birthdate: May 15, 1986
Hometown: Bloomingdale, IL
High School: Lake Park H.S.

High School Career
Tommy Led Lake Park to an Upstate Eight title as a sneior. That was Lake Park's first conference title in ten years.
Marquette Career
2005-06
Tommy saw action in six games, making his debut against South Dakota State on December 3rd, registering two assists. He saw action for the second time against Oakland on December 19th. He tallied two attempts from the field and grabbed the first rebound of his career in one minute of action against Deleware State on December 22nd. He played in three more games after Deleware state, seeing one minute of play against Lewis on December 28th, West Virginia on January 14th and St. John's on February 1st.
2006-07
In Brice's second season as a walk-on, he saw action against Savannah State on December 30th and picked up his first career steal against Rutgers on February 7th.
Career Statistics
| Year | GP-GS | Min. | Avg. | FG-A | Pct. | 3FG-A | Pct. | FT-A | Pct. | OR | DR | Reb. | Avg. | PF | Ast. | TO | Blk. | Stl. | Pts. | Avg. |
| --- | --- | --- | --- | --- | --- | --- | --- | --- | --- | --- | --- | --- | --- | --- | --- | --- | --- | --- | --- | --- |
| 2005-06 | 6-0 | 7 | 1.2 | 0-2 | 0.0 | 0-0 | – | 0-0 | – | 1 | 0 | 1 | 0.2 | 1 | 2 | 1 | 0 | 0 | 0 | 0.0 |
| Totals | 6-0 | 7 | 1.2 | 0-2 | 0.0 | 0-0 | – | 0-0 | – | 1 | 0 | 1 | 0.2 | 1 | 2 | 1 | 0 | 0 | 0 | 0.0 |
Accolades
2006-07 Big East Conference Academic All-Star