MUScoop Wiki - By the fans, for the fans.
2005-2006 Marquette Men's Basketball
Record: 20-11
Big East: 10-6
BET: 0-1
NCAAs: 0-1
Final RPI Ranking: 31
Coach: Tom Crean
Captains: Steve Novak, Joe Chapman
Leading Scorer: Steve Novak 17.5 ppg
Leading Rebounder: Steve Novak 5.9 rpg


In Marquette's inaugural season in the Big East, the Warriors were predicted to finish close to the bottom of the conference. They had good games, like the opener against 2nd-ranked UConn, where Steve Novak poured in 41 points to smoke the Huskies in MU's first Big East matchup. They also had bad games, including the January 7th 70-66 loss to Cincinnati, where Eric Hicks set Bradley Center and MU opponent records for blocked shots in a game (10) and Cincinnati set a team record in that category with 18 rejections (7th most in NCAA History). They also had a few ugly games, including the 104-85 loss at 15th-ranked West Virginia. The 20 three-point field goals WVU hit in that game tied them for 20th all-time in NCAA History.
They played seven games against ranked opponents during the season, winning three contests and losing four. They ended the Big East season 10-6, which earned them a surprising fourth place finish in the Big East and a first-round bye in the Big East Tournament. Unfortunately, they went one and done in the BET vs. #16 Georgetown, then one and done in the NCAAs vs. Alabama in Novak's last NCAA game. Novak's three-point prowess helped set a new team mark for three-pointers made in a single season (263).
Schedule
Big East Standings
| Rank | Team | Big East | Overall |
| --- | --- | --- | --- |
| 1 | Connecticut | 14-2 | 27-3 |
| 2 | Villanova | 14-2 | 25-4 |
| 3 | West Virginia | 11-5 | 20-10 |
| 4 | Marquette | 10-6 | 20-10 |
| 5 | Georgetown | 10-6 | 21-9 |
| 6 | Pittsburgh | 10-6 | 24-7 |
| 7 | Seton Hall | 9-7 | 18-11 |
| 8 | Cincinnati | 8-8 | 19-12 |
| 9 | Syracuse | 7-9 | 23-11 |
| 10 | Rutgers | 7-9 | 18-13 |
| 11 | Louisville | 6-10 | 18-12 |
| 12 | Notre Dame | 6-10 | 15-13 |
| 13 | St. John's | 5-11 | 12-15 |
| 14 | Providence | 5-11 | 12-15 |
| 15 | DePaul | 5-11 | 12-15 |
| 16 | South Florida | 1-15 | 7-22 |
Players
| No. | Name | Ht./Wt. | Pos. | Year | Hometown (High School) |
| --- | --- | --- | --- | --- | --- |
| 43 | Ryan Amoroso | 6-8/242 | F | SO | Burnsville, MN |
| 41 | Ousmane Barro | 6-10/235 | F | SO | Dakar, Senegal |
| 10 | Tommy Brice | 5-11/174 | G | JR | Bloomingdale, IL |
| 12 | Dwight Burke | 6-8/240 | F | FR | Brooklyn, NY |
| 32 | Joe Chapman | 6-4/210 | G | SR | Chicago Heights, IL |
| 5 | Dan Fitzgerald | 6-9/200 | F | SO | St. Paul, MN |
| 33 | Chris Grimm | 6-10/245 | C | SR | Brighton, MI |
| 1 | Dominic James | 5-11/175 | G | FR | Richmond, IN |
| 40 | Mike Kinsella | 7-0/245 | C | JR | Rochester, MN |
| 51 | Jamil Lott | 6-7/225 | F | JR | St. Paul, MN |
| 23 | Wesley Matthews | 6-5/200 | G | FR | Madison, WI |
| 22 | Jerel McNeal | 6-3/185 | G | FR | Chicago, IL |
| 2 | Matt Mortensen | 6-6/190 | F | FR (redshirt) | Provo, UT |
| 20 | Steve Novak | 6-10/220 | F | SR | Brown Deer, WI |
Coaches
2005-2006 Season Statistics
| name | GP-GS | MIN | FGM | FGA | FG% | 3PM | 3PA | 3P% | FTM | FTA | FT% | OR | DR | REB | AST | STL | BLK | TO | PF | PTS | PPG |
| --- | --- | --- | --- | --- | --- | --- | --- | --- | --- | --- | --- | --- | --- | --- | --- | --- | --- | --- | --- | --- | --- |
| Steve Novak | 31-31 | 1047 | 173 | 363 | .477 | 121 | 259 | .467 | 74 | 76 | .974 | 34 | 149 | 183 | 39 | 20 | 4 | 32 | 64 | 541 | 17.5 |
| Dominic James | 31-31 | 1006 | 174 | 404 | .431 | 41 | 136 | .301 | 84 | 131 | .641 | 24 | 116 | 140 | 167 | 50 | 12 | 87 | 74 | 473 | 15.3 |
| Jerel McNeal | 31-31 | 853 | 138 | 312 | .442 | 13 | 46 | .283 | 54 | 72 | .750 | 40 | 100 | 140 | 85 | 64 | 14 | 117 | 77 | 343 | 11.1 |
| Wesley Matthews | 23-14 | 573 | 65 | 163 | .399 | 14 | 32 | .438 | 63 | 80 | .788 | 34 | 59 | 93 | 51 | 29 | 5 | 52 | 51 | 207 | 9.0 |
| Joe Chapman | 31-16 | 697 | 64 | 147 | .435 | 36 | 91 | .396 | 21 | 28 | .750 | 20 | 59 | 79 | 45 | 18 | 7 | 19 | 51 | 185 | 6.0 |
| Dan Fitzgerald | 31- 2 | 617 | 56 | 117 | .479 | 30 | 74 | .405 | 21 | 29 | .724 | 24 | 51 | 75 | 51 | 20 | 6 | 57 | 78 | 163 | 5.3 |
| Ryan Amoroso | 26- 5 | 390 | 52 | 130 | .400 | 8 | 25 | .320 | 34 | 43 | .791 | 46 | 58 | 104 | 14 | 4 | 6 | 15 | 39 | 146 | 5.6 |
| Ousmane Barro | 31-14 | 419 | 56 | 87 | .644 | 0 | 0 | – | 23 | 42 | .548 | 45 | 43 | 88 | 13 | 19 | 15 | 30 | 69 | 135 | 4.4 |
| Jamil Lott | 24- 7 | 264 | 29 | 55 | .527 | 0 | 0 | – | 16 | 25 | .640 | 23 | 29 | 52 | 7 | 9 | 16 | 20 | 34 | 74 | 3.1 |
| Chris Grimm | 24- 2 | 186 | 11 | 16 | .688 | 0 | 0 | – | 3 | 6 | .500 | 20 | 16 | 36 | 4 | 0 | 1 | 7 | 27 | 25 | 1.0 |
| Mike Kinsella | 14- 2 | 86 | 7 | 15 | .467 | 0 | 0 | – | 3 | 8 | .375 | 3 | 7 | 10 | 3 | 1 | 5 | 6 | 10 | 17 | 1.2 |
| Dwight Burke | 20- 0 | 105 | 5 | 12 | .417 | 0 | 0 | – | 6 | 9 | .667 | 5 | 10 | 15 | 1 | 1 | 3 | 9 | 24 | 16 | 0.8 |
| Tommy Brice | 6- 0 | 7 | 0 | 2 | .000 | 0 | 0 | – | 0 | 0 | – | 1 | 0 | 1 | 2 | 0 | 0 | 1 | 1 | 0 | 0.0 |
| TOTALS | 31 | 6250 | 830 | 1823 | .455 | 263 | 663 | .397 | 402 | 549 | .732 | 377 | 435 | 1112 | 482 | 235 | 94 | 458 | 599 | 2325 | 75.0 |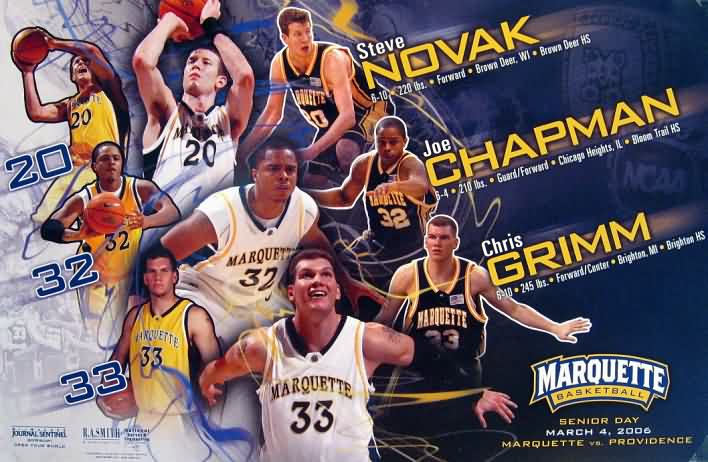 Media Guide