MUScoop Wiki - By the fans, for the fans.
William Gates #22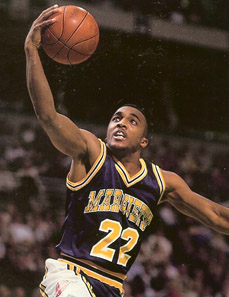 Position: Guard
Height: 6'0"
Weight: 175
Hometown: Chicago, IL
Highschool: Westchester St. Joseph's H.S.
Birthdate: December 28, 1971

High School Career
Gates was a four-year starter at Westchester St. Joseph's, where his teammates included Amal McCaskill and Marty Clark (Duke). His teams were 97-17 during his prep career, including four straight 23+ win seasons. Gates twice earned All-Conference and honorable mention All-State honors. Gates was highly-recruited and considered one of the nation's top guards before a knee injury limited him to eight games during his junior season. He played his senior season at full strength and averaged 17.3 ppg and led his team in six offensive and defensive categories. Gates averaged 12.8 ppg during his prep career and finished with 1,140 career points (Isiah Thomas is St. Joseph's all-time leading scorer).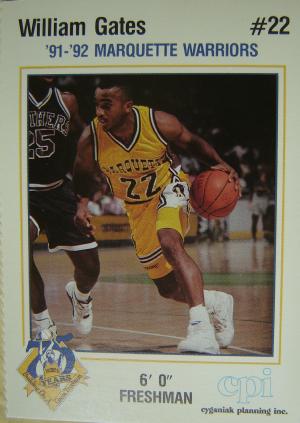 Marquette Career
Gates appeared in every game during his first two seasons, but left the team for a period of time. He finished his playing career at Marquette in the spring of 1995, when his injured knee and an inability to crack the starting lineup kept him on the bench for all but a few minutes of most games.
Personal
Gates is the son of Emma Gates and was featured in a PBS special, "High Goals" and the 1994 documentary Hoop Dreams. He is currently a minister with the Living Faith Community Center in Chicago, Illinois. In the movie, after choosing Marquette, Gates is seen tossing out enough letters and other mailings from colleges and university to fill a dumpster. He says the unfulfilled dream of playing in the NBA no longer haunts him.