MUScoop Wiki - By the fans, for the fans.
Andy Freund #42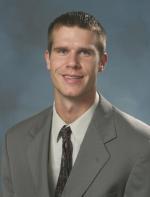 Position: Forward

Height: 6'8"

Weight: 210 lbs.

Birthdate: May 23, 1984

Hometown: Wauwatosa, WI
High School Career
Earned four letters in basketball at Wauwatosa East High School, the same school that produced teammate Scott Merritt … Played for George Haas …. Served has his team's captain for two seasons … Averaged 16.6 points and 10.2 rebounds per outing his senior year and helped his team to a fine 24-3 record that included a berth in the semifinals of the Division I state tournament … Shot 61 percent from the field en route to honorable mention all-area accolades … Picked up 14 points in helping his team to a quarterfinal-round win over state powerhouse Milwaukee Vincent that snapped a 46-game winning streak by Vincent …. Scored 13 points for the South Team in the Wisconsin Basketball Coaches Association Division I All-Star Game …. Named the Greater Metro Conference Player of the Year and was a third team all-state selection … As a junior, he tossed in 13.6 points and grabbed 11.2 rebounds per game … Honorable mention All-Area as a junior.
Marquette Career
Freund never suited up for a Marquette game because injuries forced him to redshirt as a freshman during the 2002-03 campaign. After one season at Marquette, Freund transferred to University of Wisconsin, Whitewater.