MUScoop Wiki - By the fans, for the fans.
Bernard Toone #33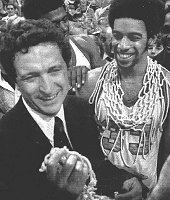 Position: Forward/Center
Height: 6'9"
Weight: 210 lbs.
Born: July 14, 1956
Hometown: Yonkers, NY
High School: Gorton H.S.

High School Career
Toone had a stellar senior year at Gorton High - with averages of 32 points and 20 rebounds per game - on the way to being named MVP of New York State.
His three-year record was 56-7.
Marquette Career
A four year letter winner, Toone was a sophomore on the 1977 Championship team. Bernard averaged 5,5 points per game as a freshman, 4.4 points per game as a sophomore and 9.3 points per game as a junior. He was team captain during the 1978-79 season, in which he was also the leading scorer (18.7 ppg) and leading rebounder (6.7 rpg).
All-Time Marquette Rankings
All-Time Single Season Rankings
6th (tie), Field Goals Made (236)

8th, Field Goals Attempted (483)
All-Time Senior Season Rankings
10th, Points (543)

9th, Scoring Average (18.7)

3rd, Field Goals Made (236)

6th, Field Goals Attempted (483)
Accolades
1978 Milwaukee Classic MVP
Professional Career
Toone was drafted in the 2nd round (15th pick) by the Philidelphia 76ers in 1979. He played just 23 games his first and only year in the association.
Trivia
During halftime of Marquette's win over Cincinnati in the first round of the '77 tourney, as the team walked off the floor, Bernard Toone, complained to McGuire that he hadn't played enough. Coach Al told him to clam up. Toone complained again in the locker room. Without warning, McGuire jumped Toone and wrestled him to the ground. One of the team's trainers fractured a wrist pulling him off of the player. Coach Al laughed as he recounted the story: "The other team is in their locker room talking strategy and X's and O's, and we're having a rumble." He also thought the fight helped the team to the title.
From the November 3, 1985 New York Times: November 3, 1985: For the second time in less than six months, Bernard Toone, the 6-foot-7-inch forward out of Gorton High School in Yonkers and Marquette University, has been arrested in an incident related to an automobile. Toone, who played one season with the Philadelphia 76ers, was arrested Friday for stealing a radio from a 1985 Saab in a municipal parking lot in White Plains. On May 23, Toone and another man were arrested in a Yonkers fast food restaurant in a rental car reported stolen in Tarrytown on April 26. He pleaded guilty to a lesser charge, was sentenced to three years probation and 100 hours of community service. This time he was charged with third degree grand larceny and ordered held in lieu of $1,500 bail.
photos