MUScoop Wiki - By the fans, for the fans.
Ron Rahn #45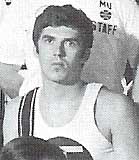 Position: Forward
Height: 6'5"
Weight: 200 lbs.
Birthdate:
Hometown: Milwaukee, WI
High School: South Division H.S.

High School Career
Rahn was an All-City selection - his junior and senior years - at Milwaukee's South Division High School.
Marquette Career
Projected to be a starter at the beginning of the 1968-69 season, Rahn spent most of his three years as a reserve. His personal game-high was 11 points against Portland.
1966-67 (Frosh Team)
1967-68 Season
In 25 games, Rahn averaged 1.6 points and 1.1 rebounds a game.
1968-69 Season
In 23 games, he averaged 2.5 points and 1.9 rebounds per game.