MUScoop Wiki - By the fans, for the fans.
The Old Gym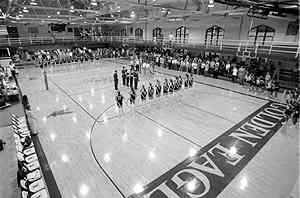 Commonly called the Old Gym, Marquette Gymnasium opened in 1922 and was the original home of the Marquette Warriors Men's Basketball team. The offical capacity was 2,120 people. The team started playing in the The MECCA during the 1950-51 season. Al McGuire and his basketball teams of the 1960's and 1970's practiced almost exclusively in the Old Gym.

The Old Gym continued to be used as a practice facility for the team, as well as the home of the women's basketball and volleyball teams before the completion of the Al McGuire Center opened in 2004.
The Old Gym is currently the site of intramural championship games for all divisions, giving several students per year the chance to lace them up and shoot on the same court as MU legends such as Doc Rivers and Dwyane Wade.
Currently the building houses offices for the Cross Country, Track & Field, Men's & Women's Soccer, Men's & Women's Tennis, and Men's Golf teams. The school's Army and Naval ROTC departments also call the building home.