MUScoop Wiki - By the fans, for the fans.
Bill Cords - Athletic Director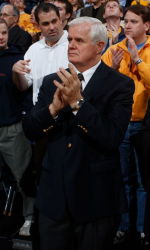 Bill Cords served as Marquette's AD from 1987-2007.
The native of Butte, Montana enjoyed a seven-year high school teaching and coaching career in Montana before leaving in 1971 for Washington State University.During his 11 years at WSU he served as head fresh-man football coach, assistant varsity football coach,director of intramurals, academic advisor, assistant athletics director and associate athletics director while earning a master's degree and completing doctoral work in education administration.
In 1982, he became the athletics director at the UTEP. During that five-year tenure, a strong broad-based program was developed with a rapidly improving football program, development of a women's athletic conference, a very successful men?s basketball pro-gram, and highlighted by the elimination of a previous$1 million deficit.
In 1987, Cords accepted the position of director of athletics at Marquette. From that time Marquette moved from independent status to the Midwestern Collegiate Conference (MAC) in 1988-89, a charter membership in the very successful and widely-respected Great Midwest Conference from 1990-95, charter membership in the nationally prominent and prestigious Conference USA from 1995-2005, member-ship in the BIG EAST Conference.
The mission of the Department of Intercollegiate Athletics is to strive for excellence in academics, athletics, leadership and service to others. Marquette student-athletes, teams and coaches across the broad-spectrum of the program continue to achieve academic, athletic, personal and professional prominence at the conference, regional and national levels.
"We are very proud of our students and coaches.They take great pride in representing Marquette and dose striving to be the very best they can be as people,students and athletes," remarked Cords.
Attendance at men's basketball games continues to rank among the top 20 nationally. Women's basketball attendance continues to improve along with that of voleyeball and men's and women's soccer. Marquette has hosted conference championships in men's and women's basketball, cross country, men's and women's soccer, men's and women's tennis and men's and women's outdoor track and field.
Marquette has hosted very successful NCAA Men's Basketball Championship First and Second Rounds in 1992, 1996, 1999, and 2004. Marquette also hosted the NCAA Women's Basketball Mideast Regional in 2002. In 2005, Marquette hosted the BIG EAST Women's Soccer Championships as well as the First and Second Rounds of the NCAA Tournament.
Beginning July 1, 1993, he assumed responsibility as director of the Department of Intercollegiate Athletics and Recreational Sports which combined the activities of intercollegiate athletics, intramurals, club sports and open recreation. This allowed the department to provide more services to the community, in particular the inauguration of the summertime National Youth Sports Program (NYSP) designed to benefit underprivileged youth in the Milwaukee area, while encouraging community use of Marquette facilities such as the Valley Fields Complex, Rec Plex, Helfaer Tennis Stadium, Helfaer Recreation Center and Marquette Gym.
Cords was honored nationally by his peers as the 1999 NACDA/Continental Regional (Central) I-AA/I-AAA Athletic Director of the Year. "This award is not about one individual," said Cords. "It is a recognition, at the national level, of the support,hard work and dedication of students, coaches, staff,fans and administration over the past 12 years." "It is an individual honor, but more importantly it is a very positive recognition of Marquette University and all of the people who have and continue to make our program better and stronger."
Information from MU Media Guide