MUScoop Wiki - By the fans, for the fans.
Damian Saunders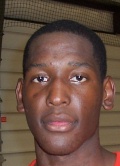 Position: Forward

Height: 6'7"

Weight: 210 lbs.

Hometown:

High School: Crosby High School in Waterbury, CT / Notre Dame Prep in Fitchburg, MA
Marquette Career
High School Career
As a junior, Saunders was on the 2005 Connecticut High School Coaches Association (CHSCA) All-State First Team after helping Crosby to a 27-0 overall record and a CIAC Division I state title. He would see that unbeaten streak continue through his senior season and reach 61 consecutive regular season victories until Wilby upset Crosby in a state tournament semi-final. Saunders averaged 22.5 ppg, 15.8 rpg, and 8 bpg as a senior.
He decided to spend a "fifth year" at Notre Dame Preparatory, a private school basketball powerhouse in Fitchburg, Massachusetts where current teammate Lazar Hayward also matriculated. In his only year at Notre Dame Prep, Saunders averaged 10.5 rebounds and 3.0 blocks per game as his team finished 32-3 and won the national prep-school championship.
In November 2006, he committed to Marquette over Providence.
Quotables
Notre Dame Prep head coach, Bill Barton, on Saunders:

"He has a quick first step. He's very, very good running the floor. Anything from one dribble out he's very adept at, very comfortable doing. He started doing some back-to-the-basket stuff. We'll work on back-to-the-basket moves this spring; that'll be out point of emphasis with him. I envision anything in transition he is very good at, and we'll work with him with his back to the basket…As far as shooting, that's an area he needs to work on. I think he's probably a little bit further along offensively than (Ousmane) Barro but he's not physically as big."

JSOnline.com Article