MUScoop Wiki - By the fans, for the fans.
Demarcus Minor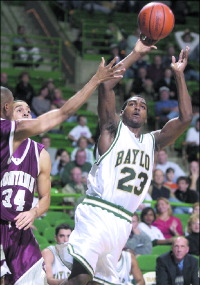 Position: G
Height: 6'4"
Weight: 215 lbs.
Birthdate: May 21, 1979 in Tyler, Texas
High School: Lakeview Centennial High School in Garland, Texas

DeMarcus Duane Minor was recruited by Mike Deane out of Lakeview Centennial High School in Garland, Texas, where he was a member of the Texas All-State Team.
High School Career
DeMarcus averaged 23.1 points, 7.2 assists, 7.3 rebounds as a senior to help lead Lakeview Centennial to a 29-4 record. He was an all-state, all-district selection; he also earned first team all-area honors from the Dallas Morning News and honorable mention all-USA from USA Today. In addition, DeMarcus was a McDonald's All-America nominee. He led District 12-5A in scoring and assists as a senior. In his junior year, he averaged 19.3 points, 8.1 rebounds and 5.3 assists. He holds the school record with 49 points in one game. His high school coach was Maurice Dorsey.
Marquette Career
In his first - and only year - at Marquette (1997-98), DeMarcus averaged 1.2 ppg and 1.0 rpg in 21 games played. He made three starts for the Golden Eagles and averaged 5.8 minutes. DeMarcus's top game was his first career start against Houston, when he totaled five points, six assists and six rebounds in 32 minutes played, all season bests. He also played 16 minutes in his second start vs. Louisville (the following game), recording four rebounds and one point.
Collegiate Career (Barton C.C. and Baylor)
DeMarcus then transferred to Barton County Community College. Reminiscing on his transfer to Barton, DeMarcus recounted his experience in a college article:
"I was trying to transfer in the first place," Minor said. "And the coach from Barton County had sent me some paperwork on their ranking and where players go after they play for Barton County. Then the decision was easy." http://www3.baylor.edu/Lariat/Archives/1999/19991112/art-sports02.html
In his only season there, he averaged 14.8 ppg, 5.7 apg, and 5.8 rpg during the 1998-99 season. (Barton reached the NJCAA Championship game, but lost to Indian Hills.) After being recruited by schools such as UMass, Minnesota, and Texas, Dave Bliss, then the head coach of the New Mexico Lobos, successfully recruited DeMarcus while he was transitioning to fill the Baylor head coaching position.
DeMarcus followed Bliss, transferred to Baylor, and enjoyed a fine season. During the 1999-00 season, DeMarcus's per game averages were 11.4 points, 4.4 rebounds, and 5.7 assists. For his efforts, he earned Honorable Mention, All-Big 12 as well as Third Team, All-Big 12.
But he saved the best for his last season. During the 2000-01 season, DeMarcus averaged 15.1 ppg, 6.0 rpg, and 4.5 apg. He was named to the Big-12 All-Underrated Team and Big-12 All-Improved Team.
Professional Career
In 2001, he was selected in the 5th round (#44 overall) of the USBL draft by the Kansas Cagerz and played 7 games, averaging 4.7 ppg and 2.4 rpg. Later that summer, he was invited to participate in the Rocky Mountain Summer League as a member of the Cleveland Cavalier team.
He would later play for the Grand Rapids Hoops (CBA, 2001-02), Dodge City Legend (USBL, 2002), Sporting Ghazir (Lebanon, 2002-03), Dallas Diesel (NABL, 2003) and Carrefour Aveiro Basket (Portugal, 2005-06), though briefly.