MUScoop Wiki - By the fans, for the fans.
Earl Tatum #43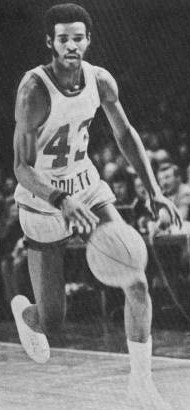 Nickname: "The Black Jerry West"
Position: Guard/Forward
Height: 6'5"
Weight: 185 lbs.
Birthdate: July 26, 1953
Hometown: Mount Vernon, NY
High School: Mount Vernon H.S.

High School Career
Tatum was a High School All-American out of Mt. Vernon - which he led to a #1 national ranking, and was selected as the most valuable player in the New York state by sports writers. Some considered Tatum to be the #1 player in the East during his senior year.
He averaged 22.7 points, 9.5 rebounds, and 6.5 assists per game in his senior campaign. Also, he once tallied 18 steals in one game.
Coach Al McGuire called him "a Black Jerry West."
Marquette Career
Earl Tatum, one of Marquette's most successful basketball players all-time, was a key component of 101 victories from 1972 to 1976. Tatum averaged 10.1 points per game as a sophomore and 13.6 points per game as a junior. Earl led Marquette in scoring during the 1975-76 season (18.3 ppg) and also served as co-captain. Tatum helped lead Marquette to four consecutive NCAA Tournament appearances and the 1974 National Championship Game.
Following his senior season in 1975-76, Tatum was named a second team All-American by the Associated Press, Basketball Weekly and Converse, as well as earning first team All- American recognition from Helms, Independent, United Press International and the U.S. Basketball Writers Association. He was inducted into the Marquette Hall of Fame in 2004 and sponsored by John Fedders.
All-Time Marquette Rankings
All-Time Single Game Rankings
2nd, Steals, 9 vs. St. Mary's (Calif.) (December 7,1974)
All-Time Single Season Rankings
3rd, Field Goals Made (241)

6th, Field Goals Attempted (493)
All-Time Senior Season Rankings
1st, Field Goals Made (241)

4th, Field Goals Attempted (493)
Accolades
1975-76 AP All-American

1975-76 UPI All-American

1975-76 Basketball Weekly All-American

1975-76 Chuck Taylor Converse Second Team All-American

1975-76 Helms All-American

1975-76 Independent All-American

1975-76 USBWA All-American
Professional Career
Tatum played four years professionally after being drafted in the second round of the 1976 NBA Draft by the Los Angeles Lakers. Earl Tatum NBA Stats
Catching up with Earl Tatum Article