MUScoop Wiki - By the fans, for the fans.
Jeff Strohm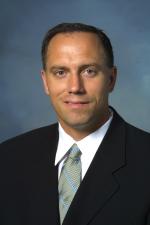 During a college-coaching career that began in 1989, Strohm has served as an assistant in top NCAA teams, reaching NCAA Final Fours with both the Utes and the Golden Eagles. He helped to recruit and bring along five NBA first-round picks, including Dwyane Wade.
He broke into the coaching profession as an assistant at two Illinois high schools: Casey Westfield High School (1987-88) and Sullivan High School (1988-89).
From 1991-97, Strohm served as an assistant basketball coach at Northern Illinois University. Previously, he was the recruiting coordinator for Lake Land College in Mattoon, Illinois from 1989-91.
While at Utah, Strohm was Utah's administrative assistant and video coordinator from 1997-99. He also served as the director of the Rick Majerus Basketball Camp from 1998-2000. As an assistant coach, he worked with the perimeter players and coordinates underclass recruiting.
He also was one of the finalists in the University of Vermont's 2003 search for a coach to replace Tom Brennan.
A graduate of Marshall High School, Strohm earned 11 letters in football, basketball and baseball. He participated in athletics for two years at Olney Central College and finished his education at Eastern Illinois University, where he received a bachelor's degree in education in 1988 and a master's degree in education in 1990.
Strohm lives in Bradford, Vt., with his wife Jade and their daughters Sydney, Jordin and Rylee.
Coaching History
Assistant Coach
1991-1997 - Northern Illinois
1997-2002 - Utah
2002-2005 - Marquette
2005-2007 - W.Kentucky

Head Coach
2009-2010 - Vermont Frost Heaves (PBL); Fired on Jan. 22, 2010.

Other Links