MUScoop Wiki - By the fans, for the fans.
Jerry Hopfensperger #24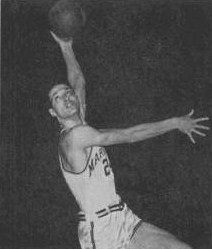 Position: Forward
Height: 6'3"
Weight: 171 lbs.
Born:
Hometown: Appleton, WI
High School: Appleton H.S.

High School Career
Marquette Career
Jerry was a solid role player during the Terry Rand years at Marquette from 1955-57.
1954-55
Hopfensperger averaged 9.3 points and 6.5 rebounds per game.
1955-56
Hopfensperger averaged 7.8 points and 5.7 rebounds per game.
1956-57
Hopfensperger averaged 8.8 points and 7.8 rebounds per game.
Marquette All-Time Rankings