MUScoop Wiki - By the fans, for the fans.
Joe Nethen #50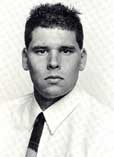 Position: Forward/Center
Height: 6' 8''
Weight: 220
Birthdate: January 24, 1969
Hometown: Pittsburgh, PA
High School: Shaler H.S.
High School Coach: Jay Barto
Parents: Joseph, Sr. and Louise Rolewitz
Academic Major: Speech & Fine Arts
High School Career
Nethen, Jr. was a four-year starter at Shaler High School, where he averaged 23.6 pppg and 12 rebounds as a senior. He shot 82% from the foul line as a senior and had a career free throw percentage of 78.8%. Joe left Shaler as the school's all-time leader in points (1,046), rebounds (1,010) and games played (90). Joe was also the Titan's all-time leader in career field goal percentage (.640) and held the school record for points a single season (520). Nethen's high school career scoring high was 38 points (three times), and 22 boards for his top rebounding game.

In his four years at Shaler, the Titans won 81% of their games. Nethen was named team captain during his senior year at Shaler and the team held a 6-1 record, when Joe suffered an ankle injury. The team finished the season with a 12-12 record and Joe was named team MVP.
Accolades
Named to the 1987 Pittsburgh Press Finest Five
Named to the 1987 Pittsburgh Post Gazette Fabulous Five
1987 Western Pennsylvania Interscholastic Athletic League Most Valuable Player
Joe played in the Dapper Dan Roundball Classic for the Western Pennsylvania All-Stars in 1987, scoring 13 points, and hauling down eight rebounds. Joe also played in the 1986 Keystone Games.

Shaler Coach Jay Barto on Nethen: "Marquette is a great opportunity for Joe. The college game is more suited to Joe's abilities. Often he did not get a chance to play as physically as he would've liked in high school."
Collegiate Career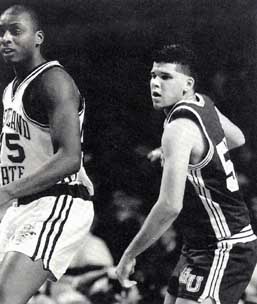 1987-88
Nethen, Jr. averaged 5.1 points and 2.7 rebounds during his freshman season. Nethen was perfect from the floor (6-6) leading the Warriors with 15 points in just 18 minutes in a 77-65 victory over Northwestern on December 19th. Northwestern's coach, Bill Foster was quoted as saying, "Who was that guy Nethen? I don't know him, but he looked like an All-American tonight. Joe also scored a career-high 23 points and grabbed 12 rebounds against Cleveland State, in the First Bank Classic championship game. He was named to the Classic's All-Tournament team. Nethen was the starting center and led the team in field goal percentage (.628) on 27 of 43 shooting, when he was declared academically ineligible for the remainder of the season.
1988-89
In his second season, Nethen was a valuable inside player who saw action in 27 games, averaging 4.3 points and 1.9 rebounds. He scored a season-high 14 points three times- at Wake Forest, at Xavier, and against Loyola (IL). He was one of six players who shot above .500 from the field, connecting on 57% of his shots (45 of 79) with a career field goal percentage of .590 (72 of 122) through his first two seasons. In his sophomore year, The Marquette Minutemen presented Nethen with a Super Sub Award at the post-season basketball awards banquet. Nethen missed only the Morgan State game and averaged 13 minutes played per game.

1989-90
Coach Kevin O'Neill was quoted as saying: " Joe has a good shooting touch up to about 15 feet and he is primarily a crasher and rebounder. He's the kind of banger we need on the boards. His all-out effort on the floor will be good for us if he can control his emotions. He will have to do a good job for us defensively inside. Joe will be battling for a starting spot right down to the end."

Nethen left the team half-way into his third season, transferring to Slippery Rock, in his home state of Pennsylvania, about one year later, where he majored in Fine Arts, primarily Photography.

Personal
"Joey" "Nater" Nethen earned somewhat of a personal "cult" following of fans, endeared by his punky appearance and tastes in music, at one time sporting a Mohawk, and ever-present combat boots.In the mid to late 80's, MU still had the reputation as being a traditionally "preppy", conservative, Catholic campus. In Nethen's own words, "(I) loved to "entertain" on the court". His bombastic personality on the court, and "bad boy" antics and outlandish fashions off the court, are the stuff of many hilarious (and some disturbing) MU campus "legends".
Nethen has two sons.