MUScoop Wiki - By the fans, for the fans.
This is an old revision of the document!
---
Kevin O'Neill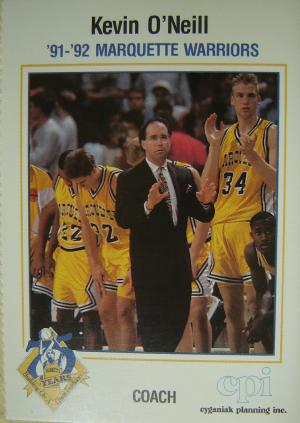 Kevin O'Neill coached at Marquette from 1989-1994. At Marquette, O'Neill had an 86-62 record. He earned Great Midwest Conference Coach of the Year in 1993 and 1994 as his teams led the nation in defensive field goal percentage. His 1994 team was the Great Midwest Conference champion and reached the Sweet 16 of the NCAA tournament.
From 1994-97, O'Neill was head coach at Tennessee and within two seasons took a team that had won five games to the National Invitation Tournament. O'Neill then coached at Northwestern for three seasons (leading the Wildcats to only the third postseason tournament appearance, the 1999 NIT) before starting his NBA coaching career.
O'Neill was an assistant coach to Carlisle for two seasons (2001-02, 2002-03) in Detroit as the Pistons posted back-to-back 50-win seasons and established themselves as one of the premier defensive teams in the NBA. Prior to the 2003-04 season, the two good friends went separate ways as Carlisle was named the head coach of the Pacers and O'Neill became coach of the Raptors.
Prior to joining Carlisle in Detroit, O'Neill was an assistant coach to Jeff Van Gundy with the New York Knicks.`
At Marquette
While the head coach at Marquette in 1994, O'Neill's team set a then-NCAA record for field goal percentage defense. Opponents shot just .358 against O'Neill's defense.
During the 1994 NCAA Tournament, the bracket appeared to be stacked against Marquette.
The sixth-seeded Warriors would have to beat both Kentucky and Duke just to reach the Elite Eight. Marquette coach Kevin O'Neill would have to outwit legendary college coaches Rick Pitino and Mike Krzyzewski in back-to-back games.
O'Neill's team may have been overmatched. But it wasn't overwhelmed.
In the second round, Marquette topped third-seeded Kentucky 75-63. While the win was certainly important to fans and alumni back in Milwaukee who hadn't seen the Sweet 16 since 1979, O'Neill convinced his players it was just another game.
After beating the Wildcats, the Warriors only were 20 minutes away from successfully slaying college basketball's terrifying twosome when they found themselves ahead of Duke 26-25 at halftime.
"We were ahead at the half," O'Neill said. "But Grant Hill had a great second half. Still, I was really proud of our effort, what we did. They just had a little too much for us."
Thanks to 16 second-half points from Hill, the Blue Devils dispatched Marquette 59-49. While he was pleased with his team's performance, O'Neill wasn't happy with the result.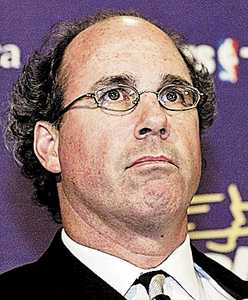 "We were disappointed," O'Neill said. "We thought we could win the national title. Nobody else did."
"They were both great teams with great traditions," said O'Neill. "We played exceptionally well against them both."
Seniors Damon Key, Jim McIlvaine and Robb Logtermann, three crucial components of Marquette's tournament run, didn't start their careers competing with teams the caliber of Kentucky and Duke. They began competing against their own fans.
"Our group of seniors that year was my first recruiting class at Marquette," O'Neill said. "They all came in and went through a very tough 11-18 season where they were booed on their home court on several occasions."