MUScoop Wiki - By the fans, for the fans.
No. 20 Marquette 75, No. 12 Pittsburgh 71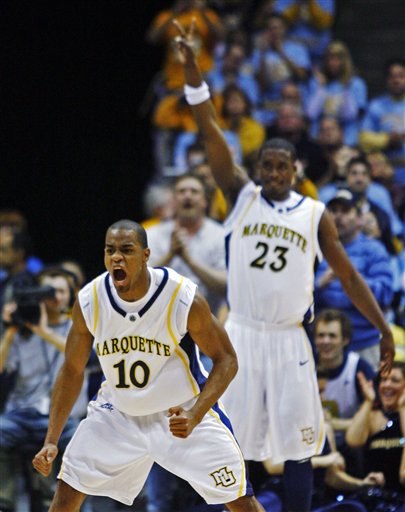 MILWAUKEE (AP) – Wesley Matthews and David Cubillan scored 20 points each to help No. 20 Marquette beat No. 12 Pittsburgh 75-71 on Saturday night.
Marquette (23-8, 10-6 Big East) came into the game shaky and short-handed, but looked more athletic and energetic than Pittsburgh from the opening tip – until the Panthers nearly stole the game with a late rally.
A win on Saturday night would have given Pittsburgh (25-6, 12-4 Big East) a share of the Big East regular-season title. Earlier in the day, No. 9 Georgetown clinched at least a share of the conference championship with a 59-46 victory over Connecticut.
The Golden Eagles led by 17, but Pittsburgh rallied with a 15-4 run, cutting the Marquette lead to six, 61-55, on a 3-pointer by Ronald Ramon with 3:38 remaining.
Pittsburgh's Sam Young cut the lead to four with two free throws, but Marquette freshman David Cubillan responded with his fourth 3-pointer of the game to put the Golden Eagles ahead 64-57 with 1:40 remaining.
Cubillan then hit all eight free throws in the final minute – and Marquette hit 11 of 12 overall – to stave off a final comeback attempt by Pittsburgh.
The Golden Eagles remained in the Top 25 this week despite losing four of their past five games. And Marquette was forced to play without guard Jerel McNeal on Saturday, their second-leading scorer.
McNeal missed the game in street clothes with a cast on his right hand and thumb protecting a previously undisclosed injury.
McNeal's availability for the upcoming Big East tournament is unclear.
The Golden Eagles got another injury scare when guard Dominic James left the game with what appeared to be a knee injury midway through the second half. James played only sporadically the rest of the way.
Marquette held center Aaron Gray, the Panthers' leading scorer at 14.2 points per game, in check in the first half. Gray scored 14 points in the second half to lead Pittsburgh with 18.
Gray also had a team-high 13 rebounds, his 14th double-double of the season.
Mike Cook added 13 for Pittsburgh. Ousmane Barro scored 20 points and grabbed a team-high eight rebounds for Marquette.
Coming into Saturday night's game, Pitt held 14 of 15 conference opponents to less than 70 points.
Marquette is the only Big East team to break the 70-point barrier against the Panthers, but needed overtime to do so the first time. The Golden Eagles defeated the Panthers 77-74 in overtime Jan. 21.
Marquette led 43-30 at halftime, holding Pittsburgh to 35.5 percent shooting – and Gray to only three shots and four points – with an effective zone defense.
The Golden Eagles hit five of 10 3-point attempts – including 2 of 3 by little-used senior center Mike Kinsella, who had scored only three points all season and hadn't attempted a 3-pointer in his college career.
Box Score
Official Basketball Box Score 


Official Basketball Box Score
12/12 Pittsburgh vs 20/21 Marquette
03/03/07 8 p.m. at Milwaukee, Wis. (Bradley Center)

--------------------------------------------------------------------------------
VISITORS: 12/12 Pittsburgh 25-6, 12-4
                          TOT-FG  3-PT         REBOUNDS
## Player Name            FG-FGA FG-FGA FT-FTA OF DE TOT PF  TP  A TO BLK S MIN
14 KENDALL, Levon...... f  3-5    1-1    2-3    1  0  1   2   9  0  0  2  2  19
31 COOK, Mike.......... f  4-8    1-1    4-5    2  1  3   3  13  3  1  0  1  24
33 GRAY, Aaron......... c  7-8    0-0    4-5    9  4 13   4  18  4  3  5  0  35
02 FIELDS, Levance..... g  2-13   1-8    0-0    2  7  9   1   5  1  3  0  2  33
22 GRAVES, Antonio..... g  1-8    1-3    2-2    0  1  1   1   5  1  3  1  0  23
01 BENJAMIN, Keith.....    1-4    0-2    0-1    0  2  2   2   2  2  0  0  0  10
04 RAMON, Ronald.......    3-9    2-7    0-0    0  2  2   4   8  3  0  0  0  30
05 BIGGS, Tyrell.......    0-1    0-0    0-2    0  0  0   0   0  0  0  0  0   4
23 YOUNG, Sam..........    4-10   1-3    2-2    4  2  6   4  11  1  0  0  0  22
   TEAM................                         1  3  4             1
   Totals..............   25-66   7-25  14-20  19 22 41  21  71 15 11  8  5 200

TOTAL FG% 1st Half: 11-31 35.5%   2nd Half: 14-35 40.0%   Game: 37.9%  DEADB
3-Pt. FG% 1st Half:  4-9  44.4%   2nd Half:  3-16 18.8%   Game: 28.0%   REBS
F Throw % 1st Half:  4-7  57.1%   2nd Half: 10-13 76.9%   Game: 70.0%    3


--------------------------------------------------------------------------------
HOME TEAM: 20/21 Marquette 23-8, 10-6
                          TOT-FG  3-PT         REBOUNDS
## Player Name            FG-FGA FG-FGA FT-FTA OF DE TOT PF  TP  A TO BLK S MIN
32 Hayward, Lazar...... f  3-10   0-2    1-2    2  2  4   4   7  1  1  0  1  28
41 Barro, Ousmane...... f  5-6    0-0    0-0    5  3  8   3  10  0  1  1  0  37
01 James, Dominic...... g  3-10   1-5    1-2    0  2  2   1   8 10  1  1  1  27
05 Fitzgerald, Dan..... g  0-4    0-3    2-2    1  4  5   3   2  0  2  0  0  27
23 Matthews, Wesley.... g  7-15   1-3    5-7    0  3  3   2  20  4  3  0  3  36
10 Cubillan, David.....    4-7    4-7    8-8    0  5  5   2  20  2  0  0  0  26
12 Burke, Dwight.......    0-0    0-0    0-0    0  0  0   1   0  0  1  0  0   3
40 Kinsella, Mike......    2-3    2-3    0-0    1  1  2   1   6  0  0  0  0   9
51 Lott, Jamil.........    1-1    0-0    0-0    0  0  0   0   2  0  0  1  0   7
   TEAM................                         3  2  5
   Totals..............   25-56   8-23  17-21  12 22 34  17  75 17  9  3  5 200

TOTAL FG% 1st Half: 16-31 51.6%   2nd Half:  9-25 36.0%   Game: 44.6%  DEADB
3-Pt. FG% 1st Half:  5-10 50.0%   2nd Half:  3-13 23.1%   Game: 34.8%   REBS
F Throw % 1st Half:  6-7  85.7%   2nd Half: 11-14 78.6%   Game: 81.0%   1,3


--------------------------------------------------------------------------------
Officials: Mike Kitts, John Cahill, Michael Stephens
Technical fouls: 12/12 Pittsburgh-None. 20/21 Marquette-None.
Attendance: 19021
Score by Periods                1st  2nd   Total
12/12 Pittsburgh..............   30   41  -   71
20/21 Marquette...............   43   32  -   75
ID-485143
Largest crowd to see a college basketball game in the state of Wisconsin

Points in the paint-PITT 32,MARQ 32. Points off turnovers-PITT 7,MARQ 12.
2nd chance points-PITT 22,MARQ 13. Fast break points-PITT 15,MARQ 13.
Bench points-PITT 21,MARQ 28. Score tied-3 times. Lead changed-7 times.
Last FG-PITT 2nd-00:09, MARQ 2nd-01:39.
Largest lead-PITT by 3 1st-15:18, MARQ by 17 2nd-17:57.

Play-by-Play 

Play-by-Play
12/12 Pittsburgh vs 20/21 Marquette
03/03/07 8 p.m. at Milwaukee, Wis. (Bradley Center)

1st PERIOD Play-by-Play (Page 1)
HOME TEAM: 20/21 Marquette                      TIME   SCORE  MAR  VISITORS: 12/12 Pittsburgh
------------------------------------------------------------------------------------------------
                                                19:42   0-2   V 2  GOOD! JUMPER by GRAY, Aaron
                                                19:42              ASSIST by GRAVES, Antonio
MISSED JUMPER by Matthews, Wesley               19:22              BLOCK by GRAVES, Antonio
                                                19:20              REBOUND (DEF) by FIELDS, Levance
REBOUND (DEF) by Hayward, Lazar                 19:16              MISSED LAYUP by FIELDS, Levance
MISSED JUMPER by Hayward, Lazar                 19:08
REBOUND (OFF) by Barro, Ousmane                 19:08
MISSED JUMPER by Hayward, Lazar                 18:52
REBOUND (OFF) by Barro, Ousmane                 18:52
GOOD! TIP-IN by Barro, Ousmane [PNT]            18:50   2-2   T 1
                                                18:30              TURNOVR by GRAY, Aaron
STEAL by Matthews, Wesley                       18:29
GOOD! LAYUP by Matthews, Wesley [FB/PNT]        18:27   4-2   H 2
REBOUND (DEF) by (DEADBALL)                     18:05              MISSED 3 PTR by FIELDS, Levance
                                                18:05              FOUL by KENDALL, Levon (P1T1)
MISSED 3 PTR by Hayward, Lazar                  17:45              REBOUND (DEF) by GRAY, Aaron
FOUL by Fitzgerald, Dan (P1T1)                  17:45   4-3   H 1  GOOD! FT SHOT by KENDALL, Levon
                                                17:45   4-4   T 2  GOOD! FT SHOT by KENDALL, Levon
GOOD! LAYUP by Barro, Ousmane [FB/PNT]          17:36   6-4   H 2
ASSIST by James, Dominic                        17:36
REBOUND (DEF) by Matthews, Wesley               17:23              MISSED JUMPER by GRAY, Aaron
MISSED LAYUP by Matthews, Wesley                17:00              REBOUND (DEF) by FIELDS, Levance
                                                16:53              MISSED JUMPER by COOK, Mike
                                                16:53              REBOUND (OFF) by (TEAM)
REBOUND (DEF) by Fitzgerald, Dan                16:49              MISSED JUMPER by GRAVES, Antonio
TURNOVR by Fitzgerald, Dan                      16:43              STEAL by KENDALL, Levon
                                                16:31   6-6   T 3  GOOD! JUMPER by COOK, Mike [PNT]
                                                16:31              ASSIST by GRAY, Aaron
FOUL by Fitzgerald, Dan (P2T2)                  16:31   6-7   V 1  GOOD! FT SHOT by COOK, Mike
SUB IN : Kinsella, Mike                         16:31
SUB OUT: Fitzgerald, Dan                        16:31
GOOD! 3 PTR by Kinsella, Mike                   16:14   9-7   H 2
ASSIST by James, Dominic                        16:14
                                                15:53   9-10  V 1  GOOD! 3 PTR by KENDALL, Levon
                                                15:53              ASSIST by COOK, Mike
TURNOVR by Barro, Ousmane                       15:41              STEAL by KENDALL, Levon
                                                15:41              TURNOVR by GRAY, Aaron
TIMEOUT MEDIA                                   15:41
MISSED JUMPER by Matthews, Wesley               15:34              BLOCK by KENDALL, Levon
                                                15:32              REBOUND (DEF) by FIELDS, Levance
                                                15:18   9-12  V 3  GOOD! JUMPER by KENDALL, Levon [PNT]
                                                15:18              ASSIST by COOK, Mike
MISSED JUMPER by James, Dominic                 15:07
REBOUND (OFF) by Kinsella, Mike                 15:07
GOOD! FT SHOT by Matthews, Wesley               15:03  10-12  V 2  FOUL by COOK, Mike (P1T2)
GOOD! FT SHOT by Matthews, Wesley               15:03  11-12  V 1
                                                14:43              MISSED JUMPER by COOK, Mike
                                                14:43              REBOUND (OFF) by KENDALL, Levon
REBOUND (DEF) by Kinsella, Mike                 14:40              MISSED TIP-IN by KENDALL, Levon
MISSED JUMPER by James, Dominic                 14:34              BLOCK by KENDALL, Levon
REBOUND (OFF) by (TEAM)                         14:34
SUB IN : Lott, Jamil                            14:34              SUB IN : RAMON, Ronald
SUB OUT: Hayward, Lazar                         14:34              SUB IN : BENJAMIN, Keith
                                                14:34              SUB IN : YOUNG, Sam
                                                14:34              SUB OUT: GRAY, Aaron
                                                14:34              SUB OUT: COOK, Mike
                                                14:34              SUB OUT: FIELDS, Levance
GOOD! LAYUP by Lott, Jamil [PNT]                14:15  13-12  H 1
ASSIST by James, Dominic                        14:15
                                                13:47  13-14  V 1  GOOD! LAYUP by YOUNG, Sam [PNT]
GOOD! 3 PTR by Kinsella, Mike                   13:16  16-14  H 2
ASSIST by Matthews, Wesley                      13:16
                                                12:55              TURNOVR by GRAVES, Antonio
STEAL by Matthews, Wesley                       12:54
GOOD! DUNK by Matthews, Wesley [FB/PNT]         12:52  18-14  H 4
ASSIST by James, Dominic                        12:52
                                                12:51              TIMEOUT 30sec
SUB IN : Cubillan, David                        12:51
SUB OUT: Matthews, Wesley                       12:51
REBOUND (DEF) by James, Dominic                 12:36              MISSED 3 PTR by BENJAMIN, Keith
MISSED 3 PTR by Kinsella, Mike                  12:27
REBOUND (OFF) by Barro, Ousmane                 12:27
MISSED 3 PTR by James, Dominic                  11:59
REBOUND (OFF) by Barro, Ousmane                 11:59
GOOD! TIP-IN by Barro, Ousmane [PNT]            11:56  20-14  H 6
REBOUND (DEF) by Cubillan, David                11:30              MISSED JUMPER by YOUNG, Sam
GOOD! JUMPER by James, Dominic [PNT]            11:04  22-14  H 8
                                                10:52              TIMEOUT 30sec
SUB IN : Matthews, Wesley                       10:52              SUB IN : FIELDS, Levance
SUB IN : Hayward, Lazar                         10:52              SUB IN : COOK, Mike
SUB OUT: Kinsella, Mike                         10:52              SUB IN : GRAY, Aaron
SUB OUT: James, Dominic                         10:52              SUB OUT: KENDALL, Levon
                                                10:52              SUB OUT: GRAVES, Antonio
                                                10:52              SUB OUT: BENJAMIN, Keith
BLOCK by Lott, Jamil                            10:34              MISSED JUMPER by YOUNG, Sam
                                                10:32              REBOUND (OFF) by FIELDS, Levance
                                                10:25              MISSED 3 PTR by RAMON, Ronald
                                                10:25              REBOUND (OFF) by YOUNG, Sam
                                                10:18  22-17  H 5  GOOD! 3 PTR by COOK, Mike
                                                10:18              ASSIST by RAMON, Ronald
TIMEOUT MEDIA                                   10:18
MISSED JUMPER by Matthews, Wesley               09:40              REBOUND (DEF) by FIELDS, Levance
                                                09:19  22-19  H 3  GOOD! LAYUP by COOK, Mike [PNT]
GOOD! JUMPER by Hayward, Lazar [PNT]            08:50  24-19  H 5
ASSIST by Cubillan, David                       08:50
GOOD! FT SHOT by Hayward, Lazar                 08:50  25-19  H 6  FOUL by YOUNG, Sam (P1T3)
SUB IN : Burke, Dwight                          08:50              SUB IN : KENDALL, Levon
SUB IN : Fitzgerald, Dan                        08:50              SUB OUT: YOUNG, Sam
SUB OUT: Barro, Ousmane                         08:50
SUB OUT: Lott, Jamil                            08:50
                                                08:21              MISSED 3 PTR by RAMON, Ronald
                                                08:21              REBOUND (OFF) by GRAY, Aaron
                                                08:12              TURNOVR by GRAY, Aaron
STEAL by Matthews, Wesley                       08:11
                                                08:08              FOUL by FIELDS, Levance (P1T4)
FOUL by Burke, Dwight (P1T3)                    07:56
TURNOVR by Burke, Dwight                        07:56
                                                07:56              TIMEOUT MEDIA
REBOUND (DEF) by Fitzgerald, Dan                07:26              MISSED 3 PTR by FIELDS, Levance
SUB IN : James, Dominic                         07:23
SUB OUT: Hayward, Lazar                         07:23
GOOD! JUMPER by Matthews, Wesley [PNT]          07:05  27-19  H 8
ASSIST by James, Dominic                        07:05
                                                06:43              TURNOVR by FIELDS, Levance
STEAL by James, Dominic                         06:42
GOOD! DUNK by James, Dominic [FB/PNT]           06:38  29-19  H 10
REBOUND (DEF) by Matthews, Wesley               06:21              MISSED JUMPER by KENDALL, Levon
TURNOVR by Fitzgerald, Dan                      06:13
                                                06:13              SUB IN : GRAVES, Antonio
                                                06:13              SUB OUT: COOK, Mike
REBOUND (DEF) by James, Dominic                 06:03              MISSED JUMPER by GRAVES, Antonio
GOOD! JUMPER by Matthews, Wesley [PNT]          05:50  31-19  H 12
ASSIST by James, Dominic                        05:50
                                                05:50              TIMEOUT 30sec
SUB IN : Barro, Ousmane                         05:50
SUB OUT: Burke, Dwight                          05:50
REBOUND (DEF) by Matthews, Wesley               05:24              MISSED JUMPER by GRAVES, Antonio
MISSED FT SHOT by James, Dominic                05:15              FOUL by KENDALL, Levon (P2T5)
REBOUND (OFF) by (DEADBALL)                     05:15
GOOD! FT SHOT by James, Dominic                 05:15  32-19  H 13
                                                05:15              SUB IN : BIGGS, Tyrell
                                                05:15              SUB OUT: KENDALL, Levon
                                                04:51              TURNOVR by GRAVES, Antonio
TURNOVR by Matthews, Wesley                     04:28
                                                04:27              STEAL by FIELDS, Levance
                                                04:23  32-21  H 11 GOOD! LAYUP by FIELDS, Levance [FB/PNT]
GOOD! 3 PTR by James, Dominic                   04:02  35-21  H 14
ASSIST by Cubillan, David                       04:02
                                                03:43              MISSED JUMPER by BIGGS, Tyrell
                                                03:43              REBOUND (OFF) by GRAY, Aaron
                                                03:41  35-23  H 12 GOOD! TIP-IN by GRAY, Aaron [PNT]
                                                03:26              FOUL by GRAVES, Antonio (P1T6)
TIMEOUT MEDIA                                   03:26
SUB IN : Hayward, Lazar                         03:26              SUB IN : COOK, Mike
SUB OUT: Matthews, Wesley                       03:26              SUB OUT: RAMON, Ronald
MISSED JUMPER by James, Dominic                 03:20              REBOUND (DEF) by FIELDS, Levance
FOUL by Hayward, Lazar (P1T4)                   03:16              MISSED FT SHOT by BIGGS, Tyrell
                                                03:16              REBOUND (OFF) by (DEADBALL)
REBOUND (DEF) by Cubillan, David                03:16              MISSED FT SHOT by BIGGS, Tyrell
MISSED 3 PTR by Hayward, Lazar                  02:58              REBOUND (DEF) by FIELDS, Levance
                                                02:50  35-26  H 9  GOOD! 3 PTR by GRAVES, Antonio [FB]
                                                02:50              ASSIST by FIELDS, Levance
MISSED 3 PTR by James, Dominic                  02:28
REBOUND (OFF) by Barro, Ousmane                 02:28
GOOD! 3 PTR by Cubillan, David                  01:53  38-26  H 12
ASSIST by James, Dominic                        01:53
REBOUND (DEF) by Fitzgerald, Dan                01:44              MISSED DUNK by GRAVES, Antonio
MISSED JUMPER by Hayward, Lazar                 01:36              BLOCK by GRAY, Aaron
                                                01:34              REBOUND (DEF) by GRAY, Aaron
                                                01:29              MISSED JUMPER by FIELDS, Levance
                                                01:29              REBOUND (OFF) by COOK, Mike
FOUL by Cubillan, David (P1T5)                  01:29              MISSED FT SHOT by COOK, Mike
                                                01:29              REBOUND (OFF) by (DEADBALL)
                                                01:29  38-27  H 11 GOOD! FT SHOT by COOK, Mike
SUB IN : Matthews, Wesley                       01:29              SUB IN : RAMON, Ronald
SUB IN : Kinsella, Mike                         01:29              SUB IN : YOUNG, Sam
SUB OUT: Fitzgerald, Dan                        01:29              SUB IN : KENDALL, Levon
SUB OUT: Hayward, Lazar                         01:29              SUB OUT: BIGGS, Tyrell
                                                01:29              SUB OUT: GRAY, Aaron
                                                01:29              SUB OUT: GRAVES, Antonio
GOOD! 3 PTR by Cubillan, David                  01:09  41-27  H 14
ASSIST by Matthews, Wesley                      01:09
                                                00:52  41-30  H 11 GOOD! 3 PTR by RAMON, Ronald
                                                00:52              ASSIST by COOK, Mike
TIMEOUT 30sec                                   00:45
                                                00:45              SUB IN : GRAY, Aaron
                                                00:45              SUB OUT: KENDALL, Levon
GOOD! FT SHOT by Matthews, Wesley               00:26  42-30  H 12 FOUL by YOUNG, Sam (P2T7)
GOOD! FT SHOT by Matthews, Wesley               00:26  43-30  H 13
BLOCK by James, Dominic                         00:02              MISSED JUMPER by FIELDS, Levance
REBOUND (DEF) by Barro, Ousmane                 00:02
TIMEOUT 30sec                                   00:02


                            20/21 Marquette 43, 12/12 Pittsburgh 30

          1st period-only      InPaint Pts-T/O 2nd-Chc FastBrk BnchPts Ties  Leads
          12/12 Pittsburgh       12       5       6       5       5      2     3
          20/21 Marquette        22       6      11       8      14      1     4


2nd PERIOD Play-by-Play (Page 1)
HOME TEAM: 20/21 Marquette                      TIME   SCORE  MAR  VISITORS: 12/12 Pittsburgh
------------------------------------------------------------------------------------------------
TURNOVR by James, Dominic                       19:46
                                                19:31              MISSED 3 PTR by GRAVES, Antonio
                                                19:31              REBOUND (OFF) by GRAY, Aaron
REBOUND (DEF) by (DEADBALL)                     19:20              MISSED 3 PTR by FIELDS, Levance
GOOD! JUMPER by Matthews, Wesley                18:56  45-30  H 15
REBOUND (DEF) by Barro, Ousmane                 18:43              MISSED 3 PTR by GRAVES, Antonio
                                                18:36              FOUL by GRAY, Aaron (P1T1)
MISSED 3 PTR by Matthews, Wesley                18:12
REBOUND (OFF) by Fitzgerald, Dan                18:12
                                                18:12              FOUL by COOK, Mike (P2T2)
GOOD! JUMPER by Hayward, Lazar [PNT]            17:57  47-30  H 17
ASSIST by James, Dominic                        17:57
                                                17:40              MISSED JUMPER by COOK, Mike
                                                17:40              REBOUND (OFF) by COOK, Mike
                                                17:37  47-32  H 15 GOOD! TIP-IN by COOK, Mike [PNT]
TURNOVR by Matthews, Wesley                     17:32
                                                17:31              STEAL by COOK, Mike
FOUL by James, Dominic (P1T1)                   17:27  47-33  H 14 GOOD! FT SHOT by GRAVES, Antonio
                                                17:27  47-34  H 13 GOOD! FT SHOT by GRAVES, Antonio
GOOD! JUMPER by Matthews, Wesley [PNT]          17:13  49-34  H 15
ASSIST by Hayward, Lazar                        17:13
                                                16:45              TURNOVR by FIELDS, Levance
                                                16:45              SUB IN : RAMON, Ronald
                                                16:45              SUB OUT: GRAVES, Antonio
GOOD! LAYUP by Barro, Ousmane [PNT]             16:36  51-34  H 17
ASSIST by James, Dominic                        16:36
REBOUND (DEF) by (TEAM)                         16:18              MISSED JUMPER by RAMON, Ronald
MISSED JUMPER by Matthews, Wesley               16:00              REBOUND (DEF) by RAMON, Ronald
                                                15:54  51-36  H 15 GOOD! JUMPER by KENDALL, Levon [FB/PNT]
                                                15:54              ASSIST by RAMON, Ronald
FOUL by Fitzgerald, Dan (P3T2)                  15:54
                                                15:54              TIMEOUT media
                                                15:54              MISSED FT SHOT by KENDALL, Levon
                                                15:54              REBOUND (OFF) by GRAY, Aaron
                                                15:54  51-38  H 13 GOOD! TIP-IN by GRAY, Aaron [PNT]
MISSED 3 PTR by James, Dominic                  15:35              REBOUND (DEF) by COOK, Mike
                                                15:22              MISSED JUMPER by COOK, Mike
                                                15:22              REBOUND (OFF) by GRAY, Aaron
                                                15:06              MISSED 3 PTR by RAMON, Ronald
                                                15:06              REBOUND (OFF) by GRAY, Aaron
REBOUND (DEF) by Fitzgerald, Dan                14:59              MISSED 3 PTR by FIELDS, Levance
                                                14:30              FOUL by GRAY, Aaron (P2T3)
SUB IN : Cubillan, David                        14:30              SUB IN : YOUNG, Sam
SUB OUT: Fitzgerald, Dan                        14:30              SUB OUT: GRAY, Aaron
TURNOVR by Hayward, Lazar                       14:15
                                                14:14              STEAL by FIELDS, Levance
SUB IN : Kinsella, Mike                         13:37              SUB IN : GRAY, Aaron
SUB OUT: Hayward, Lazar                         13:37              SUB OUT: KENDALL, Levon
REBOUND (DEF) by (TEAM)                         13:32              MISSED 3 PTR by RAMON, Ronald
                                                13:07              FOUL by GRAY, Aaron (P3T4)
                                                13:07              SUB IN : GRAVES, Antonio
                                                13:07              SUB OUT: COOK, Mike
MISSED 3 PTR by Cubillan, David                 12:54              REBOUND (DEF) by (TEAM)
FOUL by Cubillan, David (P2T3)                  12:45
FOUL by Kinsella, Mike (P1T4)                   12:42
                                                12:38              MISSED 3 PTR by RAMON, Ronald
                                                12:38              REBOUND (OFF) by YOUNG, Sam
                                                12:31  51-40  H 11 GOOD! JUMPER by RAMON, Ronald [PNT]
                                                12:31              ASSIST by YOUNG, Sam
GOOD! 3 PTR by Matthews, Wesley                 11:57  54-40  H 14
REBOUND (DEF) by Barro, Ousmane                 11:44              MISSED JUMPER by FIELDS, Levance
GOOD! 3 PTR by Cubillan, David [FB]             11:36  57-40  H 17
                                                11:28              TIMEOUT 30sec
                                                11:15              MISSED JUMPER by GRAVES, Antonio
                                                11:15              REBOUND (OFF) by YOUNG, Sam
                                                11:11              TIMEOUT MEDIA
SUB IN : Lott, Jamil                            11:11              SUB IN : COOK, Mike
SUB OUT: Kinsella, Mike                         11:11              SUB OUT: FIELDS, Levance
                                                11:07  57-42  H 15 GOOD! LAYUP by YOUNG, Sam [PNT]
                                                11:07              ASSIST by RAMON, Ronald
MISSED 3 PTR by James, Dominic                  10:37              REBOUND (DEF) by GRAY, Aaron
FOUL by Matthews, Wesley (P1T5)                 10:32  57-43  H 14 GOOD! FT SHOT by COOK, Mike
                                                10:32  57-44  H 13 GOOD! FT SHOT by COOK, Mike
SUB IN : Fitzgerald, Dan                        10:32
SUB IN : Hayward, Lazar                         10:32
SUB OUT: Lott, Jamil                            10:32
SUB OUT: James, Dominic                         10:32
MISSED 3 PTR by Fitzgerald, Dan                 10:15              REBOUND (DEF) by YOUNG, Sam
FOUL by Hayward, Lazar (P2T6)                   10:15
                                                09:53  57-46  H 11 GOOD! JUMPER by YOUNG, Sam
                                                09:53              ASSIST by GRAY, Aaron
TURNOVR by Matthews, Wesley                     09:35
                                                09:21              TURNOVR by COOK, Mike
MISSED 3 PTR by Cubillan, David                 08:58              REBOUND (DEF) by (TEAM)
                                                08:22              TURNOVR by (TEAM)
MISSED JUMPER by Hayward, Lazar                 08:01
REBOUND (OFF) by (TEAM)                         08:01
                                                08:01              SUB IN : FIELDS, Levance
                                                08:01              SUB OUT: COOK, Mike
MISSED 3 PTR by Cubillan, David                 07:33
REBOUND (OFF) by Hayward, Lazar                 07:33
MISSED JUMPER by Hayward, Lazar                 07:30
                                                07:28              BLOCK by GRAY, Aaron
                                                07:28              REBOUND (DEF) by GRAVES, Antonio
                                                07:27              TURNOVR by GRAVES, Antonio
TIMEOUT media                                   07:27
SUB IN : James, Dominic                         07:27              SUB IN : BENJAMIN, Keith
SUB OUT: Cubillan, David                        07:27              SUB OUT: GRAVES, Antonio
GOOD! LAYUP by Barro, Ousmane [PNT]             07:13  59-46  H 13
ASSIST by James, Dominic                        07:13
                                                06:52              MISSED JUMPER by YOUNG, Sam
                                                06:52              REBOUND (OFF) by GRAY, Aaron
                                                06:52  59-48  H 11 GOOD! TIP-IN by GRAY, Aaron [PNT]
FOUL by Hayward, Lazar (P3T7)                   06:52  59-49  H 10 GOOD! FT SHOT by GRAY, Aaron
MISSED 3 PTR by Matthews, Wesley                06:25              REBOUND (DEF) by YOUNG, Sam
                                                06:00  59-51  H 8  GOOD! LAYUP by BENJAMIN, Keith [PNT]
                                                06:00              ASSIST by GRAY, Aaron
FOUL by Barro, Ousmane (P1T8)                   06:00
TIMEOUT 30sec                                   06:00
                                                06:00              MISSED FT SHOT by BENJAMIN, Keith
                                                06:00              REBOUND (OFF) by FIELDS, Levance
SUB IN : Cubillan, David                        06:00
SUB OUT: James, Dominic                         06:00
REBOUND (DEF) by (DEADBALL)                     05:54              MISSED 3 PTR by FIELDS, Levance
                                                05:54              FOUL by YOUNG, Sam (P3T5)
MISSED JUMPER by Matthews, Wesley               05:38              BLOCK by GRAY, Aaron
                                                05:36              REBOUND (DEF) by GRAY, Aaron
FOUL by Barro, Ousmane (P2T9)                   05:23              MISSED FT SHOT by GRAY, Aaron
                                                05:23              REBOUND (OFF) by (DEADBALL)
                                                05:23  59-52  H 7  GOOD! FT SHOT by GRAY, Aaron
MISSED 3 PTR by Fitzgerald, Dan                 05:15              REBOUND (DEF) by (TEAM)
BLOCK by Barro, Ousmane                         04:36              MISSED DUNK by YOUNG, Sam
REBOUND (DEF) by Cubillan, David                04:34
MISSED 3 PTR by Fitzgerald, Dan                 04:07              REBOUND (DEF) by FIELDS, Levance
                                                04:00              TURNOVR by FIELDS, Levance
STEAL by Hayward, Lazar                         03:59
GOOD! LAYUP by Hayward, Lazar [FB/PNT]          03:56  61-52  H 9
ASSIST by Matthews, Wesley                      03:56
                                                03:34  61-55  H 6  GOOD! 3 PTR by RAMON, Ronald
                                                03:34              ASSIST by GRAY, Aaron
                                                03:04              FOUL by GRAY, Aaron (P4T6)
TIMEOUT MEDIA                                   03:04
TIMEOUT 30sec                                   03:04
MISSED JUMPER by Barro, Ousmane                 02:34              BLOCK by GRAY, Aaron
REBOUND (OFF) by (TEAM)                         02:34
MISSED JUMPER by Fitzgerald, Dan                02:30              BLOCK by GRAY, Aaron
                                                02:28              REBOUND (DEF) by RAMON, Ronald
FOUL by Hayward, Lazar (P4T10)                  02:14  61-56  H 5  GOOD! FT SHOT by YOUNG, Sam
                                                02:14  61-57  H 4  GOOD! FT SHOT by YOUNG, Sam
GOOD! 3 PTR by Cubillan, David                  01:39  64-57  H 7
ASSIST by Matthews, Wesley                      01:39
                                                01:24              MISSED JUMPER by BENJAMIN, Keith
REBOUND (DEF) by Hayward, Lazar                 01:23
TIMEOUT TEAM                                    01:23
                                                01:23              SUB IN : COOK, Mike
                                                01:23              SUB OUT: GRAY, Aaron
MISSED FT SHOT by Matthews, Wesley              01:19              FOUL by RAMON, Ronald (P1T7)
REBOUND (OFF) by Hayward, Lazar                 01:19
MISSED FT SHOT by Hayward, Lazar                01:09              FOUL by BENJAMIN, Keith (P1T8)
                                                01:09              REBOUND (DEF) by BENJAMIN, Keith
                                                01:09              SUB IN : GRAY, Aaron
                                                01:09              SUB OUT: COOK, Mike
REBOUND (DEF) by Cubillan, David                01:02              MISSED 3 PTR by FIELDS, Levance
GOOD! FT SHOT by Cubillan, David                00:57  65-57  H 8  FOUL by BENJAMIN, Keith (P2T9)
GOOD! FT SHOT by Cubillan, David                00:57  66-57  H 9
                                                00:49              MISSED 3 PTR by BENJAMIN, Keith
                                                00:49              REBOUND (OFF) by YOUNG, Sam
                                                00:45              MISSED 3 PTR by YOUNG, Sam
                                                00:45              REBOUND (OFF) by GRAY, Aaron
                                                00:45  66-59  H 7  GOOD! TIP-IN by GRAY, Aaron [PNT]
FOUL by Matthews, Wesley (P2T11)                00:45  66-60  H 6  GOOD! FT SHOT by GRAY, Aaron
SUB IN : James, Dominic                         00:45              SUB IN : COOK, Mike
SUB OUT: Hayward, Lazar                         00:45              SUB OUT: GRAY, Aaron
GOOD! FT SHOT by Cubillan, David                00:43  67-60  H 7  FOUL by RAMON, Ronald (P2T10)
GOOD! FT SHOT by Cubillan, David                00:43  68-60  H 8
SUB IN : Hayward, Lazar                         00:43              SUB IN : GRAY, Aaron
SUB OUT: James, Dominic                         00:43              SUB OUT: COOK, Mike
                                                00:37  68-63  H 5  GOOD! 3 PTR by FIELDS, Levance [FB]
                                                00:37              TIMEOUT TEAM
SUB IN : James, Dominic                         00:37              SUB IN : COOK, Mike
SUB OUT: Hayward, Lazar                         00:37              SUB OUT: GRAY, Aaron
GOOD! FT SHOT by Cubillan, David                00:36  69-63  H 6  FOUL by RAMON, Ronald (P3T11)
GOOD! FT SHOT by Cubillan, David                00:36  70-63  H 7
SUB IN : Hayward, Lazar                         00:36              SUB IN : GRAY, Aaron
SUB OUT: James, Dominic                         00:36              SUB OUT: COOK, Mike
                                                00:31  70-65  H 5  GOOD! LAYUP by GRAY, Aaron [FB/PNT]
                                                00:31              ASSIST by BENJAMIN, Keith
FOUL by Barro, Ousmane (P3T12)                  00:31  70-66  H 4  GOOD! FT SHOT by GRAY, Aaron
SUB IN : James, Dominic                         00:31              SUB IN : COOK, Mike
SUB OUT: Barro, Ousmane                         00:31              SUB IN : GRAVES, Antonio
                                                00:31              SUB OUT: GRAY, Aaron
                                                00:31              SUB OUT: RAMON, Ronald
GOOD! FT SHOT by Fitzgerald, Dan                00:28  71-66  H 5  FOUL by COOK, Mike (P3T12)
GOOD! FT SHOT by Fitzgerald, Dan                00:28  72-66  H 6
SUB IN : Barro, Ousmane                         00:28              SUB IN : GRAY, Aaron
SUB OUT: Fitzgerald, Dan                        00:28              SUB IN : RAMON, Ronald
                                                00:28              SUB OUT: COOK, Mike
                                                00:28              SUB OUT: GRAVES, Antonio
                                                00:20  72-69  H 3  GOOD! 3 PTR by YOUNG, Sam [FB]
                                                00:20              ASSIST by BENJAMIN, Keith
GOOD! FT SHOT by Cubillan, David                00:20  73-69  H 4  FOUL by RAMON, Ronald (P4T13)
GOOD! FT SHOT by Cubillan, David                00:20  74-69  H 5
                                                00:09              MISSED 3 PTR by FIELDS, Levance
                                                00:09              REBOUND (OFF) by GRAY, Aaron
                                                00:09  74-71  H 3  GOOD! TIP-IN by GRAY, Aaron [PNT]
GOOD! FT SHOT by Matthews, Wesley               00:08  75-71  H 4  FOUL by YOUNG, Sam (P4T14)
MISSED FT SHOT by Matthews, Wesley              00:08              REBOUND (DEF) by BENJAMIN, Keith
REBOUND (DEF) by Cubillan, David                00:00              MISSED 3 PTR by YOUNG, Sam


                            20/21 Marquette 75, 12/12 Pittsburgh 71

          2nd period-only      InPaint Pts-T/O 2nd-Chc FastBrk BnchPts Ties  Leads
          12/12 Pittsburgh       20       2      16      10      16      0     0
          20/21 Marquette        10       6       2       5      14      0     0



Official Basketball Box Score -- 1st Half 

Official Basketball Box Score -- 1st Half
12/12 Pittsburgh vs 20/21 Marquette
03/03/07 8 p.m. at Milwaukee, Wis. (Bradley Center)

--------------------------------------------------------------------------------
VISITORS: 12/12 Pittsburgh 25-6, 12-4
                          TOT-FG  3-PT         REBOUNDS
## Player Name            FG-FGA FG-FGA FT-FTA OF DE TOT PF  TP  A TO BLK S MIN
14 KENDALL, Levon...... f  2-4    1-1    2-2    1  0  1   2   7  0  0  2  2  13
31 COOK, Mike.......... f  3-5    1-1    2-3    1  0  1   1   9  3  0  0  0  14
33 GRAY, Aaron......... c  2-3    0-0    0-0    2  2  4   0   4  1  3  1  0  16
02 FIELDS, Levance..... g  1-6    0-2    0-0    1  6  7   1   2  1  1  0  1  16
22 GRAVES, Antonio..... g  1-5    1-1    0-0    0  0  0   1   3  1  2  1  0  14
01 BENJAMIN, Keith.....    0-1    0-1    0-0    0  0  0   0   0  0  0  0  0   3
04 RAMON, Ronald.......    1-3    1-3    0-0    0  0  0   0   3  1  0  0  0  13
05 BIGGS, Tyrell.......    0-1    0-0    0-2    0  0  0   0   0  0  0  0  0   4
23 YOUNG, Sam..........    1-3    0-0    0-0    1  0  1   2   2  0  0  0  0   7
   TEAM................                         1     1
   Totals..............   11-31   4-9    4-7    7  8 15   7  30  7  6  4  3 100

TOTAL FG% 1st Half: 11-31 35.5%
3-Pt. FG% 1st Half:  4-9  44.4%
F Throw % 1st Half:  4-7  57.1%


--------------------------------------------------------------------------------
HOME TEAM: 20/21 Marquette 23-8, 10-6
                          TOT-FG  3-PT         REBOUNDS
## Player Name            FG-FGA FG-FGA FT-FTA OF DE TOT PF  TP  A TO BLK S MIN
32 Hayward, Lazar...... f  1-6    0-2    1-1    0  1  1   1   3  0  0  0  0  11
41 Barro, Ousmane...... f  3-3    0-0    0-0    5  1  6   0   6  0  1  0  0  17
01 James, Dominic...... g  3-8    1-3    1-2    0  2  2   0   8  7  0  1  1  16
05 Fitzgerald, Dan..... g  0-0    0-0    0-0    0  3  3   2   0  0  2  0  0  11
23 Matthews, Wesley.... g  4-8    0-0    4-4    0  3  3   0  12  2  1  0  3  16
10 Cubillan, David.....    2-2    2-2    0-0    0  2  2   1   6  2  0  0  0  13
12 Burke, Dwight.......    0-0    0-0    0-0    0  0  0   1   0  0  1  0  0   3
40 Kinsella, Mike......    2-3    2-3    0-0    1  1  2   0   6  0  0  0  0   7
51 Lott, Jamil.........    1-1    0-0    0-0    0  0  0   0   2  0  0  1  0   6
   TEAM................                         1     1
   Totals..............   16-31   5-10   6-7    7 13 20   5  43 11  5  2  4 100

TOTAL FG% 1st Half: 16-31 51.6%
3-Pt. FG% 1st Half:  5-10 50.0%
F Throw % 1st Half:  6-7  85.7%


--------------------------------------------------------------------------------
Officials: Mike Kitts, John Cahill, Michael Stephens
Technical fouls: 12/12 Pittsburgh-None. 20/21 Marquette-None.
Attendance: 19021
Score by Periods                1st
12/12 Pittsburgh..............   30
20/21 Marquette...............   43
ID-485143
Largest crowd to see a college basketball game in the state of Wisconsin

Points in the paint-PITT 12,MARQ 22. Points off turnovers-PITT 5,MARQ 6.
2nd chance points-PITT 6,MARQ 11. Fast break points-PITT 5,MARQ 8.
Bench points-PITT 5,MARQ 14. Score tied-3 times. Lead changed-7 times.
Last FG-PITT 2nd-00:09, MARQ 2nd-01:39.
Largest lead-PITT by 3 1st-15:18, MARQ by 17 2nd-17:57.

Official Basketball Box Score -- 2nd Half 

Official Basketball Box Score -- 2nd Half
12/12 Pittsburgh vs 20/21 Marquette
03/03/07 8 p.m. at Milwaukee, Wis. (Bradley Center)

--------------------------------------------------------------------------------
VISITORS: 12/12 Pittsburgh 25-6, 12-4
                          TOT-FG  3-PT         REBOUNDS
## Player Name            FG-FGA FG-FGA FT-FTA OF DE TOT PF  TP  A TO BLK S MIN
14 KENDALL, Levon...... f  1-1    0-0    0-1    0  0  0   0   2  0  0  0  0   6
31 COOK, Mike.......... f  1-3    0-0    2-2    1  1  2   2   4  0  1  0  1  10
33 GRAY, Aaron......... c  5-5    0-0    4-5    7  2  9   4  14  3  0  4  0  19
02 FIELDS, Levance..... g  1-7    1-6    0-0    1  1  2   0   3  0  2  0  1  17
22 GRAVES, Antonio..... g  0-3    0-2    2-2    0  1  1   0   2  0  1  0  0   9
01 BENJAMIN, Keith.....    1-3    0-1    0-1    0  2  2   2   2  2  0  0  0   7
04 RAMON, Ronald.......    2-6    1-4    0-0    0  2  2   4   5  2  0  0  0  17
05 BIGGS, Tyrell.......    0-0    0-0    0-0    0  0  0   0   0  0  0  0  0   0
23 YOUNG, Sam..........    3-7    1-3    2-2    3  2  5   2   9  1  0  0  0  15
   TEAM................                            3  3             1
   Totals..............   14-35   3-16  10-13  12 14 26  14  41  8  5  4  2 100

TOTAL FG% 1st Half: 11-31 35.5%   2nd Half: 14-35 40.0%   Game: 37.9%
3-Pt. FG% 1st Half:  4-9  44.4%   2nd Half:  3-16 18.8%   Game: 28.0%
F Throw % 1st Half:  4-7  57.1%   2nd Half: 10-13 76.9%   Game: 70.0%


--------------------------------------------------------------------------------
HOME TEAM: 20/21 Marquette 23-8, 10-6
                          TOT-FG  3-PT         REBOUNDS
## Player Name            FG-FGA FG-FGA FT-FTA OF DE TOT PF  TP  A TO BLK S MIN
32 Hayward, Lazar...... f  2-4    0-0    0-1    2  1  3   3   4  1  1  0  1  17
41 Barro, Ousmane...... f  2-3    0-0    0-0    0  2  2   3   4  0  0  1  0  20
01 James, Dominic...... g  0-2    0-2    0-0    0  0  0   1   0  3  1  0  0  11
05 Fitzgerald, Dan..... g  0-4    0-3    2-2    1  1  2   1   2  0  0  0  0  16
23 Matthews, Wesley.... g  3-7    1-3    1-3    0  0  0   2   8  2  2  0  0  20
10 Cubillan, David.....    2-5    2-5    8-8    0  3  3   1  14  0  0  0  0  13
12 Burke, Dwight.......    0-0    0-0    0-0    0  0  0   0   0  0  0  0  0   0
40 Kinsella, Mike......    0-0    0-0    0-0    0  0  0   1   0  0  0  0  0   2
51 Lott, Jamil.........    0-0    0-0    0-0    0  0  0   0   0  0  0  0  0   1
   TEAM................                         2  2  4
   Totals..............    9-25   3-13  11-14   5  9 14  12  32  6  4  1  1 100

TOTAL FG% 1st Half: 16-31 51.6%   2nd Half:  9-25 36.0%   Game: 44.6%
3-Pt. FG% 1st Half:  5-10 50.0%   2nd Half:  3-13 23.1%   Game: 34.8%
F Throw % 1st Half:  6-7  85.7%   2nd Half: 11-14 78.6%   Game: 81.0%


--------------------------------------------------------------------------------
Officials: Mike Kitts, John Cahill, Michael Stephens
Technical fouls: 12/12 Pittsburgh-None. 20/21 Marquette-None.
Attendance: 19021
Score by Periods                1st  2nd   Total
12/12 Pittsburgh..............   30   41  -   71
20/21 Marquette...............   43   32  -   75
ID-485143
Largest crowd to see a college basketball game in the state of Wisconsin

Points in the paint-PITT 32,MARQ 32. Points off turnovers-PITT 7,MARQ 12.
2nd chance points-PITT 22,MARQ 13. Fast break points-PITT 15,MARQ 13.
Bench points-PITT 21,MARQ 28. Score tied-3 times. Lead changed-7 times.
Last FG-PITT 2nd-00:09, MARQ 2nd-01:39.
Largest lead-PITT by 3 1st-15:18, MARQ by 17 2nd-17:57.

Play Analysis 

12/12 Pittsburgh vs 20/21 Marquette (03/03/07 - Period 2 00:00)

POINTS OFF TURNOVERS        1   2 - Tot
12/12 Pittsburgh........    5   2 -   7
20/21 Marquette.........    6   6 -  12

POINTS IN PAINT             1   2 - Tot
12/12 Pittsburgh........   12  20 -  32
20/21 Marquette.........   22  10 -  32

2ND CHANCE POINTS           1   2 - Tot
12/12 Pittsburgh........    6  16 -  22
20/21 Marquette.........   11   2 -  13

FAST BREAK POINTS           1   2 - Tot
12/12 Pittsburgh........    5  10 -  15
20/21 Marquette.........    8   5 -  13

BENCH POINTS                1   2 - Tot
12/12 Pittsburgh........    5  16 -  21
20/21 Marquette.........   14  14 -  28

SCORE TIED BY               1   2 - Tot
12/12 Pittsburgh........    2   0 -   2
20/21 Marquette.........    1   0 -   1

LEAD GAINED BY              1   2 - Tot
12/12 Pittsburgh........    3   0 -   3
20/21 Marquette.........    4   0 -   4