MUScoop Wiki - By the fans, for the fans.
Reggie Smith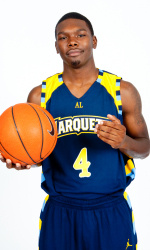 Years: 2010


Number: 4


Position: PG

Height: 6'1"

Weight: 175 lbs

Birthday: January 1, 1992

Birthplace: Chicago, Illinois

Hometown: Harvey, Illinois

High School: Thornton Township HS

AAU Team: Mac Irvin Fire

Thornton Township High-School
Reggie Smith averaged 18 points, five rebounds and nearly three assists per game as a Junior in leading Thornton to the No. 1-ranking in the chicago Tribune Top 20 for much of his junior season and a third-place finish in the 4A state tournament. Three-year letterwinner at Thornton Township High School … concluded career with over 1,300 points, 400 rebounds, 200 assists and 200 steals … Three-time all-conference honoree (2008, 2009, 2010) and two-time all-state selection (2009, 2010) … Started in 80 of his career 83 contests … Helped squad to regional title in 2009-10 under the direction of head coach Troy Jackson … Wildcats posted an overall record of 22-6 … Averaged 18.1 points, 5.2 rebounds, 2.7 assists and 2.5 steals per game in 26.1 minutes per outing … Led program to a third-place finish in the state tournament in 2008-09 … The Wildcats finished the campaign 30-2 overall, falling to eventual state champion Whitney Young (Chicago) in the tourney semifinals … Concluded the year contributing 17.3 points, 5.4 rebounds and 2.5 assists per game … The Wildcats claimed the regional and sectional titles in 2008-09 en route to their state tournament run … Tabbed to the all-conference squad … Nominated as a McDonald's All-American entering his senior year … A two-time team most valuable player, was a member of the varsity squad since his sophomore campaign … Averaged 12.9 points per game in 2007-08 and helped the Wildcats to an overall record of 21-7 and a regional championship.
ESPN Analysis
Reggie is a strong and physical guard that can get to the rim at will. He can dribble through contact and finish in traffic. He's a work in progress at the point because he learning how to run a team and get others involved. He has a nice mid range pull up with good elevation. He seems to just go with the flow at times instead of controlling the game from the point.
Reggie's a physical defender that can stay in from of dribble penetration by putting his chest on the offensive player. Smith must work to be a better three point shooter although his can make a few when he is in rhythm. Smith has talent, good upside and is one to watch as he develops into a true point guard.
Rankings
Scout Profile: (#35 PG)

Rivals Profile: (105 Overall)

ESPN Profile: (90 Recruiting Grade)
Mac Irvin Fire
Marquette University
Committment
Reggie committed to Marquette on November 19, 2009.
2010-2011
Smith started at point guard in five of the eight games in which he appeared, averaging 1.4 points and 1.5 rebounds. He was playing just under 10 minutes per game, however, usually giving way after the first media timeout to Junior Cadougan.
Transfer
Reggie Smith received his release from Marquette University December 27, 2010 and transfered.
Smith failed to report back to MU on Christmas night, as was required for Golden Eagles players after a three-day holiday break, didn't show up for a scheduled doctor's appointment and then didn't take part in the first of the two practices the team held on Sunday.
That led to a meeting between Smith, Smith's stepfather and coach Buzz Williams.
"He had called Tony Benford and said he was thinking about leaving because he wasn't getting to play as much, and his family would like to talk to me," Williams said. "So they came in yesterday and sat down in my office.
"I said, 'I'm happy to talk about anything you guys want to talk about.' His stepdad just said, 'We'd like the transfer papers,' and I said, 'I can make that happen. You guys just have to check out appropriately, and we'll grant you your release.'
"Reggie didn't say anything; it was just his stepdad. The meeting was three minutes in duration, and the only thing that I knew was he wasn't playing as much as he would want."
Smith, who didn't return phone or text messages seeking comment, hadn't attended the past two games due to illness.
Personal
Born January 1, 1992 in Chicago, Ill. … Son of Tanish Hill and Reggie Smith … Has one brother, Terrell … Undecided on a major.