MUScoop Wiki - By the fans, for the fans.
Charles Luter #21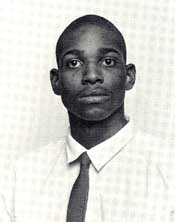 Position: Guard/Forward
Height: 6'4''
Weight: 185 lbs.
Born: December 21, 1968
Hometown: Milwaukee, WI
High School: Northwestern Prep H.S.

High School Career
Luter's high school teams won 79 games and two WISAA Class B championships in 1985 and 1986. He finished as the school's all-time leading scorer (1,448 points) and rebounder (831 rebounds). As a senior for Gerald "Paul" Bertolus, Luter averaged 23.1 points, 9.5 rebounds and 2.6 assists, hitting on 54% from the field and 72% from the foul line. He led the Midwest Classic Conference in scoring that season.
Accolades
1984 All-Midwest Classic Conference

1985 All-Midwest Classic Conference

1986 All-Midwest Classic Conference

1986 UPI All-State, Third Team

1986 Milwaukee Journal All-Area, First Team

1986 Wisconsin State Journal All-Area, First Team

1987 Milwaukee Journal All-Area, First Team

1987 Wisconsin State Journal All-Area, First Team

1987 UPI All-State, First Team

1987 Midwest Classic Conference MVP
Marquette Career
1987-88
Luter played in 27 games as a freshman, starting two contests and averaging more than 12 minutes per game. He Averaged 5.1 points per game and scored in double figures against Northwestern (13), Kansas State (15), Loyola Marymount (20), Dayton (10), Wake Forest (14), and 10 versus Creighton. Luter was second on the team in free-throw percentage (.787), hitting on 37 of 47 attempts. His career rebounding high was six boards against Wake Forest. Charles was also sixth on the team in assists (30) and steals (15) and second in blocked shots (19).
1988-89
Luter played in 15 games, after coming back from knee surgery to repair the posterior cruciate and posterior capsule tear he suffered in October. He scored seven points against Notre Dame in a season-high 18 minutes, hitting on three of four field goal attempts and pulling down four rebounds. He also played double-figure minutes against Evansville in the MCC Tournament.

Coach Kevin O'Neill on Luter- "If Charles' knee comes back the way we're hoping it does and with the hard work he's put in, we think it will, he can be a major contributor at both wing positions. He's struggled the past two years and they have been tough for him, but I look for Charles to be a solid performer for us this year."
Marquette All-Time Rankings
All-Time Freshman Season Rankings
Did You Know?
Luter's favorite NBA player was Michael Jordan and his favorite team was the Lakers

His ideal place to vacation is Hawaii

He enjoys Italian food, music and relaxing

He felt his strength as a player was getting others the ball.

He had hoped to fully return from his knee injury (he didn't) and win a national title

His top high school highlight was winning back-to-back state championships.