MUScoop Wiki - By the fans, for the fans.
1966-67
Record: (21-9)
Postseason: National Invitation Tournament Runners-Up
Coach: Al McGuire
Captain: Bob Wolf
Leading Scorer: Bob Wolf (18.4 ppg)
Leading Rebounder: Brian Brunkhorst (7.8 rpg)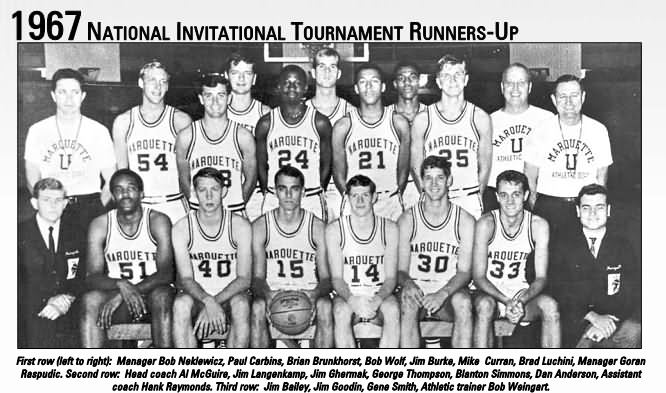 Schedule / Results
Providence's James Walker was dynamite against Marquette in the NIT, connecting on 12 field goals, 12 foul shots and tallying 36 points, all record for a MU opponent in an NIT game. Providence also sank 32 field goals as a team, which is a high mark for a MU opponent in the NIT. Bob Wolf knocked down 10 foul shots for Marquette (MU NIT record) and the Warriors pulled one out in overtime on March 14th, against their future Big East foe.
Players
| No. | Name | Ht./Wt. | Pos. | Year | Hometown (High School) |
| --- | --- | --- | --- | --- | --- |
| 11 | Pat Smith | 6-5/200 | C | SO | New York, NY |
| 14 | Jim Burke | 6-0/160 | G | SO | Richmond Hill, NY |
| 15 | Bob Wolf | 6-2/178 | G | SR | Menominee Falls, WI |
| 20 | Jim Bailey | 6-8/225 | C | SO | Florissant, MO |
| 21 | Blanton Simmons | 6-5/200 | G | JR | Milwaukee, WI |
| 24 | George Thompson | 6-2/200 | F | SO | Brooklyn, NY |
| 25 | Dan Anderson | 6-6/220 | F | SR | Superior, WI |
| 30 | Mike Curran | 6-4/195 | G | SO | Antigo, WI |
| 33 | Brad Luchini | 6-2/170 | G | JR | West Allis, WI |
| 40 | Brian Brunkhorst | 6-6/203 | F | JR | Abbottsford, WI |
| 42 | Gene Smith | 6-5/200 | F | SR | New York, NY |
| 43 | Jim Goodin | 6-9/220 | C | JR | Indianapolis, IN |
| 51 | Paul Carbins | 6-6/215 | C | SR | Chicago, IL |
| 54 | Jim Langenkamp | 6-5/195 | F | SO | Merrill, WI |