MUScoop Wiki - By the fans, for the fans.
1980-81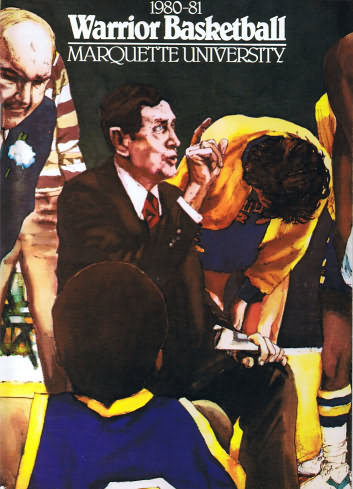 Record: (20-11)
Postseason: National Invitation Tournament
Coach: Hank Raymonds
Captain: Michael Wilson
Leading Scorer: Oliver Lee (17.7 ppg)
Leading Rebounder: Oliver Lee (6.5 rpg)

Marquette made a school-record 953 field goals this year on an amazing 51% shooting from the floor.
Schedule and Results
On February 14th, the defending National Champion Louisville Cardinals were keyed to victory by Derek Smith's perfect shooting from the floor. Smith's 12-12 outing was a Marquette opponent record (20th in NCAA History). Almost two years to the day later, Smith's teammate, Lancaster Gordon would shoot 11-12 from the floor against Marquette.

Michael Wilson set a MU high-mark for steals in an NIT game with six against Syracuse. Unfortunately, Syracuse's Leo Rautins snagged four of his own and 'Cuse snatched a total of 13 steals, which are both records for a MU opponent in an NIT game. Syracuse's Tony Ervin attempted 16 foul shots, which tied Pete Maravich's mark for an MU NIT opponent and the Orange shot 62.5% from the floor as a team, in their win over Marquette on March 13th. That is also a record for a Marquette opponent in the NIT.