MUScoop Wiki - By the fans, for the fans.
Ben Peavy #21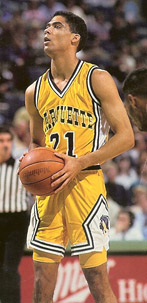 Position: Guard/Forward

Height: 6'3"

Weight: 170 lbs.

Birthdate: April 21, 1971

Hometown: San Antonio, TX

High School: Alamo Heights H.S.
High School Career
Ben was a two-year varsity starter for Charlie Bogges at Alamo Heights. Peavy's Alamo Heights teams were very successful with a 60-10 record over two seasons, losing in state semifinals in his junior year. Ben averaged 11 points, six rebounds and four assists that year. He shot 50% from the floor and 78% from the foul line on a team that went 31-4. As a senior, Ben averaged 15 points, nine rebounds and five assists. He shot 52% from the floor and 82% from the foul line on a team that finished 29-6.
Accolades
1988 All-Conference, Honorable Mention

1989 All-Conference, First Team

1989 All-City Selection, Second Team
Marquette Career
Coach Kevin O'Neill on Ben- "Ben is a guy who understands his role better than anyone and is a person who is great to have for so many reasons. Ben does his part as well as anyone. He is very unselfish- a real team player."
1989-91
Peavy worked as one of the team managers. Peavy worked out occasionally as a walk-on during the 1990-1991 season and in January was due to suit up for his first game when Marquette traveled to Notre Dame on January 17. However, just two days before that prior Peavy suffered a major knee injury which required surgery and ended his season prematurely.
1991-92
Did You Know?
Peavy played on the 1989 San Antonio National Champion AAU team with Shaquille O'Neal and Bo Outlaw as San Antonio beat Indiana in the AAU title game.

Peavy was a member of Phi Kappa Theta Fraternity at Marquette.

Peavy's nickname is "BP".

His favorite NBA players were Sean Elliot and Larry Bird.

His favorite NBA team is the San Antonio Spurs.

His enjoys coffee, ice cream and chicken-fried steak.

His hobbies include computers and music

His strengths as a player were passing and toughness

After Marquette, Ben became a consultant for Andersen Consulting (now known as Accenture.) Ben became a Partner in the firm in 2006 and lives in San Antonio with his wife (also a Marquette graduate) and four children.

Ben's younger brother, David Peavy, was recently an assistant basketball coach at Stephen F. Austin University. As a high school coach, he coached former Texas Tech starter Darryl Dora and current University of Texas starter, D.J. Augustine.