MUScoop Wiki - By the fans, for the fans.
Craig Aamot #20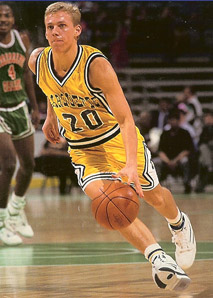 Years: 1991-1993
Number: 20
Position: Guard
Height: 6'2"
Weight: 190 lbs.
Birthdate: July 26, 1973
Hometown: Waukesha, WI
High School: Waukesha South H.S.

High School Career
Craig averaged 9.7 points, 3.5 rebounds and 6.3 assists as a junior for Mark Christenson's Blackshirts. He shot 55% from the floor and 73% from the foul line that year. As a senior, he averaged 12 points, 4.2 rebounds, 8.6 assists and 2.4 steals, shooting 53% from the floor and 84% from the foul line.
Accolades
1990-91 WBCA Academic All-State Selection

1991 Wisconsin All-Star South Squad

1991 Unanimous All-Braveland Conference, First Team

1991 Braveland Conference Player of the Year

1991 Wisconsin All-State, Second Team
Marquette Career
1991-92
Craig played 24 games as a back-up point guard to Tony Miller. He averaged eight minutes per game and started the home game against Cincinnati. He played a season-high 17 minutes against Sacramento State, scoring three points and dishing out a season-high four assists. His season high in points was six, against UMBC and he grabbed three rebounds on two occassions, against Prairie View A&M and Sam Houston State. For the season, he averaged 1.4 points, .8 assists and pulled down 15 defensive rebounds.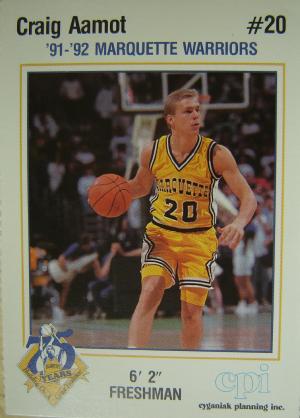 Coach Kevin O'Neill on Craig- "Craig is a guy who can do some things that can really help our basketball team. He shoots well and needs to shoot more when he has the opportunity."
1992-93
Did You Know?
Craig's favorite NBA player was Mark Price and his favorite team was the Trailblazers

His ideal place to vacation is Texas and his favorite food is macaroni and cheese

His hobbies were art and music

He felt his strength as a player was his ballhandling and defense

His top high school highlight was winning the conference championship during his freshman year
Professional Career
Craig is currently a high school music (choir) teacher and choral conductor at Appleton North High School in Appleton, WI.