MUScoop Wiki - By the fans, for the fans.
Maurice D. Lucas #20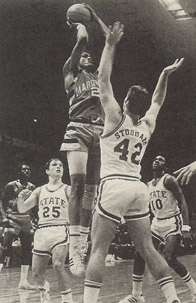 Nicknames: "Luke", "Mo"
Position: Forward-Center
Height: 6'9"
Weight: 215 lbs.
Birthdate: February 18, 1952
Hometown: Pittsburgh, PA
High School: Schenley H.S.

High School Career
One of the most sought-after players in the East, Lucas was an All-American, who led Schenley to the state title. He averaged 27.5 points and 24.3 rebounds, with individual highs of 46 points and 44 rebounds.
Marquette Career
Maurice Lucas played two seasons of basketball for Marquette - 1972-73 and 1973-74. Lucas paced the team in rebounding in each of his two seasons and his top rebound game at Marquette was a 23-board effort against Loyola in 1973. Lucas averaged 15.4 points per game in his first year with the Warriors. The MVP and top scorer (15.8 ppg) of the 1973-74 team that finished runner-up in the national championship game, he totaled 936 points in his two campaigns. Lucas was named a 1974 Converse All-American (second team) and started on the 1973 World University Games championship team. Inducted into MU's Hall of Fame in 1991.
Hank Raymonds, coach of the Freshman Team, said the following about Lucas: "He's the strongest physical freshman at this stage I've ever coached. A fine rebounder. He handles himself extremely well for a big man and is extremely coachable."
All-Time Marquette Rankings
All-Time Career Leader Rankings
5th, Rebounding Average (10.7)
All-Time Single Season Rankings
All-Time Junior Season Rankings
6th, Field Goals Made (211)

10th, Field Goals Attempted (429)

5th, Rebounds (328)

7th (tie), Rebounding Average (10.6)
All-Time Sophomore Season Rankings
9th, Scoring (448)

9th, Scoring Average (15.4)

5th, Field Goals Made (186)

10th, Field Goals Attempted (374)

6th, Field Goal Percentage (min. 250 att.) (49.8%)

3rd, Rebounds (315)

5th, Rebounding Average (10.8)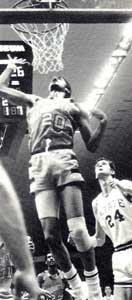 Accolades
1973 Milwaukee Classic MVP

1973-74 Chuck Taylor Converse Second Team All-American
Professional Career
Lucas was drafted by the Bulls in the NBA draft and Carolina in the ABA draft, but chose to go to the ABA instead. He had been drafted in the ABA's undergraduate draft by the Carolina Cougars despite not coming out that year the team retained his rights. When he joined the team the next season, they had already relocated to St. Louis to become the Spirits of St. Louis. He would later come to the NBA through the ABA dispersal draft when the league folded and join the Portland TrailBlazers. He played 14 seasons in the ABA and NBA. He averaged 20.2 points for the NBA champion Portland Trailblazers in 1977.
Referred to Basketball Digest as "the toughest player in the NBA," Lucas once reportedly flattened Daryll "Chocolate Thunder" Dawkins with one punch. He won an NBA title with the Blazers of Bill Walton.
Honors
ABA All-Star (1976)

4-time NBA All-Star (1977, '78, '79, '83)

1 NBA Championship (1977)

All-NBA Second Team (1978)

All-NBA-Defense First Team (1978)

All-NBA-Defense Second Team (1979)

Named one of the 30 Greatest Players in ABA History (1997)

Inducted into the Oregon Sports Hall of Fame in 2000.
Trivia
Former Portland Trailblazer teammate, Bill Walton, named his son,

Luke

, after him.
Links