MUScoop Wiki - By the fans, for the fans.
1973-74 Marquette Warriors - National Champion Runner-Up
NATIONAL RUNNERS-UP
Overall Record: 26-5 Coach: Al McGuire
Captain: Marcus Washington
Leading Scorer: Maurice Lucas (15.8 ppg)
Leading Rebounder: Maurice Lucas (10.6 rpg)

The Warriors finished the season ranked third in the final AP poll and fifth in the final UPI poll. They held opponents to just 59.9 points per game, good for fourth in the nation.
Roster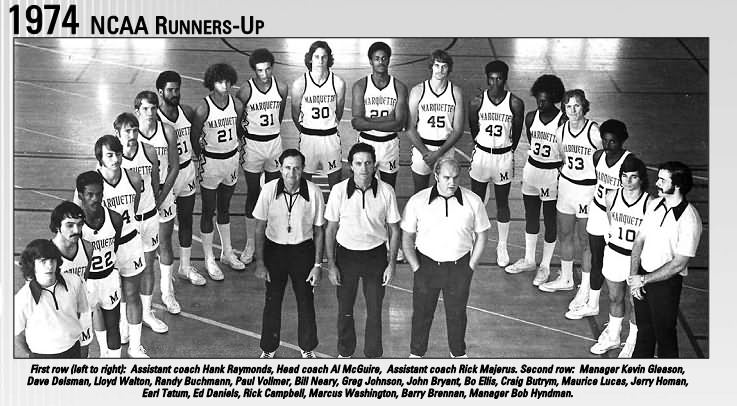 Statistics
| Player | G | FG | FGA | FGPct | FT | FTA | FTPct | REB | RPG | PF | AST | PTS | PPG |
| --- | --- | --- | --- | --- | --- | --- | --- | --- | --- | --- | --- | --- | --- |
| Lucas, M | 31 | 211 | 429 | 0.492 | 69 | 94 | 0.734 | 328 | 10.6 | 84 | 62 | 491 | 15.8 |
| Ellis, B | 31 | 167 | 312 | 0.535 | 44 | 61 | 0.721 | 264 | 8.5 | 104 | 34 | 378 | 12.2 |
| Tatum, E | 31 | 136 | 293 | 0.464 | 40 | 67 | 0.597 | 158 | 5.1 | 99 | 45 | 312 | 10.1 |
| Washington, M | 31 | 130 | 352 | 0.369 | 40 | 60 | 0.667 | 100 | 3.2 | 68 | 70 | 300 | 9.7 |
| Walton, L | 31 | 119 | 282 | 0.422 | 54 | 69 | 0.783 | 79 | 2.5 | 82 | 138 | 292 | 9.4 |
| Campbell, R | 31 | 55 | 123 | 0.447 | 17 | 30 | 0.567 | 69 | 2.2 | 64 | 21 | 127 | 4.1 |
| Daniels, E | 31 | 44 | 97 | 0.454 | 16 | 20 | 0.800 | 36 | 1.2 | 39 | 43 | 104 | 3.4 |
| Homan, J | 31 | 37 | 97 | 0.381 | 17 | 21 | 0.810 | 65 | 2.1 | 38 | 11 | 91 | 2.9 |
| Delsman, D | 30 | 27 | 82 | 0.329 | 20 | 28 | 0.714 | 25 | 0.8 | 32 | 53 | 74 | 2.5 |
| Brennan, B | 11 | 2 | 4 | 0.500 | 7 | 8 | 0.875 | 2 | 0.2 | 2 | 1 | 11 | 1.0 |
| Bryant, J | 15 | 2 | 7 | 0.286 | 4 | 6 | 0.667 | 10 | 0.7 | 6 | 3 | 8 | 0.5 |
| Johnson, G | 7 | 1 | 6 | 0.167 | 0 | 1 | 0.000 | 5 | 0.7 | 2 | 0 | 2 | 0.3 |
Schedule and Results
Championship Quotes
Al McGuire
(On technical fouls) "I would say tht I lost the game there. I would say that I gave them two five-point plays and that was it. I had a bad day. I have no complaint with the way we played. We played just about as well as we could, but I didn't have a good coaching game. Officials never win or lose a game for anyone. North Carolina State is a better ball club than Marquette University. I think North Carolina State is a super ball club. We gave them an alley fight for a while. But they have no weak spots, plus that little guy can really run the show. They've got an aircraft carrier in (Tom) Burleson, a battleship in (David) Thompson and destroyers all over the place."
Marcus Washington
"This night, in this tournament, North Carolina State was the best. I think we could have played better, but they are the best. We stopped playing defense. I don't think we pressed as well as we should have. We weren't playing well right off the bat. I think we were a little tight. This is all new to us."
Maurice (Bo) Ellis
"We'll be back. Not here, but somewhere else in a championship game. This was the wrong place and the wrong time, but we'll be back."
Maurice Lucas
"The technicals? We never got back on our feet after that. That first one was five points. That got them back in the game and gave them their momentum. Mad at him? How can I be made at him? He's the coach, and he's the coach of the year. They are a good ball club, you know. They've only lost once in the last two years."