MUScoop Wiki - By the fans, for the fans.
March 12, 2009 - Marquette vs. Villanova
Buzzer-beater Lifts Villanova Over Marquette, 76-75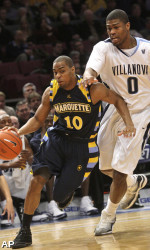 NEW YORK, New York (AP) - Dwayne Anderson's last-second layup fell in as the buzzer sounded and his only field goal of the game gave No. 10 Villanova a 76-75 victory over No. 21 Marquette on Thursday in the quarterfinals of the Big East tournament.
The fourth-seeded Wildcats (26-6) led by 17 points in the first half, but Marquette took its first lead since the game's early minutes on a 3-pointer by Lazar Hayward that made it 75-74 with 1:40 to play.
Both teams had two empty possessions after that with Jerel McNeal of the Golden Eagles (24-9) missing on a drive with 14 seconds to play.
Villanova's Reggie Redding dribbled the ball near the top of the key and finally began a move toward the basket with just a couple of seconds left. He found Anderson on the left side of the lane and his layup seemed to sit on the rim for a while before falling through.
Scottie Reynolds had 21 points and Corey Stokes added 20 for Villanova, which will play top-seeded and fifth-ranked Louisville in the semifinals on Friday.
Jimmy Butler had 19 points for fifth-seeded Marquette, which has lost five of six since starting point guard Dominic James broke his left foot.
Reynolds had 18 points in a first half dominated on both ends of the court by Villanova.
The Wildcats led 45-28 with a minute left in the half and were up 47-31 at the break as the Golden Eagles shot just 20.8 percent (5-for-24) with McNeal and Wesley Matthews, the other guards in the senior trio with James, were a combined 2-for-18 from the field.
But in the second half, McNeal, Matthews and Maurice Acker, James' replacement at the point, all started scoring and the Golden Eagles chipped away, closing within 62-56 with 9:47 left on Acker's 3-pointer.
Stokes took over for Reynolds in the second half, scoring 13 of Villanova's 15 points at one stretch when the Wildcats were able to hold off Marquette.
Acker hit his third 3 of the game with 2:56 left to make it a one-point game and Butler made it 72-all with a free throw 43 seconds later.
Reynolds scored to give Villanova back the lead until Hayward's 3 with 1:40 left.
McNeal had 15 points for Marquette, while Hayward had 13 points and 11 rebounds. Acker added a season-high 12 points and Matthews had 11 points and 10 rebounds.
The teams split their regular season meetings with Villanova winning 102-84 last month in Philadelphia, a result that looked like it was going to be repeated until Marquette was able to tighten its defense and finally hit some shots to rally.
Without James, Marquette lost four straight games, all to ranked teams, until beating St. John's 74-45 in the second round. This loss was like the others, to a ranked team and close.
Box Score
Marquette vs Villanova (3/12/09 at Madison Square Garden New York, NY)

Official Basketball Box Score
Marquette vs Villanova
3/12/09 2:30:00 PM at Madison Square Garden New York, NY

--------------------------------------------------------------------------------
VISITORS: Marquette
                          TOT-FG  3-PT         REBOUNDS
## Player Name            FG-FGA FG-FGA FT-FTA OF DE TOT PF  TP  A TO BLK S MIN
12 Burke, Dwight....... f  0-0    0-0    2-2    0  0  0   4   2  0  2  1  0  14
32 Hayward, Lazar...... f  3-9    3-6    4-4    1 10 11   2  13  1  3  0  1  37
02 Acker, Maurice...... g  4-5    3-4    1-2    1  1  2   4  12  2  1  0  0  30
22 McNeal, Jerel....... g  4-17   3-8    4-5    0  4  4   4  15  5  3  0  1  35
23 Matthews, Wesley.... g  1-10   0-4    9-10   1  9 10   2  11  4  1  2  0  40
10 Cubillan, David.....    1-2    1-2    0-0    0  0  0   2   3  0  1  0  1  14
33 Butler, Jimmy.......    3-5    0-1   13-16   2  1  3   0  19  0  0  1  3  30
   TEAM,...............                         3  1  4   1
   Totals..............   16-48  10-25  33-39   8 26 34  19  75 12 11  4  6 200

TOTAL FG% 1st Half:  5-24 20.8%   2nd Half: 11-24 45.8%   Game: 33.3%  DEADB
3-Pt. FG% 1st Half:  2-12 16.7%   2nd Half:  8-13 61.5%   Game: 40.0%   REBS
F Throw % 1st Half: 19-23 82.6%   2nd Half: 14-16 87.5%   Game: 84.6%    1


--------------------------------------------------------------------------------
HOME TEAM: Villanova
                          TOT-FG  3-PT         REBOUNDS
## Player Name            FG-FGA FG-FGA FT-FTA OF DE TOT PF  TP  A TO BLK S MIN
20 CLARK, Shane........ f  1-6    0-1    4-4    4  2  6   3   6  0  3  1  1  19
33 CUNNINGHAM, Dante... f  3-10   0-0    1-2    0  3  3   4   7  2  3  1  0  25
01 REYNOLDS, Scottie... g  5-13   1-5   10-14   1  7  8   3  21  1  1  0  4  37
15 REDDING, Reggie..... g  4-7    0-1    0-0    1  2  3   2   8  4  2  1  1  33
22 ANDERSON, Dwayne.... g  1-3    0-1    2-2    0  4  4   2   4  0  0  1  0  21
00 PENA, Antonio.......    1-2    0-0    0-0    2  4  6   4   2  1  1  1  0  12
10 FISHER, Corey.......    3-7    2-4    0-0    0  1  1   3   8  5  1  0  1  26
24 STOKES, Corey.......    6-9    3-6    5-5    1  2  3   3  20  1  2  0  2  27
   TEAM,...............                         1  4  5
   Totals..............   24-57   6-18  22-27  10 29 39  24  76 14 13  5  9 200

TOTAL FG% 1st Half: 13-29 44.8%   2nd Half: 11-28 39.3%   Game: 42.1%  DEADB
3-Pt. FG% 1st Half:  4-11 36.4%   2nd Half:  2-7  28.6%   Game: 33.3%   REBS
F Throw % 1st Half: 17-20 85.0%   2nd Half:  5-7  71.4%   Game: 81.5%    2


--------------------------------------------------------------------------------
Officials: Ed Corbett, Tim Higgins, Gary Prager
Technical fouls: Marquette-TEAM,. Villanova-None.
Attendance: 19375
Score by Periods                1st  2nd   Total
Marquette.....................   31   44  -   75
Villanova.....................   47   29  -   76