MUScoop Wiki - By the fans, for the fans.
1964-65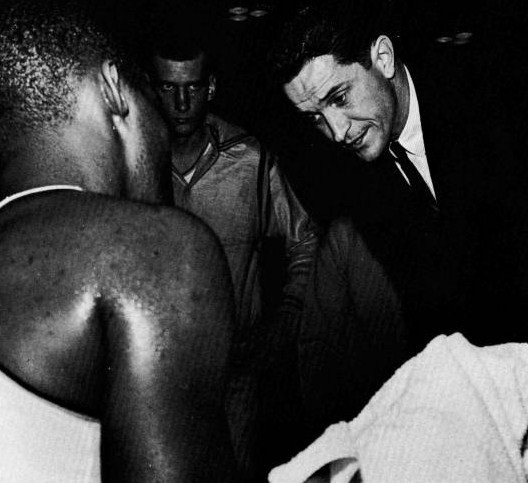 Record: (8-18)
Coach: Al McGuire
Captain: Tom Flynn
Leading Scorer: Tom Flynn (16.5 ppg)
Leading Rebounder: Paul Carbins (11.7 rpg)

New coach, Al McGuire, had his varsity players run with the cross country team in practice for the the first time, since the 1954-55 season. He said that this would improve the players' endurance and would strengthen their knees and ankles.
McGuire and Raymonds set up the first freshmen intercollegiate schedule since 1952-1953. Under the new schedule, the freshmen played eight games against outside competition; they also played six games against the varsity reserves. A McGuire innovation was the installation of a "hi-fi" in the players' locker room. Players brought their own records to relax to before and after practice.
The biggest change in Marquette basketball was the introduction of the McGuire brand of ball. McGuire introduced what he called the "free lance" offense, to replace Hickey's specialty, the "fast break." The "free lance" requires all players to be in constant motion although they may not be in any set moving pattern. A player is to wait until he is near the basket, before taking a shot. It took several games for the players to learn this system. McGuire was often seen telling his players to, "slow down."
Although his first season at Marquette was mainly a re-building year, McGuire's dynamic coaching won praise. Early in the season, the Chicago Tribune said, "…in a year or two he may begin proving what some in the profession already feel- that he has a special genius for coaching." McGuire, 36, is the ninth head coach in the 47-year history of Marquette basketball. He captained and played guard for both St. John's prepatory school in Brooklyn and the 1950-51 St. John's University team. He played four years with the New York Knickerbockers in the National Basketball Association.
He was an assistant coach at Dartmouth College from 1954-56. In 1957, he became the head coach at a small, Catholic college, Belmont Abbey, in Belmont, North Carolina. In his seven years there, McGuire's teams had a 120-60 record. he took five of these teams to post-season NCAA and NAIA tournaments.