MUScoop Wiki - By the fans, for the fans.
Clyde Rusk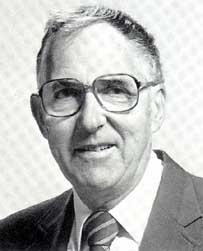 Birthdate- November 5, 1922

Rusk was one of the winningest high school coaches in Wisconsin basketball history and volunteered as an assistant coach at Marquette for the 1988-89 season. Rusk retired from Washington High School at the age of 65, after his team won the 1987 Class A WIAA basketball tournament. Marquette forward, Trevor Powell was a member of that team. In 19 years as head coach of the Purgolders, his teams won 281 and lost 119 for a winning percentage of .703.

While at Washington, he took four teams to the Wisconsin state tournament, winning two WIAA titles in three years. In 1985, his team defeated top-ranked Racine Horlick in overtime and finished the season with a 25-1 record. In 1987, the Purgolders defeated Fond du Lac in double overtime for the championship. Rusk was named Coach of the Year in Wisconsin by the AP and UPI, following both the 1985 and 1987 championships. His teams won eight City Conference Championships and in June of 1987, he was inducted into the Wisconsin Basketball Coaches Association Hall of Fame.

Rusk was a physical education teacher at Washington High and coached two players who went on to play collegiate ball at Marquette: Dean Marquardt, who graduated from Washington in 1977 and Powell, who graduated in 1987. A native of Urbana, Illinois, Rusk attended Illinois State for two years, where he played football and basketball. During WWII, he was a paratrooper with the US Army and completed his undergraduate work at Beloit College, where he earned his bachelor's degree in sociology (1948).

Rusk earned his master's degree in education and physical education from Illinois and also did post-graduate work at Indiana. In four years, (1949-52) at Marengo (IL) High, Rusk coached basketball, football, baseball, track and served as Director of Athletics. Rusk then coached at West Allis Hale High in West Allis, Wisconsin for 11 years. Former Warrior Brad Luchini, who averaged 13 points on Al McGuire's 1967-68 team, played his high school ball for Rusk at West Allis Hale.

In 1963, Rusk accepted the position as basketball coach at Lawrence University in Appleton, Wisconsin, where he was assistant professor of physical education, freshman football coach and assistant track coach. Rusk and his wife Dorothy had five children together.