MUScoop Wiki - By the fans, for the fans.
Marquette Squeaks By Seton Hall
MILWAUKEE (AP) – Dan Fitzgerald made Seton Hall's decision not to foul costly. No. 15 Marquette could have its own woes.
Golden Eagles guard Dominic James was taken to a hospital for tests on a sprained right wrist after the gritty 61-56 victory over the Pirates on Tuesday night.
James, who scored 13 points, returned to play after Jamar Nutter's intentional foul sent him awkwardly to the floor with 5:58 left in the game, but he went for tests after the game.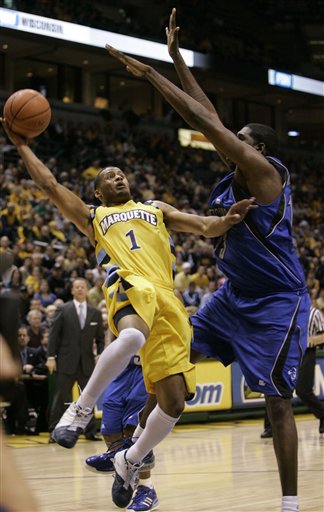 "It's part of it, it's Big East basketball," said Marquette coach Tom Crean, who was heading over to be with his point guard. "He feels good, so we'll see what happens, but I don't think he's got his M.D. license right yet to be making those determinations."
Fitzgerald went 4-of-9 from beyond the arc, including a key 3-pointer in the closing seconds, and Jerel McNeal scored 14 points as Marquette (12-2, 2-1 Big East) won its 11th straight home game. The Golden Eagles rebounded from a tough loss at West Virginia on Sunday when they had trouble generating offense against the Mountaineers' zone.
"Big shot Dan," Crean said of his senior forward's 3-pointer with 9.4 seconds to go that made it 61-56. "I mean, I've never been around a guy that makes more big shots that really make an exclamation point for your team."
A possession-by-possession game seemed unlikely with both Seton Hall (10-5, 0-2) and Marquette averaging more than 80 points a game. Instead of pushing the tempo, though, it turned into a typical conference game – tough defense, over the top physical play and a late rally.
"It was an ugly game on both ends," Fitzgerald said. "The reason we won was because we held them. It was all defense."
After finally taking a lead with 5:58 left following James' injury, Marquette, which shot a season-low 33 percent from the field, then had to hold on, going 6-of-9 from the free throw line down the stretch while the Pirates tried to mount a rally behind Eugene Harvey, who finished with 18 points.
Harvey, leading the Big East in scoring at 19.6 points a game, hit a bobbled floater in the lane, then made two free throws to make it 56-54 with 1:01 to play.
"That's what I'm supposed to do, be the leader, the go-to guy," Harvey said.
But teammate Brian Laing, who had 13 points, fouled out on the ensuing possession and James hit two free throws to make it 58-54.
Larry Davis' turnaround jumper made it 58-56 with 40 seconds to go. On the next possession, the Pirates elected not to foul and Wesley Matthews drove and bobbled the ball before finding Fitzgerald for the wide-open 3.
"We thought they would have (fouled), we probably would have," said Fitzgerald, who finished with 12 points, all on 3s. "Either way, we made a play."
Said Seton Hall coach Bobby Gonzalez: "We felt confident that we could get a stop and try to get the ball back with a chance to play to win."
The Pirates, who haven't won a conference road game since March 3, 2006 at Pittsburgh, missed four free throws down the stretch despite being the best free throw shooting team in the Big East.
Seton Hall controlled the game through the first half and most of the second despite playing without Paul Gause, one of their best defenders, who broke a knuckle last week.
"We were trying to steal a monumental win for us on the road considering we're playing without one of our best players, Paul Gause," Gonzalez said. "Marquette's one of the elite teams in the league, we know that they don't lose at home here very often."
Instead, Seton Hall used a seven-man rotation and played a 2-3 zone to clog the lane, forcing Marquette to shoot outside.
It almost worked.
Marquette trailed 47-42 with 7:19 to play after a jumper by Laing.
But the Golden Eagles got over the hump when the game got ugly with six minutes left. Nutter took down James on a fast break and James fell awkwardly on his right forearm as his layup tied the game at 47.
"I thought it was a total, just accidental, just a hustle play. If it turned into a hard foul, it certainly wasn't on purpose," Gonzalez said. "It was a huge play because of course it's two shots and the ball. I thought it was one of the turning points."
Maurice Acker replaced James, hitting both free throws to give Marquette a 49-47 lead, its first in more than 31 minutes, and the Golden Eagles never relinquished it.
Pre-Game
Monday night, Tom Crean still wasn't completely over the lackluster performance of his Marquette Golden Eagles in a 79-64 loss Sunday at West Virginia.
But a solid day of film review and practice combined with the knowledge they'll be back home at the Bradley Center for a matchup with the Seton Hall Pirates at 8 tonight had removed at least some of the sour taste from his mouth.
"I don't think you ever feel better until you get back on the court and have success," he said. "I think the most important thing for us right now is to understand it was our first game on the road in the Big East. We didn't respond well, most of our problems were self-inflicted, and it's just a matter of getting back to concepts, playing the right way and preparing for a game.
"We're all excited we're playing today."
Crean thought his Golden Eagles (11-2, 1-1) were suitably prepared heading into Morgantown, including anticipating the possibility that West Virginia coach Bob Huggins would utilize triangle-and-two and 1-3-1 zone defenses in an effort to limit MU's ability to drive to the basket. But from the opening tip, the Golden Eagles just didn't execute.
They fell behind early and caught up late in the first half, then fell behind again early in the second half. A 15-4 run early in the second half gave the Golden Eagles their last lead of the day before the Mountaineers began to pull away for good.
Particularly troubling was their defensive effort, which led to West Virginia shooting a sizzling 68.2% over the final 20 minutes and a 4-for-4 performance from three-point range by gunner Alex Ruoff. That, in turn, led to MU being pounded on the boards, 22-5, over that same span, an unheard-of statistic for any Crean-coached team.
"It's very important to understand two things," said Crean, whose team dropped from 10th to 15th in the Associated Press poll Monday.
"Our approach to the game was not what we've had. We made by far the most mental and physical errors we've made inside, and the details of the game were not followed. It was by far the most missed assignments of any game."
Crean spent part of Monday comparing that performance to the one MU turned in against Providence in the teams' Big East opener, when the Golden Eagles put up 96 points and ruled the glass against a big, physical Friars team.
"What we've really tried to focus on is really trying to contrast our last two games in the Big East and show what our level of energy, effort and execution looked like Thursday vs. what it didn't look like Sunday, and get to the bottom of correcting that," he said.
It appears MU will get a slight break in that Seton Hall is expected to be without guard Paul Gause - the nation's leader in steals - who is out with a broken hand.
"It affects them because he's such a great on-ball defender," Crean said. "But at the same time Jamar Nutter has averaged 18.5 points against us the last two years, so they just put another guy out there who's coming off a 28-point day on Saturday."
Indeed, the Pirates remain a dangerous team. They are second in the Big East in scoring, averaging 85 points per game, and also boast the league scoring leader in 6-foot-5 senior Brian Laing, who's averaging 19.6.
"We want to play fast, there's no question, and we want the tempo in our favor. But the tempo is not one where we score, they score," Crean said. "We've got to have a lot of energy defensively. They'll be a hungry team, no doubt."
Box Score
Official Basketball Box Score -- GAME TOTALS -- FINAL STATISTICS
Seton Hall vs Marquette
1/8/08 8 p.m. at Bradley Center - Milwaukee, WI
--------------------------------------------------------------------------------
VISITORS: Seton Hall 10-5, 0-2 BE
                          TOT-FG  3-PT         REBOUNDS
## Player Name            FG-FGA FG-FGA FT-FTA OF DE TOT PF  TP  A TO BLK S MIN
14 LAING, Brian........ f  5-14   0-1    3-3    3  5  8   5  13  1  3  0  2  39
31 GARCIA, John........ c  2-2    0-0    1-4    3  5  8   3   5  0  3  1  4  26
02 NUTTER, Jamar....... g  3-8    3-8    0-0    0  2  2   5   9  0  2  0  2  21
15 HARVEY, Eugene...... g  6-15   0-2    6-8    0  4  4   1  18  3  1  0  1  39
21 HAZELL, Jeremy...... g  1-5    0-4    0-0    1  1  2   2   2  1  4  0  0  29
13 DAVIS, Mike.........    0-3    0-0    0-0    2  5  7   3   0  1  0  3  0  18
25 OKOSUN, Augustine...    0-0    0-0    0-0    0  0  0   0   0  0  0  0  0  0+
35 DAVIS, Larry........    4-11   0-3    1-3    1  4  5   0   9  0  0  0  2  28
   TEAM................                         3  4  7             1
   Totals..............   21-58   3-18  11-18  13 30 43  19  56  6 14  4 11 200
TOTAL FG% 1st Half: 12-27 44.4%   2nd Half:  9-31 29.0%   Game: 36.2%  DEADB
3-Pt. FG% 1st Half:  2-9  22.2%   2nd Half:  1-9  11.1%   Game: 16.7%   REBS
F Throw % 1st Half:  5-7  71.4%   2nd Half:  6-11 54.5%   Game: 61.1%    5
--------------------------------------------------------------------------------
HOME TEAM: Marquette 12-2, 2-1 BE
                          TOT-FG  3-PT         REBOUNDS
## Player Name            FG-FGA FG-FGA FT-FTA OF DE TOT PF  TP  A TO BLK S MIN
12 BURKE, Dwight....... f  0-0    0-0    1-3    1  3  4   1   1  0  0  1  1  16
32 HAYWARD, Lazar...... f  2-6    1-2    2-2    3  3  6   1   7  0  1  1  0  21
01 JAMES, Dominic...... g  4-12   1-5    4-6    2  3  5   2  13  3  3  1  1  29
22 MCNEAL, Jerel....... g  6-17   1-3    1-2    2  5  7   2  14  5  6  3  2  34
23 MATTHEWS, Wesley.... g  2-7    0-2    0-0    1  3  4   1   4  2  1  1  0  21
02 ACKER, Maurice......    1-5    1-3    2-2    0  3  3   5   5  6  1  1  1  28
05 FITZGERALD, Dan.....    4-9    4-9    0-0    0  0  0   2  12  0  1  0  1  18
10 CUBILLAN, David.....    1-4    1-4    0-0    0  0  0   1   3  0  0  0  0  10
41 BARRO, Ousmane......    0-1    0-0    2-2    1  3  4   2   2  1  2  1  1  23
   TEAM................                         4  2  6
   Totals..............   20-61   9-28  12-17  14 25 39  17  61 17 15  9  7 200
TOTAL FG% 1st Half:  9-30 30.0%   2nd Half: 11-31 35.5%   Game: 32.8%  DEADB
3-Pt. FG% 1st Half:  3-13 23.1%   2nd Half:  6-15 40.0%   Game: 32.1%   REBS
F Throw % 1st Half:  3-4  75.0%   2nd Half:  9-13 69.2%   Game: 70.6%   2,1
--------------------------------------------------------------------------------
Officials: Tim Higgins, Michael Stephens, Joe Lindsay
Technical fouls: Seton Hall-None. Marquette-None.
Attendance: 14681
Score by Periods                1st  2nd   Total
Seton Hall....................   31   25  -   56
Marquette.....................   24   37  -   61
ID-597161
Points in the paint-SHU 26,MU 20. Points off turnovers-SHU 6,MU 15.
2nd chance points-SHU 6,MU 9. Fast break points-SHU 6,MU 12.
Bench points-SHU 9,MU 22. Score tied-1 time. Lead changed-2 times.
Last FG-SHU 2nd-00:38, MU 2nd-00:09.
Largest lead-SHU by 13 1st-06:51, MU by 5 2nd-03:51.
Play By Play
1st Half Summary 
TIME SETON HALL SCORE MARQUETTE 
19:27 Jamar Nutter missed Three Point Jumper. 0-0   
19:27   0-0 Lazar Hayward Defensive Rebound. 
19:05   0-2 Dominic James made Two Point Layup. 
18:45 Jeremy Hazell missed Three Point Jumper. 0-2   
18:45   0-2 Lazar Hayward Defensive Rebound. 
18:30   0-2 Lazar Hayward missed Three Point Jumper. 
18:30 John Garcia Defensive Rebound. 0-2   
18:18   0-2 Foul on Lazar Hayward 
18:18 Eugene Harvey missed Free Throw. 0-2   
18:18 Eugene Harvey made Free Throw. 1-2   
18:15 Foul on Jamar Nutter 1-2   
17:32 Brian Laing made Two Point Layup. 3-2   
17:09   3-2 Wesley Matthews missed Three Point Jumper. 
17:09   3-2 Dominic James Offensive Rebound. 
16:50 Jamar Nutter made Three Point Jumper. 6-2   
16:29   6-2 Jerel McNeal missed Two Point Jumper. 
16:29   6-2 Marquette Offensive Rebound. 
16:25   6-2 Jerel McNeal missed Two Point Jumper. 
16:20 John Garcia Defensive Rebound. 6-2   
16:17 Brian Laing missed Two Point Layup. 6-2   
16:17 Brian Laing Offensive Rebound. 6-2   
16:02   6-2 Ousmane Barro missed Two Point Jumper. 
16:02 Eugene Harvey Defensive Rebound. 6-2   
15:53 Eugene Harvey missed Two Point Layup. 6-2   
15:53   6-2 Dominic James Defensive Rebound. 
15:49   6-2 Official TV Timeout. 
15:30 Foul on Jamar Nutter 6-2   
15:28   6-4 Jerel McNeal made Two Point Jumper. 
15:06 Brian Laing made Two Point Jumper. 8-4   
14:55   8-4 Dan Fitzgerald missed Three Point Jumper. 
14:55 Seton Hall Defensive Rebound. 8-4   
14:27 Mike Davis missed Two Point Jumper. 8-4   
14:27   8-4 Ousmane Barro Defensive Rebound. 
14:17   8-4 Dominic James missed Two Point Layup. 
14:17 Mike Davis Defensive Rebound. 8-4   
14:10   8-4 Foul on Dan Fitzgerald 
14:10 Larry Davis made Free Throw. 9-4   
14:10 Larry Davis missed Free Throw. 9-4   
14:10   9-4 Ousmane Barro Defensive Rebound. 
13:57   9-4 Maurice Acker missed Three Point Jumper. 
13:57 Mike Davis Defensive Rebound. 9-4   
13:33   9-4 Wesley Matthews missed Two Point Jumper. 
13:33   9-4 Jerel McNeal Offensive Rebound. 
13:30   9-4 Jerel McNeal missed Two Point Layup. 
13:30 Brian Laing Defensive Rebound. 9-4   
13:25   9-4 Foul on Maurice Acker 
13:12 Larry Davis made Two Point Jumper. 11-4   
12:44 Eugene Harvey missed Three Point Jumper. 11-4   
12:44   11-4 Maurice Acker Defensive Rebound. 
12:34   11-7 Dan Fitzgerald made Three Point Jumper. 
11:52 Larry Davis missed Three Point Jumper. 11-7   
11:52   11-7 Wesley Matthews Defensive Rebound. 
11:46   11-9 Jerel McNeal made Two Point Layup. 
11:43 Seton Hall 20 Second Timeout. 
11:22 Larry Davis missed Two Point Jumper. 11-9   
11:22   11-9 Ousmane Barro Defensive Rebound. 
10:59   11-9 David Cubillan missed Three Point Jumper. 
10:59 Mike Davis Defensive Rebound. 11-9   
10:47 Brian Laing missed Two Point Jumper. 11-9   
10:47 Larry Davis Offensive Rebound. 11-9   
10:43 Larry Davis missed Two Point Layup. 11-9   
10:43   11-9 Lazar Hayward Defensive Rebound. 
10:30   11-9 Wesley Matthews missed Two Point Jumper. 
10:30 Jeremy Hazell Defensive Rebound. 11-9   
10:17   11-9 Foul on Maurice Acker 
10:16 Official TV Timeout. 11-9   
10:09 Jeremy Hazell missed Three Point Jumper. 11-9   
10:09 Seton Hall Offensive Rebound. 11-9   
9:42 Jeremy Hazell missed Three Point Jumper. 11-9   
9:28   11-9 David Cubillan missed Three Point Jumper. 
9:28   11-9 Ousmane Barro Offensive Rebound. 
9:02 Eugene Harvey made Two Point Layup. 13-9   
8:35   13-9 Wesley Matthews missed Three Point Jumper. 
8:35 Larry Davis Defensive Rebound. 13-9   
8:24 Larry Davis made Two Point Layup. 15-9   
8:04   15-9 Jerel McNeal missed Two Point Jumper. 
8:04 Eugene Harvey Defensive Rebound. 15-9   
7:58 Jeremy Hazell made Two Point Dunk Shot. 17-9   
7:56 Marquette 20 Second Timeout. 
7:47   17-9 Dan Fitzgerald missed Three Point Jumper. 
7:47 Brian Laing Defensive Rebound. 17-9   
7:35   17-9 Jerel McNeal missed Two Point Jumper. 
7:35 John Garcia Defensive Rebound. 17-9   
7:29 Brian Laing made Two Point Layup. 19-9   
7:28   19-9 Foul on Dominic James 
7:28 Official TV Timeout. 19-9   
7:28 Brian Laing made Free Throw. 20-9   
6:58   20-9 Dominic James missed Three Point Jumper. 
6:58   20-9 Marquette Offensive Rebound. 
6:44 Eugene Harvey made Two Point Layup. 22-9   
6:22   22-11 Wesley Matthews made Two Point Layup. 
6:07   22-11 Foul on Wesley Matthews 
6:06 Foul on Jeremy Hazell 22-11   
5:34 Foul on John Garcia 22-11   
5:34   22-12 Ousmane Barro made Free Throw. 
5:34   22-13 Ousmane Barro made Free Throw. 
5:10 John Garcia made Two Point Layup. 24-13   
4:59   24-15 Lazar Hayward made Two Point Jumper. 
4:39 Brian Laing missed Three Point Jumper. 24-15   
4:39 Jeremy Hazell Offensive Rebound. 24-15   
4:23   24-18 Jerel McNeal made Three Point Jumper. 
4:01 Jeremy Hazell missed Three Point Jumper. 24-18   
3:59 Foul on Mike Davis 24-18   
3:58   24-18 Official TV Timeout. 
3:44   24-18 Dominic James missed Two Point Layup. 
3:44 Mike Davis Defensive Rebound. 24-18   
3:28 Eugene Harvey missed Two Point Jumper. 24-18   
3:28   24-18 Maurice Acker Defensive Rebound. 
3:11   24-20 Jerel McNeal made Two Point Layup. 
2:43 Brian Laing missed Two Point Layup. 24-20   
2:43   24-20 Marquette Defensive Rebound. 
2:24   24-20 Lazar Hayward missed Two Point Jumper. 
2:24 Eugene Harvey Defensive Rebound. 24-20   
2:20 Jamar Nutter made Three Point Jumper. 27-20   
1:51   27-20 Dominic James missed Three Point Jumper. 
1:47 Foul on Jamar Nutter 27-20   
1:42   27-23 Dan Fitzgerald made Three Point Jumper. 
1:03   27-23 Foul on Jerel McNeal 
1:03 Eugene Harvey made Free Throw. 28-23   
1:03 Eugene Harvey made Free Throw. 29-23   
0:45 Foul on John Garcia 29-23   
0:45   29-23 Dominic James missed Free Throw. 
0:45   29-24 Dominic James made Free Throw. 
0:21 Eugene Harvey made Two Point Jumper. 31-24   
0:05   31-24 Jerel McNeal missed Two Point Layup. 
0:05 Mike Davis Defensive Rebound. 31-24   
0:00 End of the 1st Half. 
1 | 2 | All 
2nd Half Summary 
TIME SETON HALL SCORE MARQUETTE 
19:37 Brian Laing missed Two Point Jumper. 31-24   
19:37 John Garcia Offensive Rebound. 31-24   
19:32 John Garcia made Two Point Tip Shot. 33-24   
19:27 Foul on Jeremy Hazell 33-24   
19:22   33-24 Jerel McNeal missed Two Point Jumper. 
19:22   33-24 Lazar Hayward Offensive Rebound. 
19:18   33-24 Lazar Hayward missed Two Point Layup. 
19:18   33-24 Marquette Offensive Rebound. 
19:06   33-27 Dominic James made Three Point Jumper. 
18:41   33-29 Dominic James made Two Point Dunk Shot. 
18:38 Seton Hall 20 Second Timeout. 
18:17   33-29 Foul on Ousmane Barro 
18:17 John Garcia missed Free Throw. 33-29   
18:17 John Garcia made Free Throw. 34-29   
17:33 Jamar Nutter missed Three Point Jumper. 34-29   
17:33 Brian Laing Offensive Rebound. 34-29   
17:27 Brian Laing missed Two Point Jumper. 34-29   
17:27   34-29 Jerel McNeal Defensive Rebound. 
17:19   34-29 Maurice Acker missed Two Point Layup. 
17:19   34-29 Lazar Hayward Offensive Rebound. 
17:18 Foul on Brian Laing 34-29   
16:56   34-29 Dominic James missed Two Point Layup. 
16:56 Seton Hall Defensive Rebound. 34-29   
16:47 Eugene Harvey missed Two Point Layup. 34-29   
16:47   34-29 Dominic James Defensive Rebound. 
16:41   34-29 Dominic James missed Three Point Jumper. 
16:41 Jamar Nutter Defensive Rebound. 34-29   
16:21 Brian Laing made Two Point Jumper. 36-29   
16:09   36-32 Maurice Acker made Three Point Jumper. 
15:50 Foul on John Garcia 36-32   
15:50   36-32 Official TV Timeout. 
15:20   36-32 Maurice Acker missed Three Point Jumper. 
15:20   36-32 Dwight Burke Offensive Rebound. 
14:56 Brian Laing missed Two Point Jumper. 36-32   
14:56 Mike Davis Offensive Rebound. 36-32   
14:52 Mike Davis missed Two Point Jumper. 36-32   
14:52   36-32 Dominic James Defensive Rebound. 
14:45   36-32 Jerel McNeal missed Two Point Layup. 
14:44   36-32 Dominic James Offensive Rebound. 
14:43   36-32 Dominic James missed Two Point Layup. 
14:42 Eugene Harvey Defensive Rebound. 36-32   
14:41   36-32 Foul on Jerel McNeal 
14:32 Foul on Eugene Harvey 36-32   
14:00 Foul on Brian Laing 36-32   
14:00   36-33 Dominic James made Free Throw. 
14:00   36-33 Dominic James missed Free Throw. 
14:00 Larry Davis Defensive Rebound. 36-33   
13:20   36-35 Jerel McNeal made Two Point Layup. 
12:52 Larry Davis missed Three Point Jumper. 36-35   
12:50   36-35 Foul on Maurice Acker 
12:46 Jamar Nutter missed Three Point Jumper. 36-35   
12:45 Mike Davis Offensive Rebound. 36-35   
12:42 Larry Davis made Two Point Jumper. 38-35   
12:26   38-35 Wesley Matthews missed Two Point Layup. 
12:26 Larry Davis Defensive Rebound. 38-35   
12:20   38-35 Foul on Dan Fitzgerald 
12:18 Mike Davis missed Two Point Jumper. 38-35   
12:17   38-35 Dwight Burke Defensive Rebound. 
12:15 Marquette 20 Second Timeout. 
11:57   38-35 Dan Fitzgerald missed Three Point Jumper. 
11:57   38-35 Wesley Matthews Offensive Rebound. 
11:54   38-37 Wesley Matthews made Two Point Dunk Shot. 
11:30   38-37 Foul on Dominic James 
11:30 Official TV Timeout. 38-37   
11:30 Brian Laing made Free Throw. 39-37   
11:30 Brian Laing made Free Throw. 40-37   
11:21   40-37 Jerel McNeal missed Two Point Layup. 
11:21 John Garcia Defensive Rebound. 40-37   
11:00 Jamar Nutter made Three Point Jumper. 43-37   
10:17   43-40 Dan Fitzgerald made Three Point Jumper. 
9:53 Larry Davis missed Two Point Jumper. 43-40   
9:52   43-40 Jerel McNeal Defensive Rebound. 
9:39 Eugene Harvey missed Two Point Layup. 43-40   
9:39   43-40 Dwight Burke Defensive Rebound. 
9:21   43-40 Jerel McNeal missed Three Point Jumper. 
9:21   43-40 Marquette Offensive Rebound. 
9:17   43-40 Dan Fitzgerald missed Three Point Jumper. 
9:17 Jamar Nutter Defensive Rebound. 43-40   
9:07 Brian Laing missed Two Point Jumper. 43-40   
9:07 John Garcia Offensive Rebound. 43-40   
8:46   43-40 Dominic James missed Three Point Jumper. 
8:46 John Garcia Defensive Rebound. 43-40   
8:40 Eugene Harvey missed Two Point Jumper. 43-40   
8:40   43-40 Jerel McNeal Defensive Rebound. 
8:34   43-40 Dan Fitzgerald missed Three Point Jumper. 
8:34   43-40 Jerel McNeal Offensive Rebound. 
8:30   43-42 Jerel McNeal made Two Point Jumper. 
8:19 Marquette 20 Second Timeout. 
7:55 Eugene Harvey made Two Point Layup. 45-42   
7:37   45-42 David Cubillan missed Three Point Jumper. 
7:37 Seton Hall Defensive Rebound. 45-42   
7:33 Official TV Timeout. 45-42   
7:19 Brian Laing made Two Point Jumper. 47-42   
6:58   47-45 David Cubillan made Three Point Jumper. 
6:43 Eugene Harvey missed Two Point Jumper. 47-45   
6:43   47-45 Wesley Matthews Defensive Rebound. 
6:10   47-45 Foul on David Cubillan 
6:05 Jamar Nutter missed Three Point Jumper. 47-45   
6:05 Seton Hall Offensive Rebound. 47-45   
6:02 Jamar Nutter missed Three Point Jumper. 47-45   
6:02 Brian Laing Offensive Rebound. 47-45   
5:59 Brian Laing missed Two Point Layup. 47-45   
5:59   47-45 Jerel McNeal Defensive Rebound. 
5:58   47-47 Dominic James made Two Point Layup. 
5:58 Foul on Jamar Nutter 47-47   
5:58   47-48 Maurice Acker made Free Throw. 
5:58   47-49 Maurice Acker made Free Throw. 
5:47   47-49 Maurice Acker missed Two Point Jumper. 
5:47 Seton Hall Defensive Rebound. 47-49   
5:28 Larry Davis missed Two Point Jumper. 47-49   
5:28 John Garcia Offensive Rebound. 47-49   
5:25   47-49 Foul on Ousmane Barro 
5:25 John Garcia missed Free Throw. 47-49   
5:25 John Garcia missed Free Throw. 47-49   
5:25   47-49 Jerel McNeal Defensive Rebound. 
4:59   47-49 Lazar Hayward missed Two Point Jumper. 
4:59 Brian Laing Defensive Rebound. 47-49   
4:46   47-49 Foul on Dwight Burke 
4:46 Eugene Harvey missed Free Throw. 47-49   
4:46 Eugene Harvey made Free Throw. 48-49   
4:23   48-52 Lazar Hayward made Three Point Jumper. 
4:17 Foul on Jamar Nutter 48-52   
3:51 Foul on Mike Davis 48-52   
3:51   48-52 Official TV Timeout. 
3:51   48-53 Dwight Burke made Free Throw. 
3:51   48-53 Dwight Burke missed Free Throw. 
3:51 Mike Davis Defensive Rebound. 48-53   
3:27 Larry Davis missed Three Point Jumper. 48-53   
3:26 Foul on Mike Davis 48-53   
3:26   48-53 Dwight Burke missed Free Throw. 
3:26 Brian Laing Defensive Rebound. 48-53   
3:16 Eugene Harvey made Two Point Jumper. 50-53   
2:34   50-53 Jerel McNeal missed Two Point Jumper. 
2:34 Brian Laing Defensive Rebound. 50-53   
2:22 Eugene Harvey made Two Point Jumper. 52-53   
2:09 Marquette 20 Second Timeout. 
1:44   52-53 Jerel McNeal missed Three Point Jumper. 
1:44   52-53 Lazar Hayward Offensive Rebound. 
1:40 Foul on Brian Laing 52-53   
1:39   52-54 Lazar Hayward made Free Throw. 
1:39   52-55 Lazar Hayward made Free Throw. 
1:31 Eugene Harvey missed Two Point Jumper. 52-55   
1:31   52-55 Maurice Acker Defensive Rebound. 
1:14 Foul on Brian Laing 52-55   
1:14   52-56 Jerel McNeal made Free Throw. 
1:14   52-56 Jerel McNeal missed Free Throw. 
1:14 Larry Davis Defensive Rebound. 52-56   
1:01   52-56 Foul on Maurice Acker 
1:01 Eugene Harvey made Free Throw. 53-56   
1:01 Eugene Harvey made Free Throw. 54-56   
1:01 Seton Hall 20 Second Timeout. 
0:58 Foul on Brian Laing 54-56   
0:58   54-57 Dominic James made Free Throw. 
0:58   54-58 Dominic James made Free Throw. 
0:46 Jeremy Hazell missed Three Point Jumper. 54-58   
0:46 Seton Hall Offensive Rebound. 54-58   
0:41 Larry Davis made Two Point Jumper. 56-58   
0:41   56-58 Foul on Maurice Acker 
0:41 Larry Davis missed Free Throw. 56-58   
0:41   56-58 Dwight Burke Defensive Rebound. 
0:33 Marquette 20 Second Timeout. 
0:11   56-61 Dan Fitzgerald made Three Point Jumper. 
0:05 Eugene Harvey missed Three Point Jumper. 56-61   
0:05   56-61 Wesley Matthews Defensive Rebound. 
0:00 End Game